Email: Greetings from Victoria Falls, Zambia
Date: Thursday, 30 October 2003 05:01 PST
Subject: Greetings from Victoria Falls, Zambia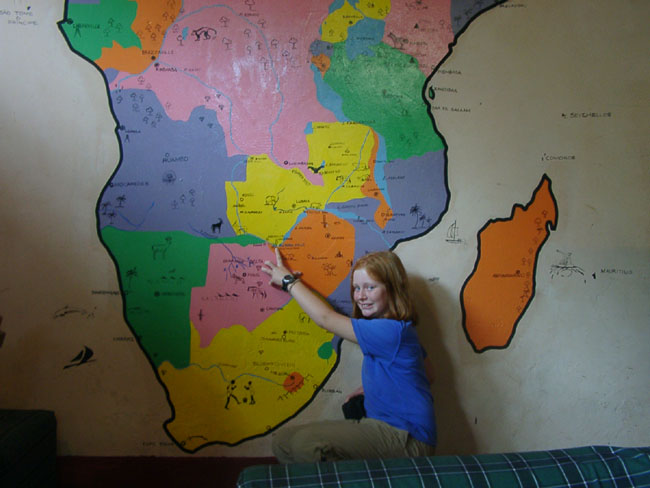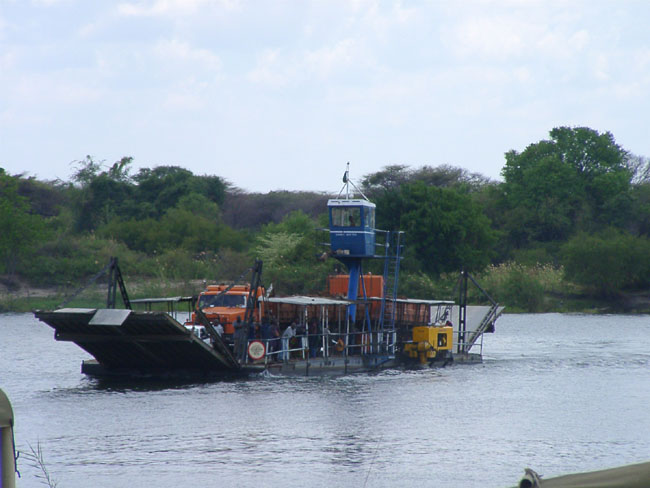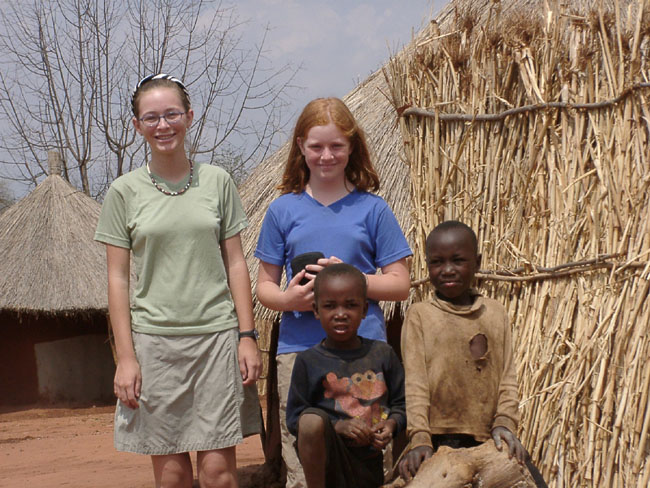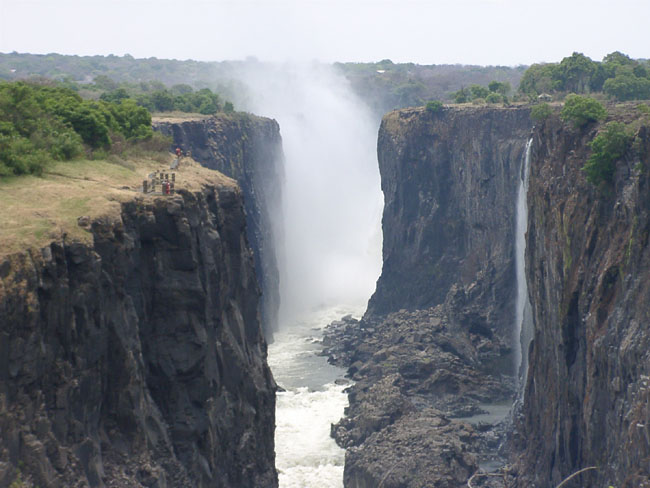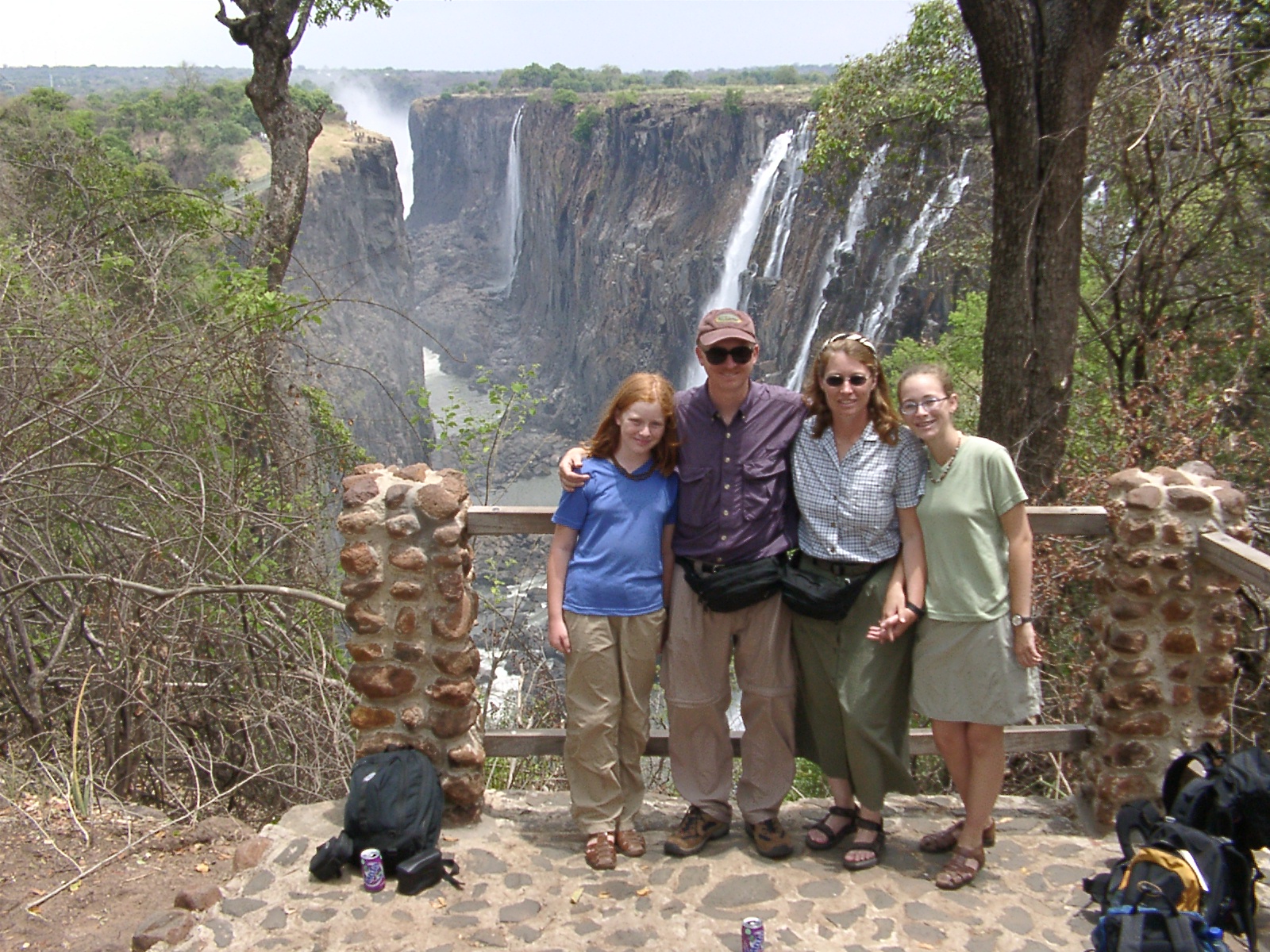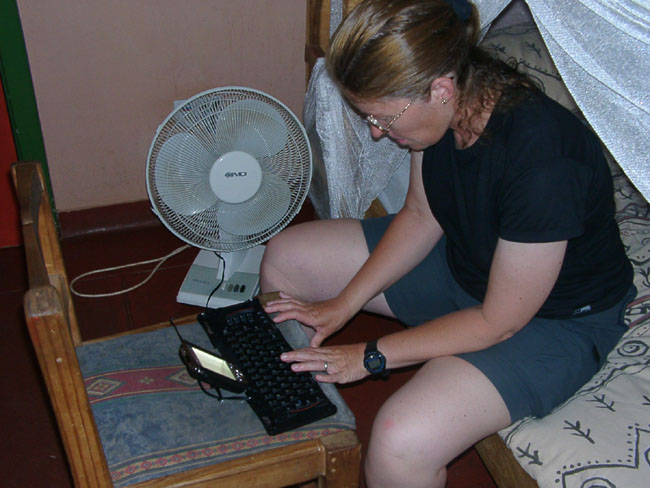 Captions for pictures:
1. Kristen points to our current position
2. The ferry to Zambia
3. The Zambian village
4. Victoria Falls up close
5. The family at Victoria Falls
6. Sandy composing the email at Fawlty Towers
24 October 2003 – Day #34
Today we are in Livingstone, Zambia, near Victoria Falls. We happened to arrive here on the country's Independence Day. They are 39 years old today, having gained their independence from Britain in 1964.
Darren's last email left us in the middle of our five-day safari in Botswana. We finished that up on the 21st, with tearful good-byes and hugs from our guide Eve and her assistant Thendia. It was a wonderful experience and we were all a little depressed the next day. We spent two 'rest' days at a resort on the Zambezi River in a town called Kasane. We had a cottage on the grounds with two bedrooms, two bathrooms and a sitting room. We got rested, washed clothes, did some school work and the girls enjoyed watching their first (satellite) TV since London.
On Thursday, we left the comfort of the resort for a border crossing into Zambia. We were now going through the 'four corners' of Africa, where Botswana, Namibia, Zambia and Zimbabwe all meet. We could have arranged a transfer from our resort in Botswana to Livingstone, Zambia for $45 a person. But we thought it would be more fun doing it ourselves.
The entire process (covering a total of about 50 miles) took several steps: first we arranged a taxi ride from the resort to the border, a distance of about six miles. We needed to make sure that the driver took us to the Zambian border, not the Zimbabwe one that gets the higher volume of traffic. Once we got to the border, we walked though Botswana customs and were stamped out of the country into a 'no-mans land' between the two countries' immigration facilities.
Now the real fun started. There is a ferry that takes you across the Zambezi River from Botswana to Zambia. We had heard stories that it was running, that it wasn't running and that it sank in September and "enterprising Africans" were taking people across in private boats. We didn't know what to expect. We had to walk about 400 meters in the hot morning sun to the ferry landing.
When we got there, we could see a lot of people milling about from private safaris. They were being taken, groups at a time, in a small speed boat across the river. We looked across the river and saw a large barge sitting at the landing. After asking around, we were told this was the ferry and it would come back across when it got full enough. We also saw, frozen on the other side, the remains of a truck that actually caused the ferry to capsize in September.
Fortunately, we only had to sit for about 20 minutes before the boat slowly started to move toward us. In about 10 minutes it reached the landing in front of us. After letting off a large truck and pick-up truck and loading a 32 wheeler, a Land Cruiser and another pick-up, we walked on with others who were waiting and set off for Zambia.
We reached customs and made our way through with no issues, having obtained our visas before we left home. We had been told that there would be transportation to Livingstone available and that there would be a Bureau of Exchange to convert money into the Zambian Kwacha once we left immigration. The transportation was a van that quoted us one price for us and an additional price for our luggage, but in the range that we expected. The currency exchange was in the form of black marketers, who swarmed around us carrying fistfuls of bills in the palms of their hands. I only exchanged enough to pay the van driver in the local currency, wishing to do the rest of it at a legitimate place in town. The ride took about 40 minutes and we were dropped at the door of our hostel, called Jolly Boys. It came recommended from our guidebook.
Our room left a lot to be desired. It was in a concrete structure that was away from the main house. It was hot inside with no fan. But it looked OK at first glance, and we settled in, getting some errands done in town during the afternoon.
Things changed as night fell. Darren killed one of the biggest cockroaches I have ever seen. After finding a couple of more spiders, we decided to spray the room with something called Doom (think Raid) that we had bought in Namibia. This brought more bugs out of the woodwork as Lauren (!!) ended up killing two more cockroaches of the same size.
To make matters worse, there was a manhole on the floor in the corner of the room and every time the bathroom was used, we could hear water running underneath us. As we unraveled the mosquito nets, we found large holes in them. It rained in the middle of the night and the roof, comprised of tin and straw, began to leak and drip on us. At first light, we woke up and opened the drapes and saw many mosquitoes sitting on the room side of the screen staring at us. Fortunately we only got a few bites.
We vowed at that point to find other accommodations for the two remaining nights in Livingstone. Darren and Lauren set out at a little after 8am and found another hostel (called Fawlty Towers) a couple of blocks away. It has comfortable beds in the main house with a fan in the room and intact mosquito nets for the same price as we had paid at Jolly Boys. We heard later that Jolly Boys is moving to a new location and we presume is not putting any money into their current establishment.
After checking in here, we hired the taxi driver that had carried us and our bags to take us to a visit to an actual Zambian village, followed by Victoria Falls. The falls were truly wonderful to see, even though they are not at full strength, this being the end of the dry season.
On Sunday, we head to the capital city, Lusaka. We have a train to catch on Tuesday night that will be an adventure in itself, as we travel 40 hours to Dar es Salaam, Tanzania.
Take Care,
Sandy