Email: Greetings from Mumbai, India
Date: Monday, 10 November 2003 07:26 PST
Subject: Greetings from Mumbai, India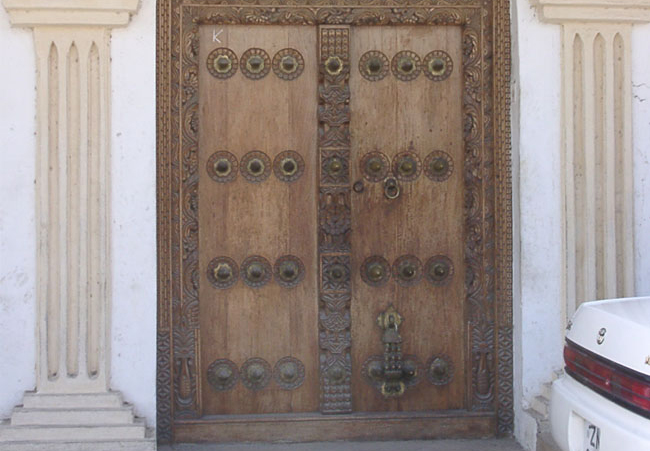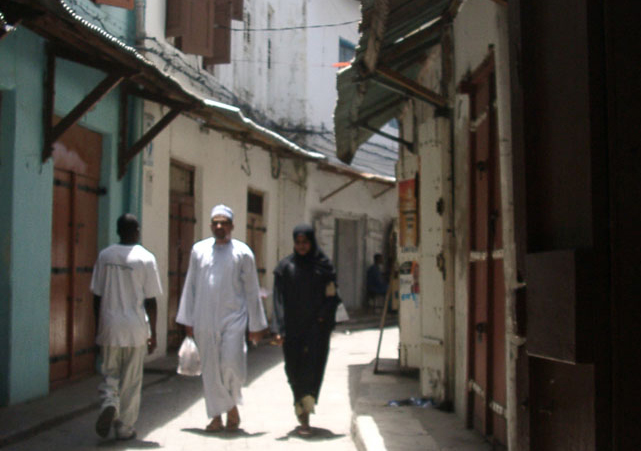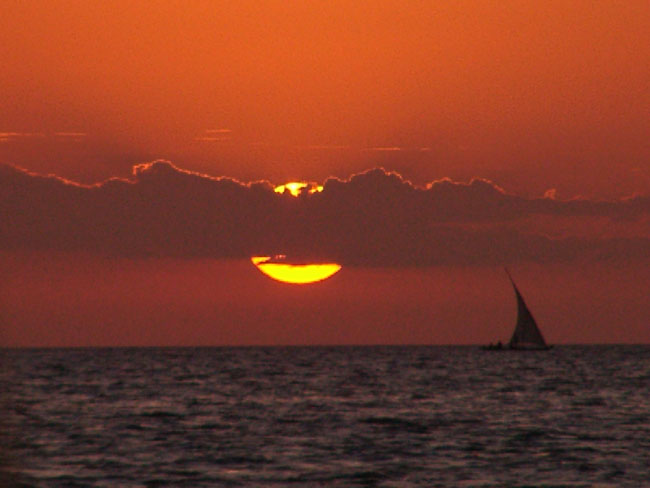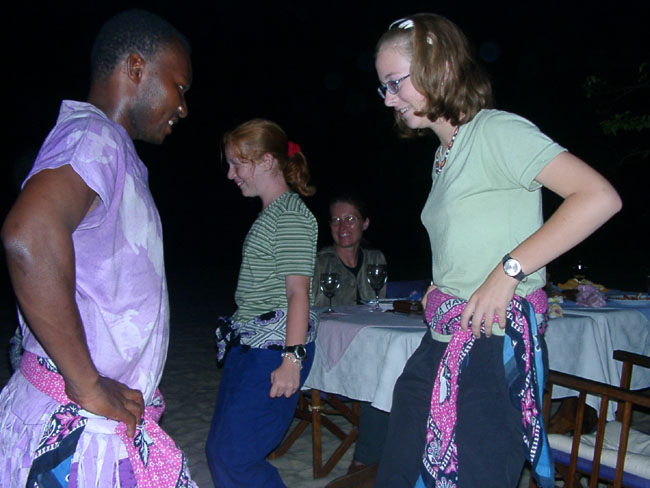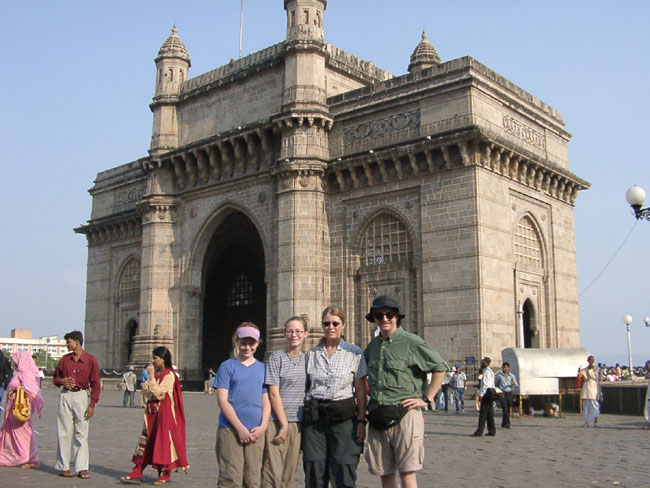 Captions for pictures:
1. Zanzibar door
2. Zanzibar alleyway
3. Sunset from the Dhow
4. Lauren and Kristen with the dance troupe
5. The family at the Gateway to India, Mumbai
8 November 2003 – Day #49
As I write this, our train has stopped in the Bhopal 'B' train station. We are traveling on an overnight train from Mumbai (Bombay) to Agra. It is 9:30 in the morning on the second day of our 22-hour journey.
A man just jumped through the door at the end of our car with a hose in his hand. Another man outside of our carriage operates a gas-powered water pump. Together they clean the toilets from one end of the train to the other. A vendor walks down the isle of our car selling the Hindustan Times. One of the men in our compartment buys one (cost: 3 Rupees or about 6 1/2 cents). After walking up and down the train several times, he jumps off.
Permanent members of the crew sell cold drinks, chips and sweet milk tea (called "chai"). Breakfast is also available. Today's menu includes omelets (really just a fried egg) and a piece of bread or a vegetable cutlet (fried potato mixed with beans and carrots). We stick to the food and drinks we purchased yesterday at the bazaar in Mumbai.
Outside the train on the platform are hundreds (maybe even thousands) of people. Passengers enter and leave the train. Some sell items from their stand. Others sleep.
In our last email, we were nearing the end of our journey to Dar es Salaam. After spending three days on a train, we decided to spend one night at the Holiday Inn there as a splurge. The next day, we took a cab to the departure point for the ferry leaving to the island of Zanzibar. The ferry ride took about two hours. Interestingly, we had to go through customs upon departure and arrival even though everyone we asked insisted that Zanzibar was part of Tanzania. In fact, Zanzibar was a different world.
We arrived in Zanzibar during Ramadan. While Tanzania is about 75% Muslim, Zanzibar seemed closer to 100%. Muslims fast during the hours between sunrise and sundown. This fast includes water. While in Stone Town, we were careful not to eat or drink in public. Several times a day we heard the call to prayer from some distant loudspeaker.
Stone Town is known for its carved-wood doors. As I was taking a picture of one of doors, a Muslim man encouraged me to take the picture saying that there was no charge for doing so. He did indicate that another door nearby did require a fee. Even though we had consistently refused those asking if we needed a guide, this clever man became our guide by offering free advice. After some negotiation, we agreed on a price of 5,000 Tanzanian Shillings (about US$5) for a 30-minute tour. It was a good thing too because he knew the location of many other beautiful doors. We also felt a little safer as we traveled through the narrow alleys that make up this historic district.
Other highlights of our three wonderful nights on Zanzibar were a sunset dhow boat trip and an African Dance and Drum performance that we enjoyed as we ate dinner on the beach. Lauren and Kristen even got into the act.
On Monday the 3rd, we caught a cab to the airport. We then took an island hopper flight to Dar es Salaam International Airport. After an one hour flight to Nairobi, Kenya, we remained on the plane for a second six hour flight to Mumbai. We were greeted by our hosts at 3:30am the next morning. Now that we were in India, we reset our watches a further 2 hours and 30 minutes ahead (we are still wondering from where the 30 minutes came).
We greeted each other and the made our way to the taxi they had hired. After a short visit at their flat, we were shown our rooms and we went to sleep. Later that morning we awoke to what sounded like an air raid siren (not good considering the tensions with Pakistan). As it turns out, the siren marked a shift change at one of the local weaving/garment mills. We heard other sirens later in the day; but none of them were so close and loud.
Our hosts were very gracious. We were never hungry. All of our wants and needs were satisfied. Through our hosts, we saw Mumbai as we would have never been able to do ourselves and learned a lot about everyday Indian life. The three days we spent with them zipped by. We saw all the major sites including the Gateway to India, a popular beach, the house where Gandhi lived in Bombay and the beautiful view of the Queen's Necklace from the Hanging Gardens. The girls really enjoyed playing with their four year old son.
On our final night, our hosts hired two taxis to transport all of us to the train station. Due to some traffic on our route, we arrived with just a few minutes to spare before our train arrived. The train is clean, well run and comfortable. Our second-class accommodation is perfectly adequate. We all slept well last night.
Miss you all.
God's Blessings,
Darren and Sandy
Interesting facts about Mumbai:
1. Mumbai is 60km across; 90km if you include the suburbs
2. Some local trains leave every few minutes. As a result, it is said that a train leaves every minute in Mumbai.
3. There are 35,000 buses and over 900 routes in Mumbai.