Date: Monday, 28 June 2010 08:24 PDT
Subject: Greetings from Winnipeg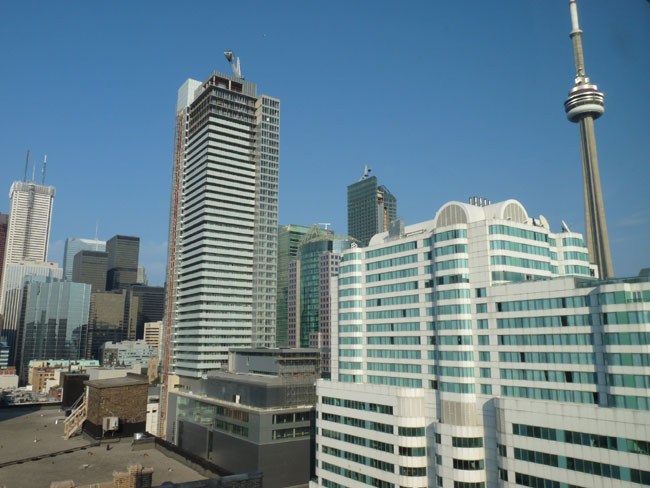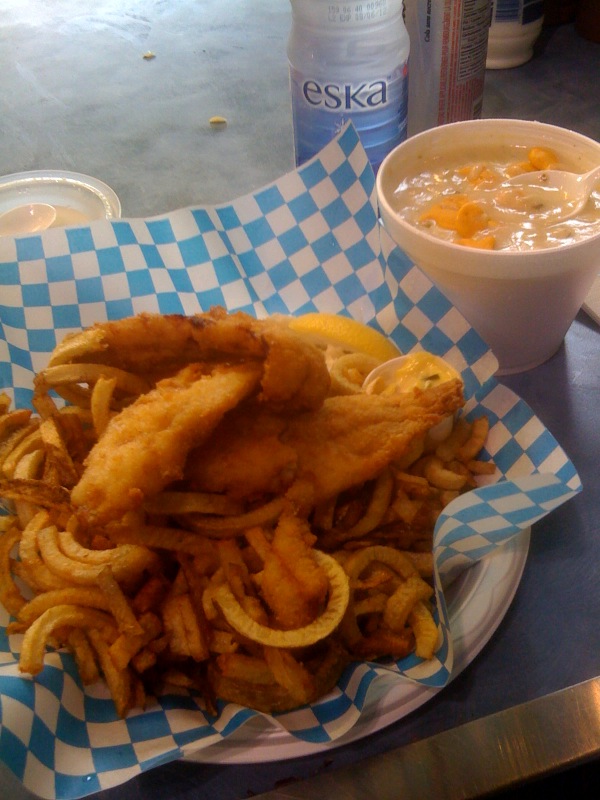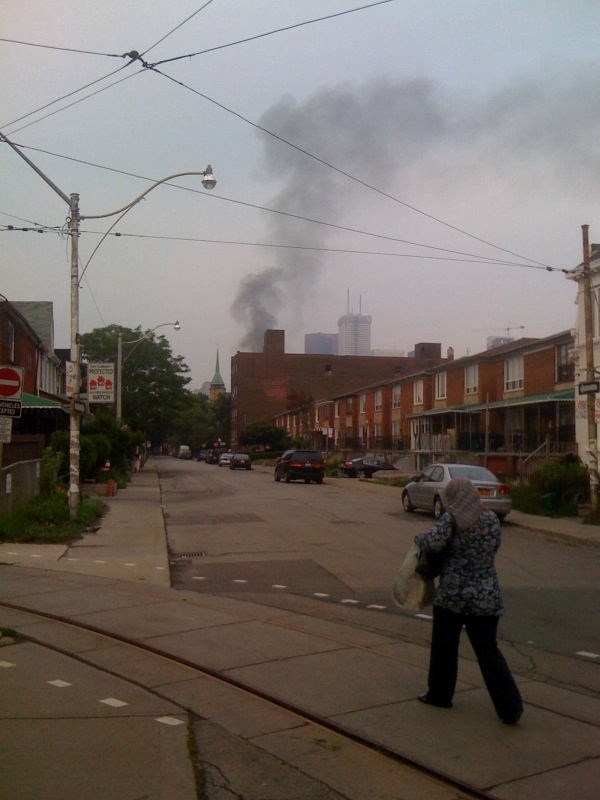 Captions for Pictures:
1. View from our hotel room
2. Lunch at the St Lawrence Market
3. Things looking bad in the distance – downtown Toronto
4. The makeshift sign at the commuter train station – we finally made it!

We are in Winnipeg, Manitoba for a four hour train stop on our journey from Toronto to Vancouver. This gives us the opportunity to get off the train and see the city. Darren is out running along the river and I am exploring the downtown area. We are about 33 hours from our train starting point of Toronto. Our time there was interesting to say the least.
As you may know, Toronto was hosting the G-20 summit when we were there. We started seeing the effects of the summit almost as soon as we landed on Friday night as the airport bus ticket agent let us know that we might be delayed getting into downtown because many of the roads were already closed. However the bus did leave on time and we got to the downtown area in about 35 minutes. On the way we saw two police cars at every highway overpass. We did see many streets closed and the bus driver had to maneuver in order to find an open street where he could drop us off. But we only had to walk several blocks to the hotel and then checked in a little before 7pm.
After inquiring with the hotel about what waterfront restaurants might still be open, we set off toward Lake Ontario, just a few blocks away. Our hotel looked to be a base for many of the police that were on duty for the G20, as they filled the elevators and the lobby areas. We also walked by many police as we passed the fenced off 'downtown' zone encompassing the CN Tower, Skydome baseball field and Union Station, all of which were off limits. We did get to see Union Station via a subway ride and a quick walk into the station in the morning.
At the waterfront we found a great restaurant that had outdoor seating with a great view of the lake and ferries going back and forth to a series of small islands just off the coast. There was also a small airport and we watched several propeller planes take off and land as dusk approached. We had salmon and lobster pasta, both of which were great. Darren had cheesecake and I had a flan for dessert.
On Saturday we went down the street to Starbucks and had coffee and relaxed, reading the local paper. We went back to the hotel and checked out, leaving our bags there for the day while we went sightseeing. Subway / bus day passes in hand, we started with the St Lawrence Market, in old Toronto, which is a famous food market. It had a great variety of meat, produce and more kinds of rice and flour than I had ever seen. There were many people there and several signs touting the G20 special of the day. The weather was warm but raining hard by the time we got there, so we had fish and chips and clam chowder while waiting for the rain to abate somewhat.
We then walked to the Distillery District, still in old town, where 19th century mill buildings have been renovated into stores and restaurants. There wasn't too much going on with the rain falling so we walked around a little and then caught a city bus back to the subway. We headed north to the University of Toronto to see the campus. It had stopped raining and walking was nice. By now it was mid afternoon and getting a little hectic in the downtown area as we could hear several helicopters flying overhead. We also saw several protesters as we walked.
We decided to take the subway west of town to High Park, to get away from all the downtown activity before we needed to be back at our hotel at about 5pm to change for dinner. The subway ride took about 20 minutes and the park was quiet and very pretty to walk around. At about 3:40pm we decided to go back and took the subway towards downtown. When we got to where we needed to change lines to go south, we were informed that all traffic had been closed down, including buses and taxis. We had no choice but to walk about 1 1/2 miles to our hotel from the subway stop.
We made good time walking until we got to within about a 1/2 mile of our hotel. At an intersection there was a blockade of police on bikes and we were told we could go no further because they were cleaning up from a riot that had taken place there about an hour ago. Looking down the cross street it seemed like a war zone and we saw many police soaked and red in the face, like they had just fought and expended a lot of energy. Fortunately we only had to wait about 10 minutes before we could get through and to the hotel. On the way we walked by the burned out hull of a police car being towed away.
At the hotel we changed clothes and then walked a short distance to Lee Restaurant, which is run by Susur Lee who was just a finalist on Top Chef Masters. We were the only ones in the restaurant for a while, which, just being outside the downtown zone, was still open for business. The dinner was great and we enjoyed a wonderful meal. Now, at 7:15pm, we needed to go back to the hotel one last time, pick up our luggage and make our way to the subway to catch our train. Because of the G20 it was scheduled to leave from a commuter station about 12 miles north of town, rather than Union Station, which is in the heart of the closed off area to the south.
As we walked back east to the hotel we looked up a major north-south cross street to see another riot taking place about a mile away. That was to be our way to get to the subway. So once we got to the hotel, we quickly decided to walk west, away from downtown, and then turn north on the next major street that would lead us to the subway line. This worked well and we even found special 'detour' buses that were running along this street, straight to the subway station, in order to basically get stranded people out of the downtown area. It was getting bad because just before we caught the bus we saw a plume of black smoke rising, which was a sign that another police car was burning.
On the bus were some hippie looking kids who were apologizing to the others that were only peaceful protesters and didn't condone the violence that was taking place. They flashed the peace sign as they left the bus shortly before the subway station. We boarded the subway, changed twice in a rather circuitous route we had to take to stay north and east, and finally reached the commuter train station at 9:10pm for out 10pm train departure. It was a little unorganized at the train station, as they did not have the facilities to accommodate all of us, but we soon boarded and the 26 car train was on its way.
Our compartment, cozy but nice, features pull down bunk beds, already in place when we boarded the train, a closet that holds a flushing toilet, a sink and a big picture window. By day the beds are pulled up into the wall and two chairs are inserted in their place. Each sleeper car has seven compartments, along with the old fashioned berths that are down the aisle way at the end of the car. Once on our way, we had complimentary welcome champagne and appetizers in the observation car in the rear of the train before retiring for the night.
The scenery on the train has been incredible so far. We are scheduled to be in Vancouver on Wednesday morning and will fly home that night.
Take Care –
Sandy