Date: Monday, 15 June 2009 02:10 PDT
Subject: Greetings from Stirling, Scotland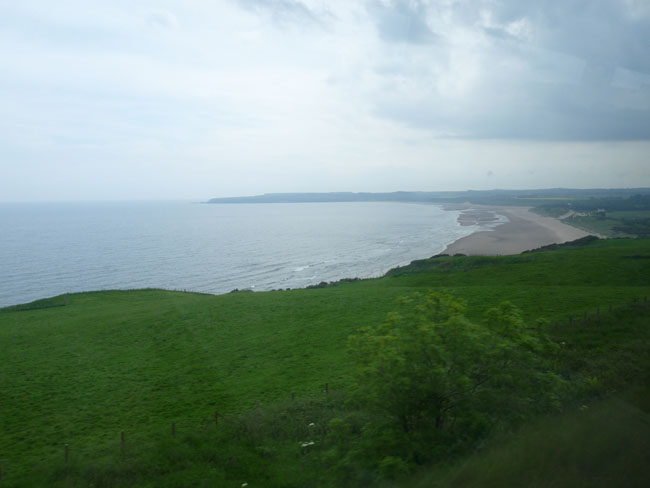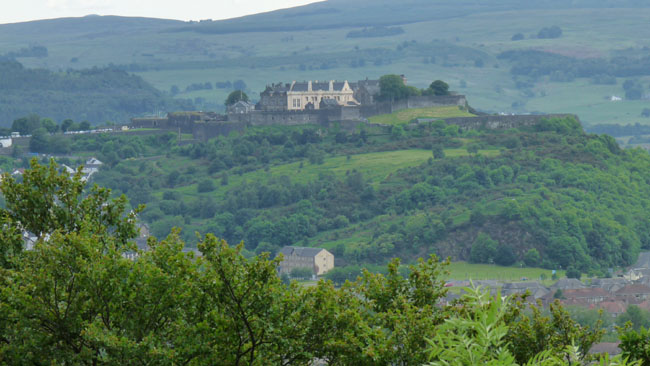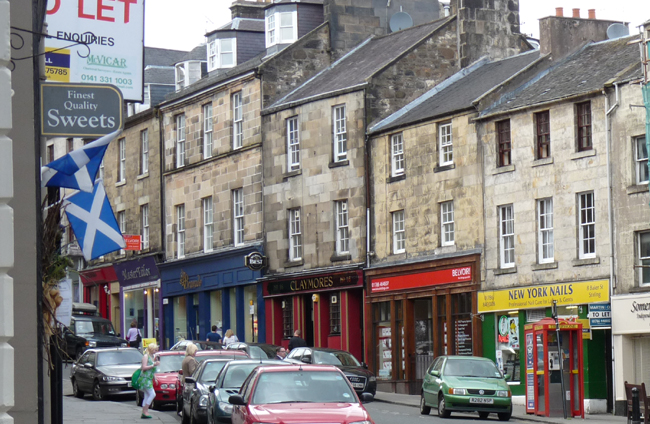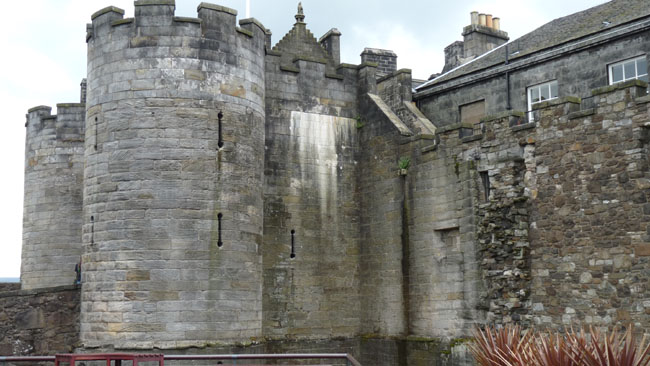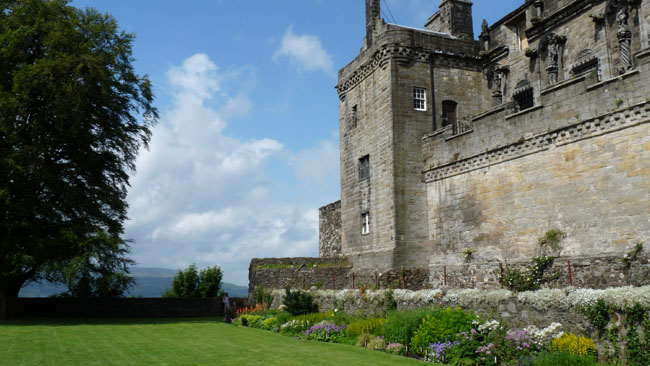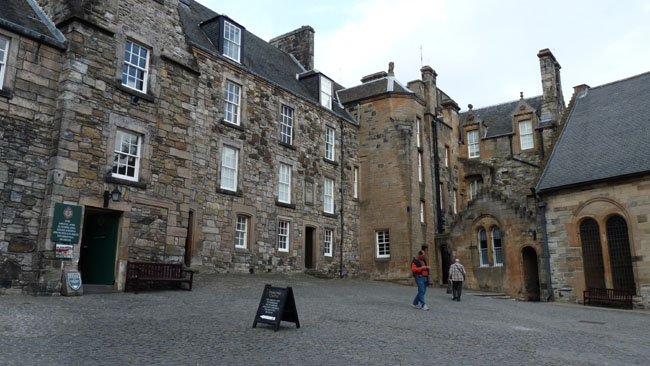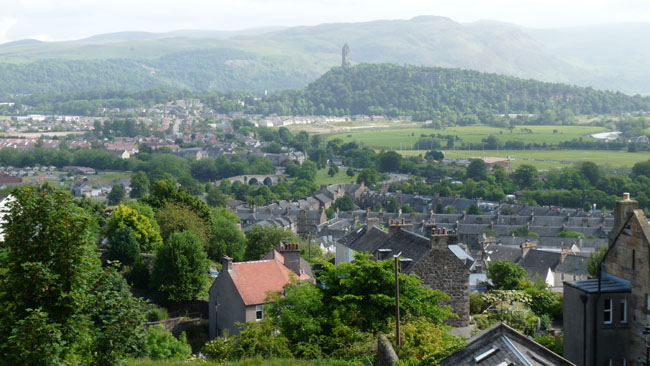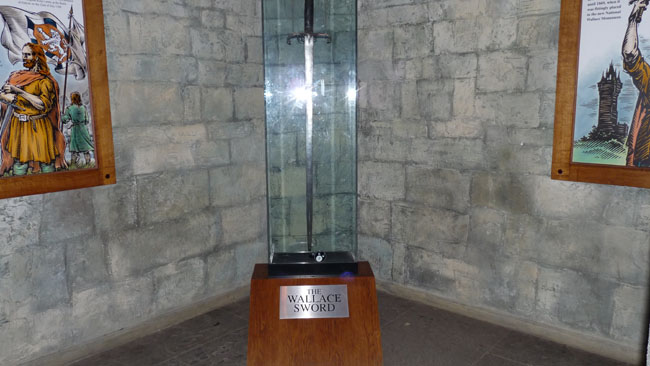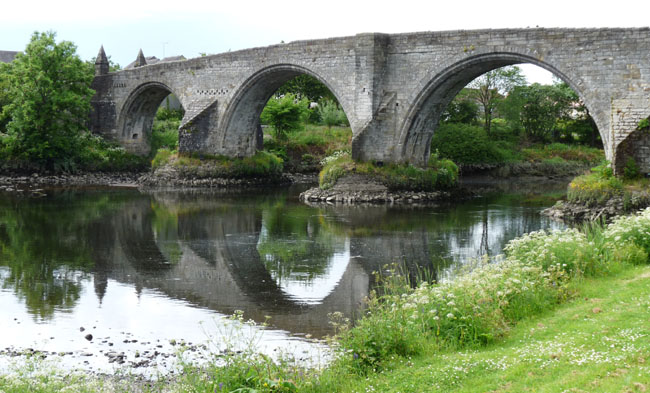 Pictures:
1. Ocean view from the train
2. Stirling city and castle on top of the hill
3. Stirling city center and shops
4. Stirling Castle exterior
5. Castle garden
6. Inner castle courtyard
7. Valley view from the castle, including the Wallace Monument on top of the hill
8. William Wallace Monument
9. The Wallace sword, allegedly belonging to William Wallace
10. Stone bridge across the River Forth, near the famous Stirling Bridge battle site
14 June 2009
We are now in Stirling, which is one of the most historical spots in Scotland. The strategic location of the city, between Southern Scotland and highlands to the north led to many famous battles fought between the Scottish and English in the late 1200's / early 1300's. This history included such historical figures as Robert the Bruce, King Edward I and William Wallace of Braveheart fame. Stirling is set on a hill, with a beautiful old town rising from the River Forth. Cobblestone streets lead to a castle at the top of the city, overlooking the town and valley below.
To get to Stirling on Saturday we took the train to Inverness, and changed to a train going east and then south along the eastern coast of the country, hugging the North Sea. The train moved along the coast, and then inland for a time, then back along the water before reaching Aberdeen, where we changed trains again. On this new train we continued along the coastline until Perth and then turned inland for a short time before we reached Stirling. It was a beautiful journey.
Out hotel is right in the middle of the old town, halfway up the hill between the train station and the castle. We spent Sunday morning visiting the castle, which is primarily associated with the sovereigns James V, James VI and Mary, Queen of Scots, (late 1500s / early 1600s) all of whom spent significant time here. We paid for audio guides and received a great history lesson while seeing the major buildings that comprise the castle, including a large banquet hall and royal chapel.
The afternoon took us back several hundred years in time from the castle as we visited the William Wallace Monument in the afternoon. Built in the 1860's, it is located on a hill about 2 ½ miles from Stirling, so we took a taxi to the monument. From there it was 246 winding steps to the top of the monument, which provided us with superb views of the valley and Stirling castle.
We saw seven historic battlegrounds from our vantage point and could appreciate the significance of Stirling's location and the saying "Hold Stirling and you control the whole country". The monument also included exhibits on the life and times of William Wallace and his significance to Scotland's history, as well as information about other Scots and their contributions to society.
We decided to walk back to Stirling, which took about an hour. On the way, we crossed the River Forth on an old stone bridge near the actual location of the 1297 Battle of Stirling, in which William Wallace defeated the much larger English army.
We also found time both days to wander around the Stirling city center, mingling with the locals during their weekend shopping and at the pub. Tomorrow we will leave Stirling and move on to Fort William for more outdoor activities, weather permitting.
Take Care –
Sandy