Email: Greetings from Montevideo, Uruguay
Date: Tuesday, 16 March 2010 17:49 PDT
Subject: Greetings from Montevideo, Uruguay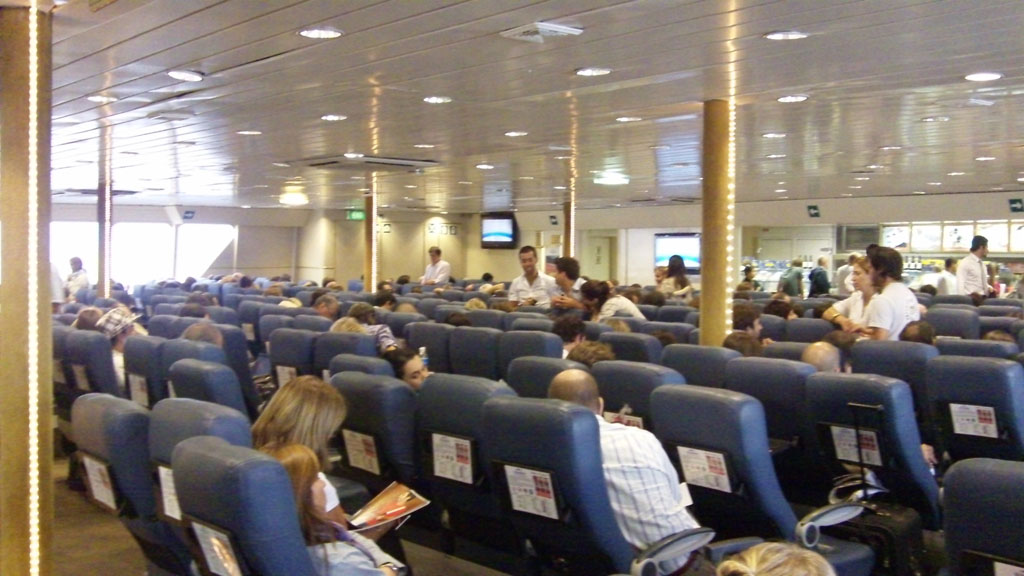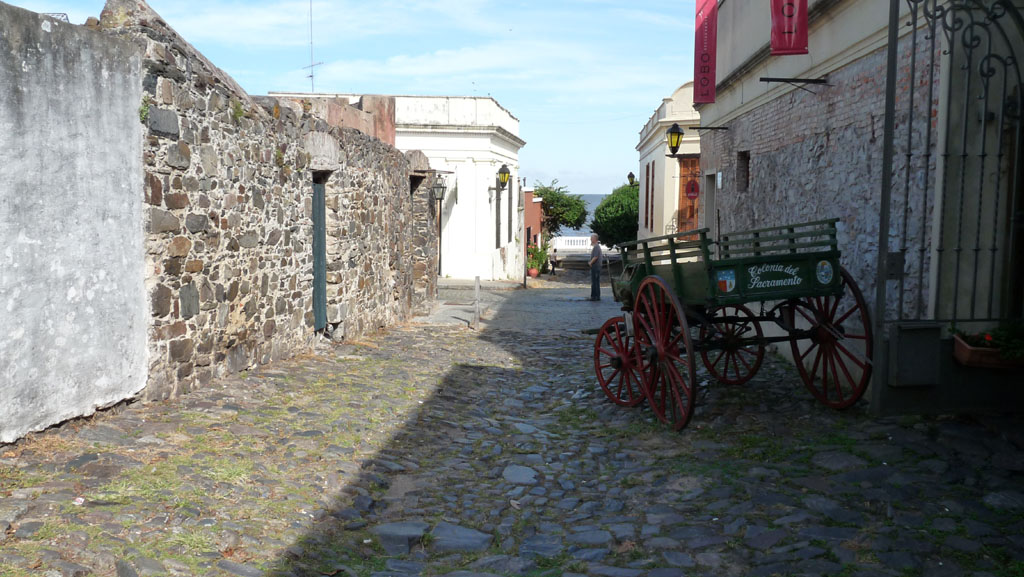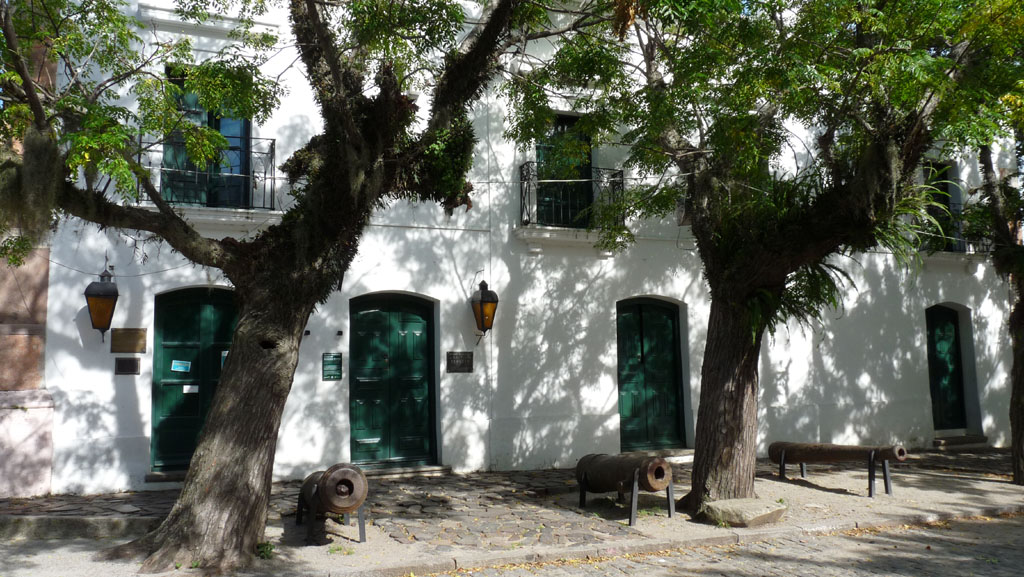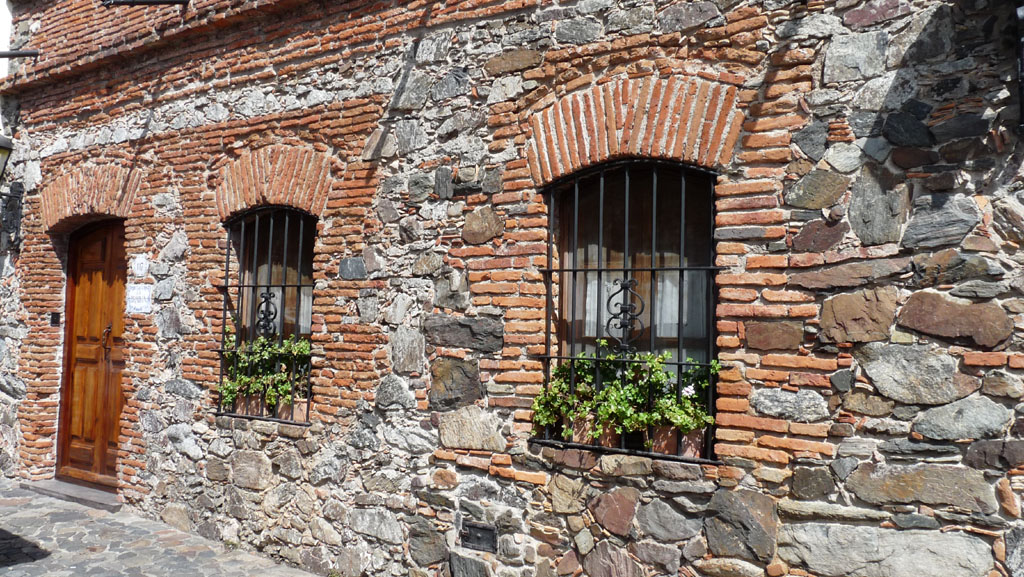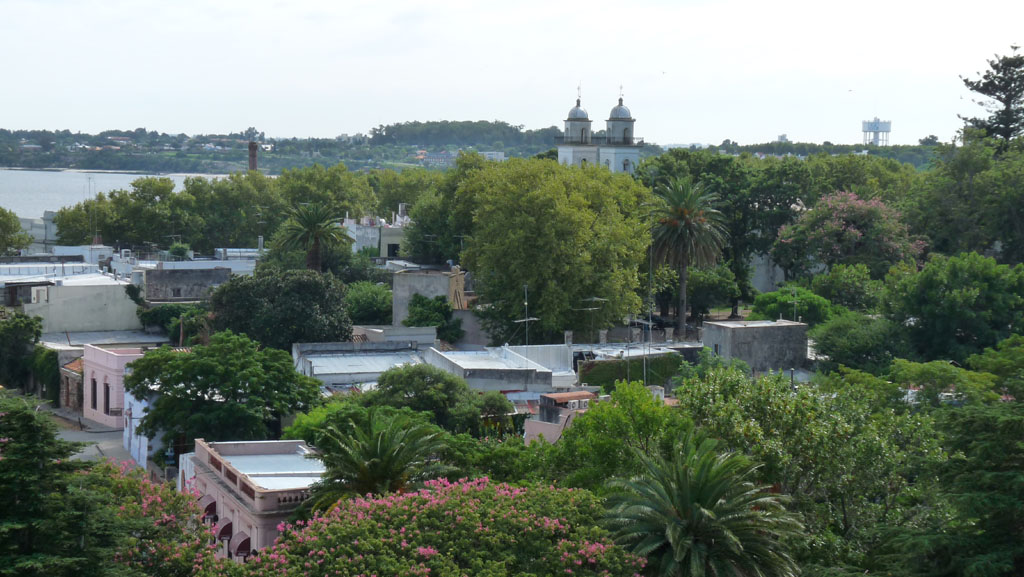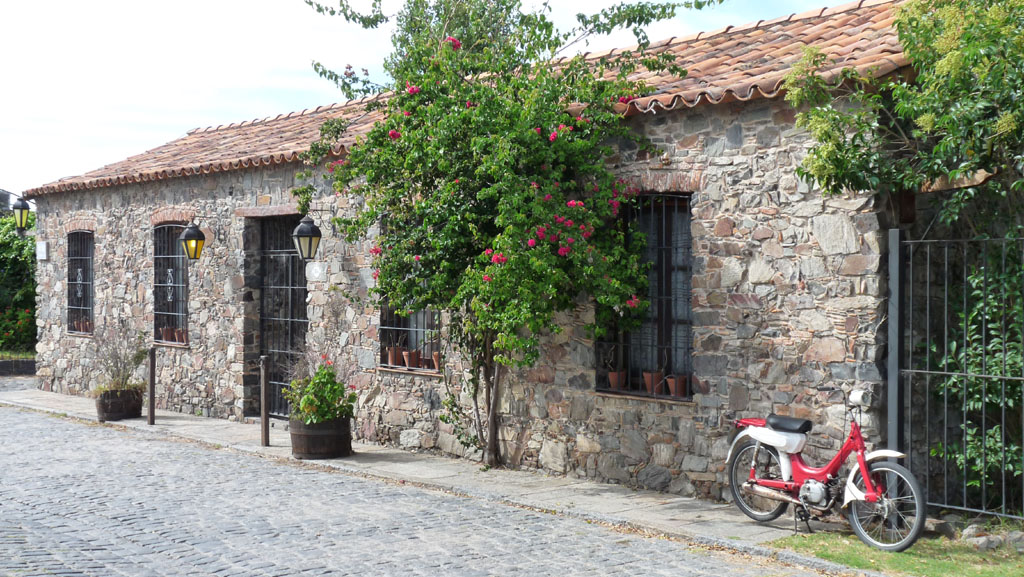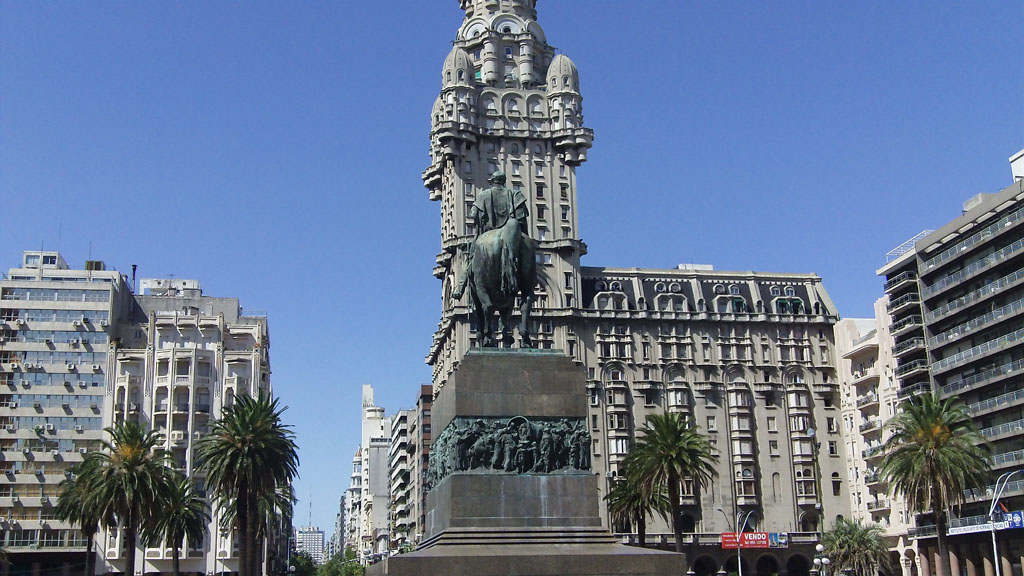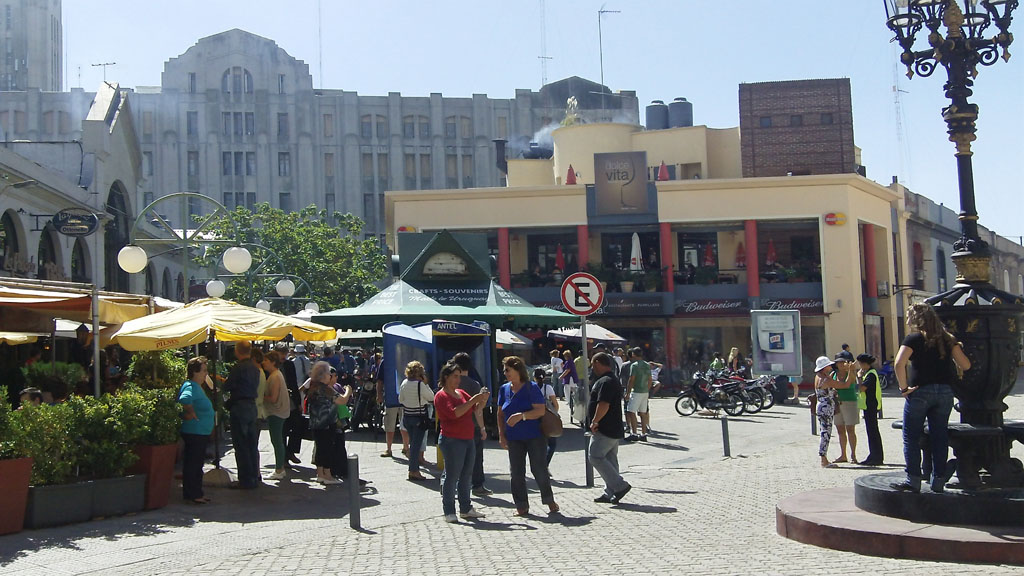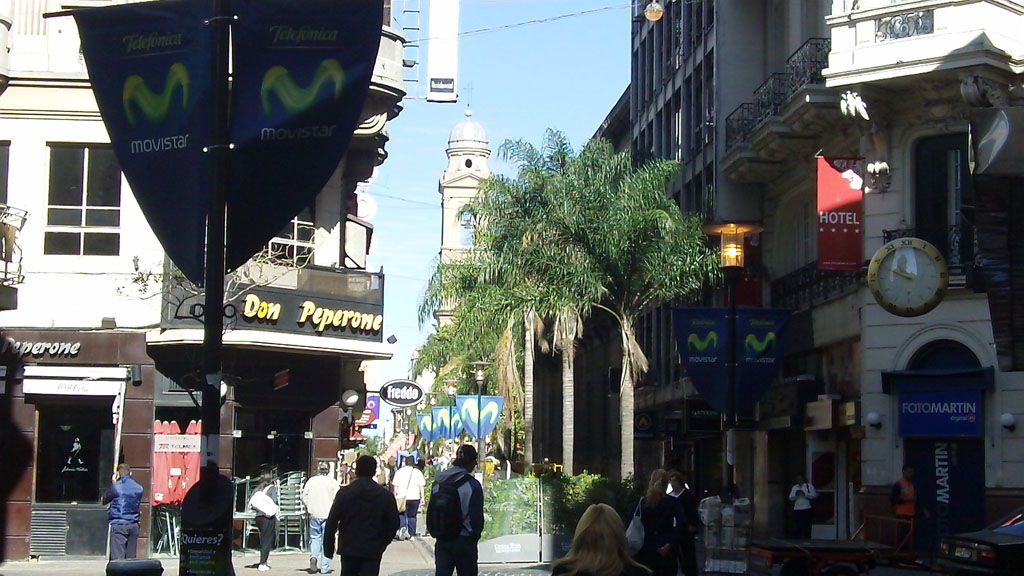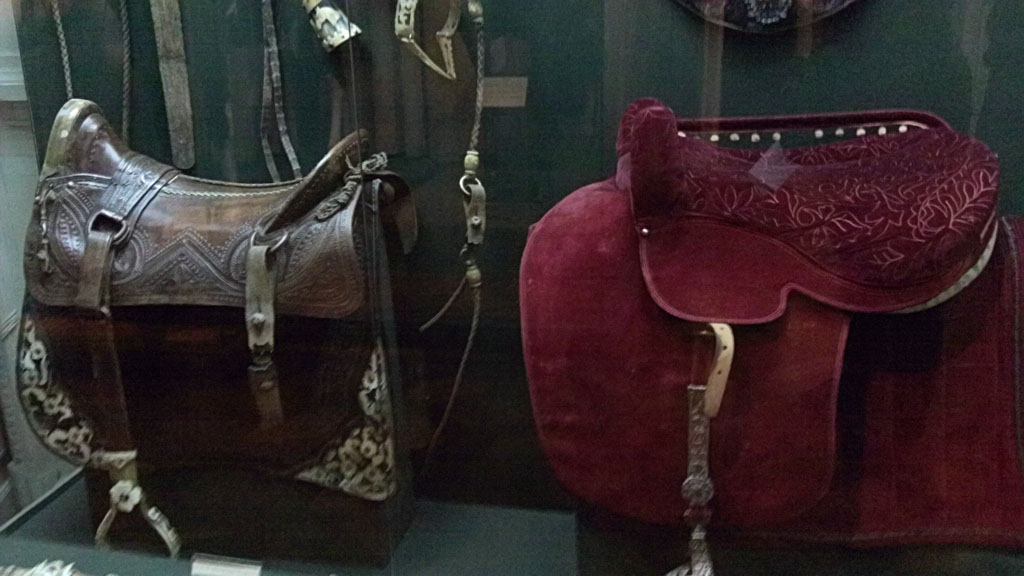 Captions for Pictures:
1. Interior of ferry boat from Buenos Aires to Colonia
2. Looking down a cobblestone street in Colonia
3. The Plaza Mayor in Colonia (note the cannons)
4. Old house on Colonia
5. View from lighthouse (faro) in Colonia
6. One more beautiful street in Colonia
7. Plaza Independencia in downtown Montevideo (the tall building in the background was the tallest in South America when it was built in 1927)
8. Montevideo Sunday afternoon crowd at the Mercado del Puerto in the old port market building
9. Monday morning pedestrian street activity in Montevideo
10. Saddle gear from the Gaucho Museum in Montevideo
15 March 2010
We are on the last full day of our trip through central South America, having arrived in our fourth and final country, Uruguay. It is the smallest Spanish-speaking country in South America, having only about four million inhabitants. Since it borders Argentina and Brazil many people from those countries come to vacation in Uruguay 's quaint towns, horseback ride on one of their ranches or relax on their beaches.
We joined many Argentinean weekenders on a Friday night one hour ferry trip from Buenos Aires to Colonia del Sacramento, Uruguay, which is about 30 miles across the Rio de la Plata. Colonia, as it is known, is an old Portuguese settlement, and now a World Heritage Site. The old portion of the city still contains many cobblestone streets, restored old homes (several of which are now museums) and beautiful tree shaded plazas. Saturday was spent exploring different exhibitions, including an indigenous display, a city history museum and a Portuguese occupation collection. We climbed a lighthouse overlooking the main old town plazas to view the town and water below. The craft markets and restaurants were also great.
On Sunday we rode a very nice public bus for about 120 miles to Montevideo, the capital city. That trip took about 2 ½ hours. Montevideo is the largest city in Uruguay , with one-third of the population living there. The center of the city was mostly deserted on Sunday, but the old port market building, which now contains several steak restaurants, was booming with tourists and locals enjoying a sunny Sunday afternoon out during the last weekend of summer in the Southern Hemisphere. We had a wonderful lunch at an outdoor café, consisting of sirloin steak, a platter of six or seven whole roasted vegetables and plenty of local beer. The people watching were just as enjoyable as the food. It was a great way to spend the afternoon.
Today we had the morning to walk through the Montevideo pedestrian streets and city plazas and visit excellent gaucho and national mint museums before heading to the airport for a late afternoon flight to Buenos Aires, then overnight flights to Dallas and back home.
We greatly enjoyed our time in South America and found each of the four countries we visited to be unique. There are great distances to cover here. It was a 10 hour flight from Dallas to Buenos Aires, and that was over 5,000 miles. Everyone knows how big Brazil is, but we were surprised to discover that Argentina is the 8th largest country in the world, Paraguay is the size of California and even Uruguay is about as big as Florida.
Spending two weeks in four countries only allowed us to experience a brief overview of each one. However, we are already making notes of places to go back to in each country, along with future visits to neighboring Chile and Bolivia. We came in contact with almost no English speakers the entire time as well, and had fun and challenging times using our somewhat limited high school Spanish to get around.
Overall, it was a fantastic trip and hope you enjoyed hearing about it.
Until our next distant journey –
Darren and Sandy