Email: Greetings from Encarnacion, Paraguay
Date: Tuesday, 9 March 2010 15:00 PST
Subject: Greetings from Encarnacion, Paraguay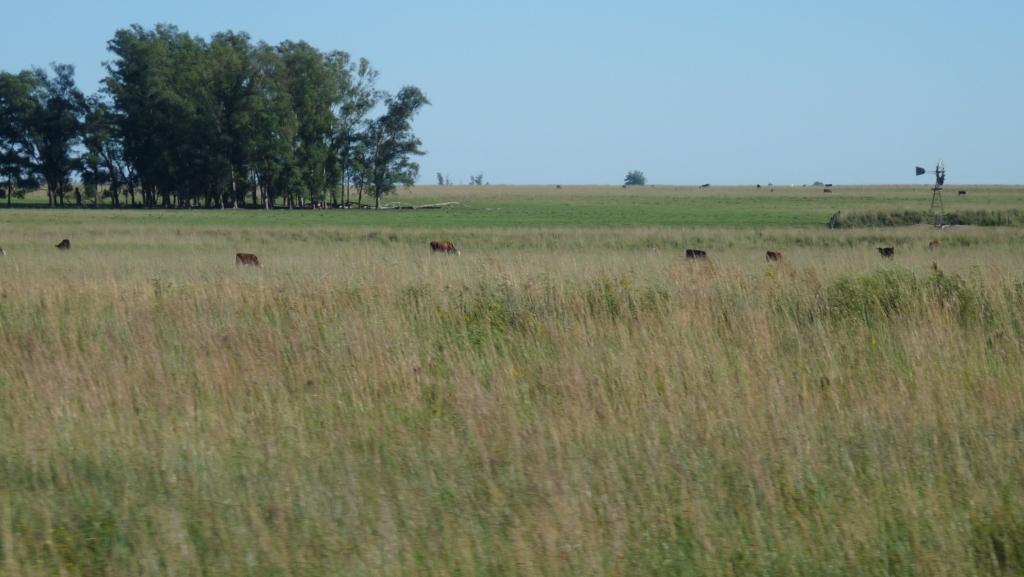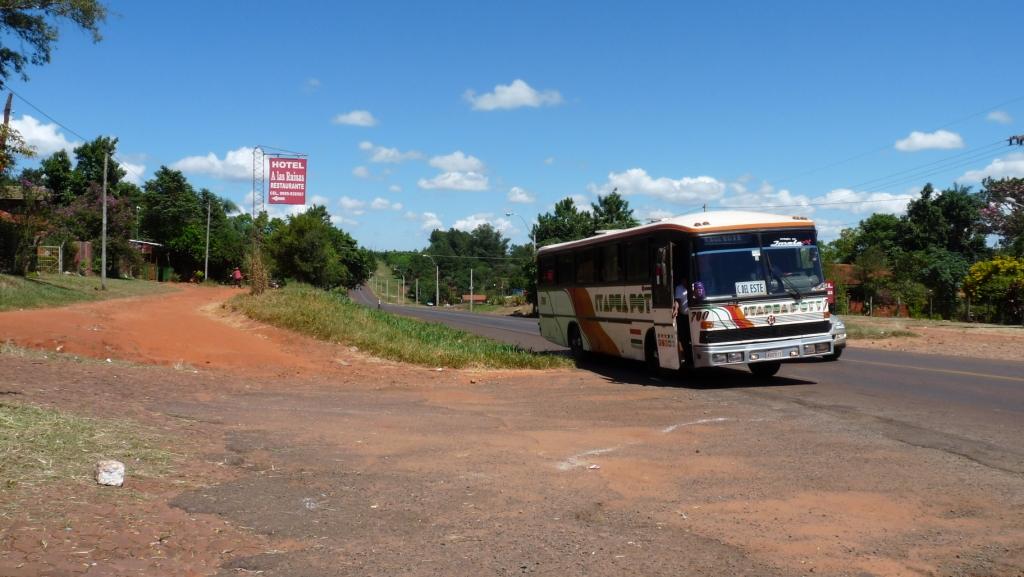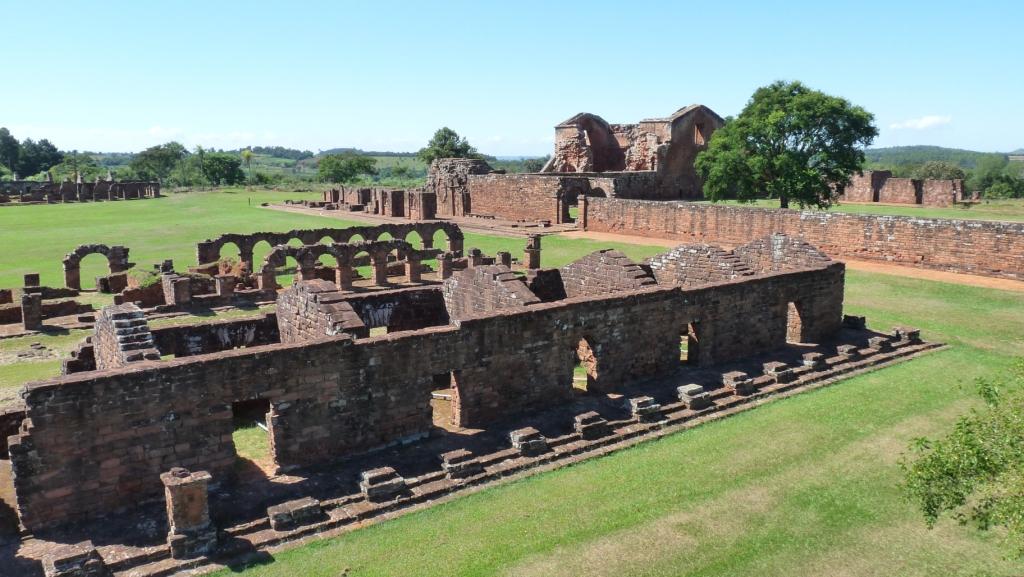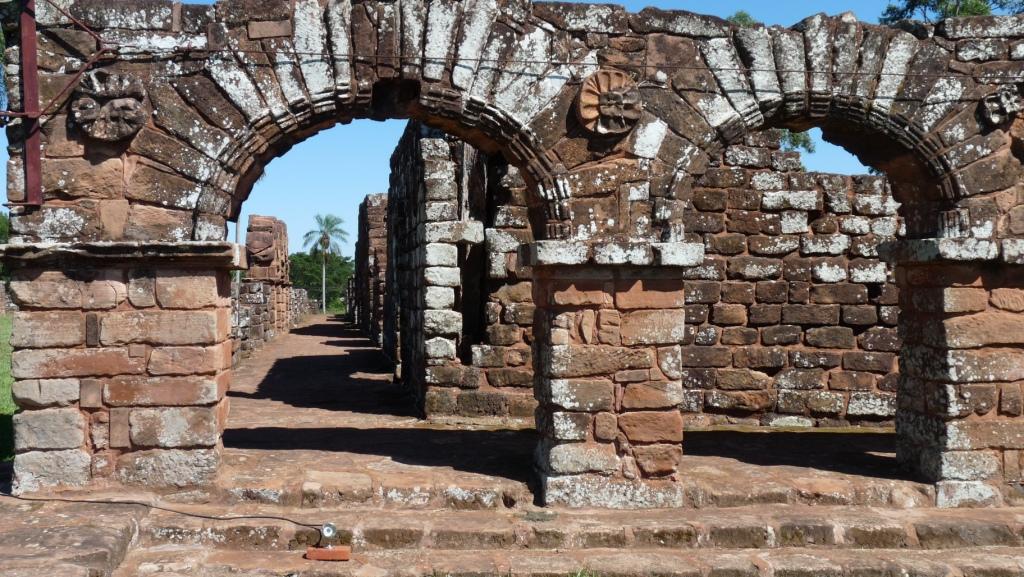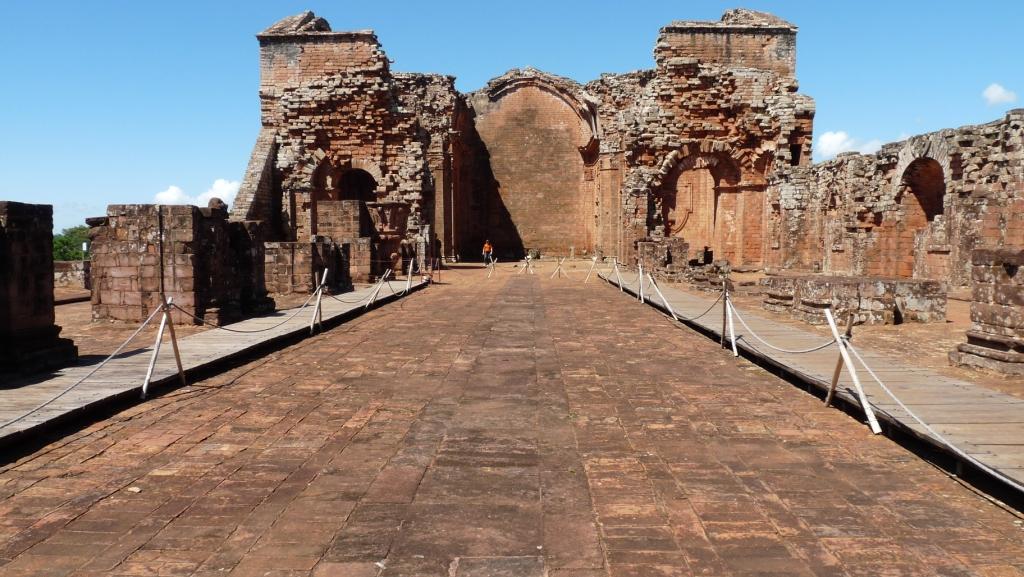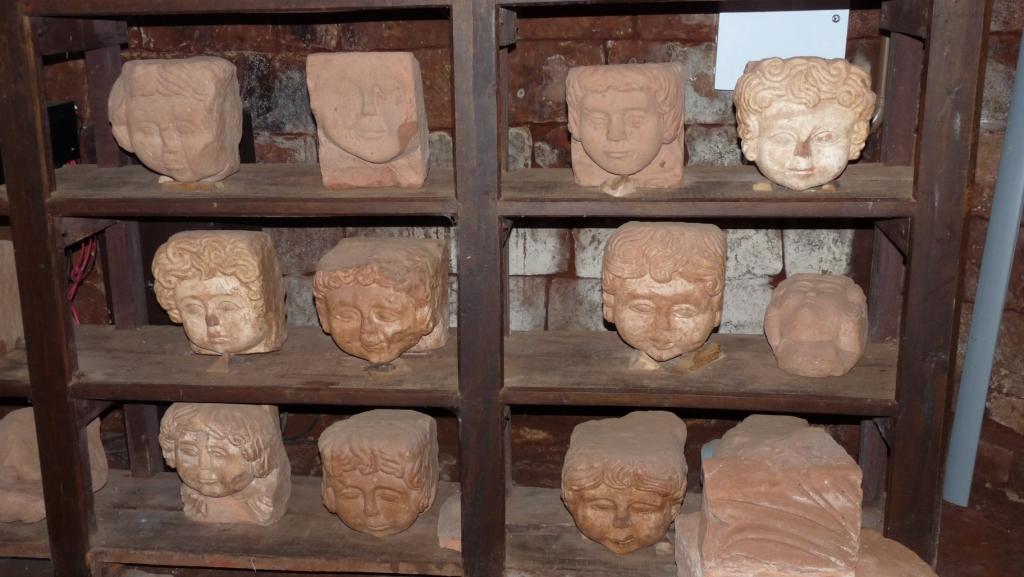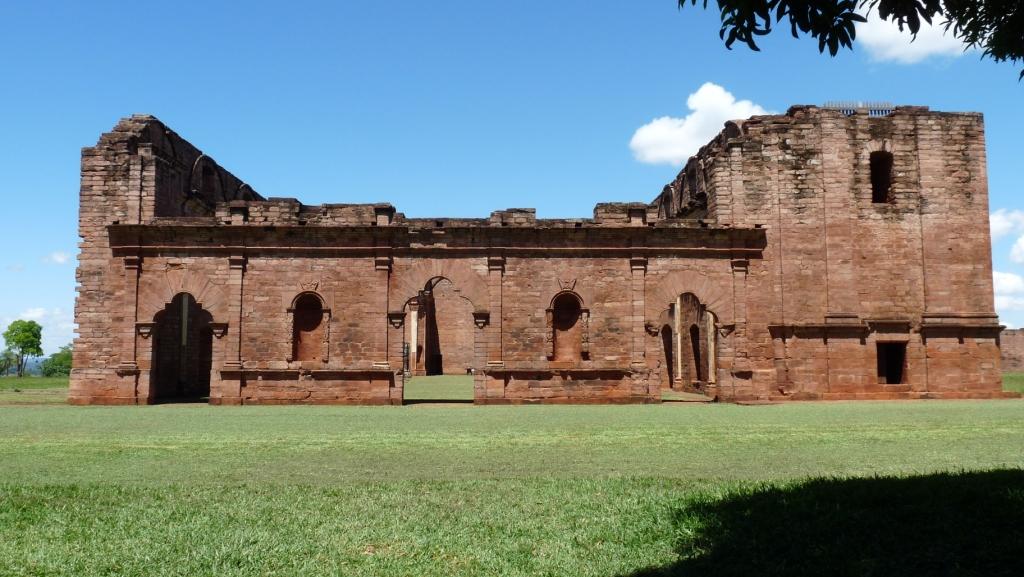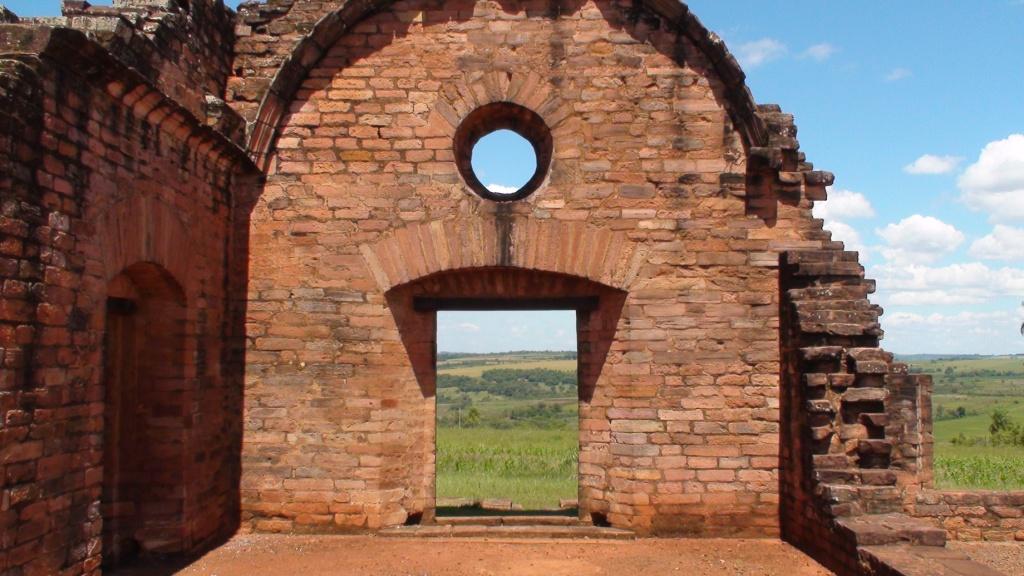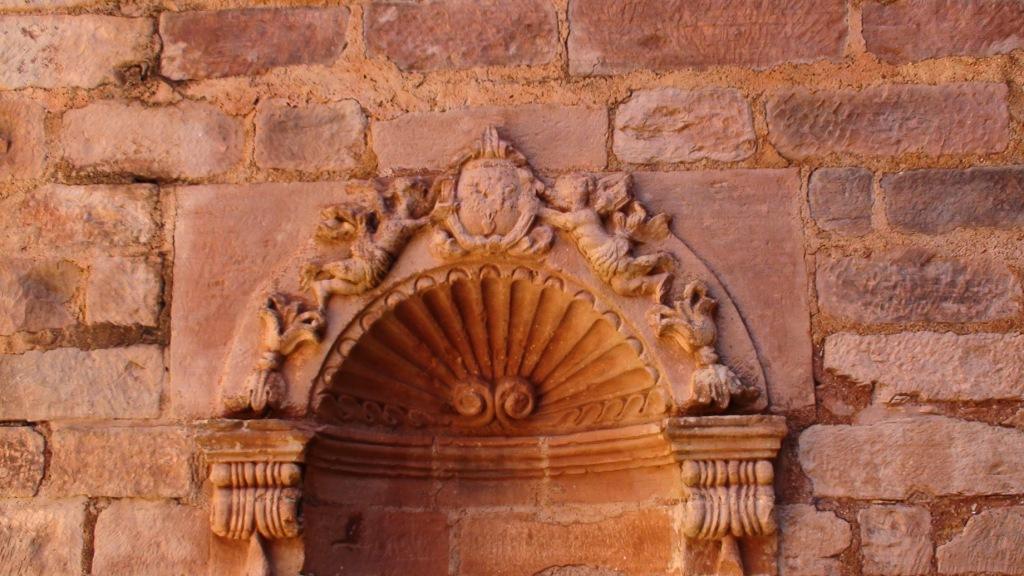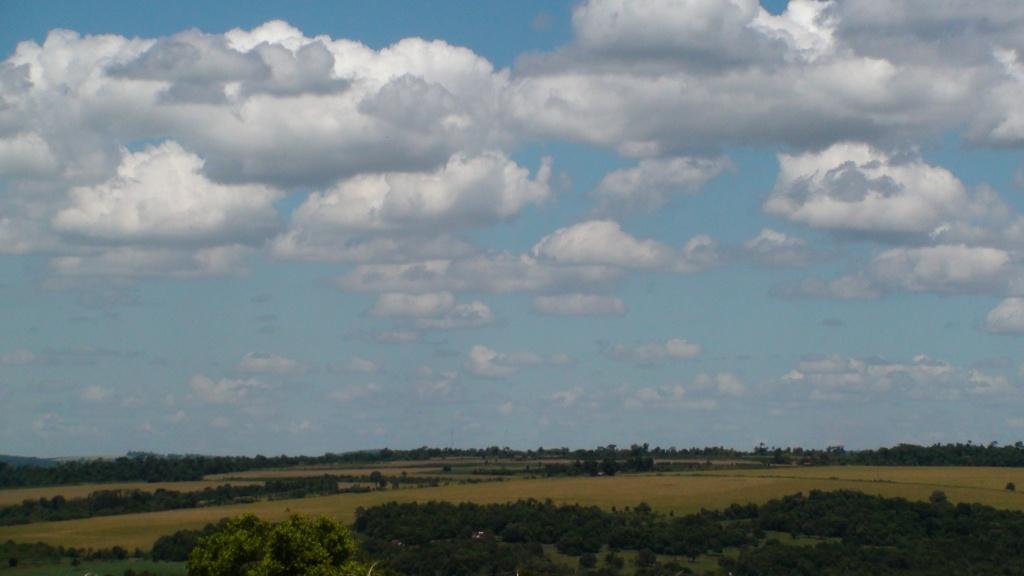 Captions for Pictures:
1. Grasslands of Argentina from our overnight bus
2. Bus dropping us off at the road to the Trinidad Mission in Paraguay
3. View of the Trinidad Mission from a tower
4. Arches at the Trinidad Mission
5. The major church at the Trinidad Mission (note Darren in the orange shirt to get the scale)
6. Display of angel heads not restored at Trinidad Mission
7. Jesus de Tavarangue Mission
8. Archway at Jesus Mission
9. Detail carvings at Jesus Mission
10. Paraguayan countryside from the back of Jesus Mission
8 March 2010
When we last wrote we were in Buenos Aries. After our third and final day there we made our way, via the subway, to the central bus station just as it was getting dark. We had tickets to board a bus, scheduled to leave at 9:45pm, heading to Posadas, Argentina which is about an 815 mile, 14 hour trip away.
The bus station was incredibly big, containing 248 ticket windows and 75 bus gates with constant comings and goings. We had read that buses are the way to go in Argentina (we would have rather taken a train) so we had decided to try an overnight trip. The double decker buses have several classes, and we opted for business class (only about $8 more than coach). That came with a bottom floor seat that reclined almost horizontally, along with a hot dinner and continental breakfast.
We asked around to determine which of the 75 gates our bus would be departing from and were assigned to Zone D, which encompassed gates 37 to 51. There was a waiting area with monitors which posted the bus and gate when it was time to depart. As it got closer to 9:45pm, our bus did not appear, so Darren went to the company's window to inquire. Between his high school Spanish and their limited English he was able to ascertain that the bus was about 20 minutes late. So we waited a little while longer.
After another 45 minutes, the terminal was beginning to clear out and absolutely no one around us spoke any English, so Darren went to the bus company window again. It was closed now, so he tried the general information booth. As it was approaching 11pm and we were beginning to feel desperate to obtain any news about the bus, as we weren't sure if it had somehow left or was cancelled. Darren launched an Intranet-based translator app on his iPhone, using 3G, and gave it to the information booth clerk so they could 'converse' about the bus's whereabouts. He finally got back "Borne del sur del pais no sabemos la demora" which translated to "Terminal south of the country do not know the delay". So we waited in vain a little longer.
Finally at about 11:10pm the bus pulled up out of nowhere into gate 38, we boarded it and we were on our way. After sleeping pretty well through the night (even with the DVD movies playing on the bus), we woke the next morning to green grasslands, with grazing cattle in the distance. This scenery continued until we reached Posadas, Argentina, the end of the line for us.
After leaving the bus we were able to negotiate with a taxi driver, named Julio, to take us 10 miles to the border, drive us through both immigration points and drop us in central Encarnacion, Paraguay for the equivalent of about $20. He drove very quickly through the city streets and we were at the Argentinean border in no time. For this checkpoint we stayed in the car.
Then we drove across a very modern bridge over the Parana River about three miles to the Paraguayan border. Here our driver accompanied us to the immigration official inside. There was no line and we were able to present him with our visas that we had already obtained in the US. Nevertheless, he highly scrutinized our passports before we were stamped through. We reached the central bus station in Encarnacion at 1:30pm in 95 degrees heat.
This was the one place that we were not able to book a hotel room in advance so we set off to try three different guidebook recommended hotels near the bus station. The first was full, second had an open sign but was locked and would not answer the doorbell, and the third had rooms for about $15 a night but was very run down. So for the moment we opted for the third choice and left our bags there while we walked about 10 minutes uphill to the main town plaza.
Here there were several bank ATMs and after a couple of tries, we were able to withdraw some money. The exchange rate is about 4600 Guarani to $1 (inflation is obviously prevalent) so we withdrew one million Guarani to take care of things while we were here. While eating lunch down the street we noticed a hotel two doors further down that looked a little nicer so we went to inquire about rooms there. We were able to get a room with air conditioning and a much better bed for about $40 a night (180,000 Guarani). So after paying the first hotel $15 for the night (in essence to store our bags for the afternoon) we checked out and moved our bags to the second one.
Our major reason for coming to Paraguay was to see the Jesuit missions. Between 1609 and 1768 about 30 Jesuit missions were established in the Argentina , Brazil and Paraguay region. The fathers gave the Guarani Indians parcels of land, taught them to farm and manage livestock. The missions became so important economically and politically that Span eventually expelled the Jesuits in 1767. We watched the 1986 movie "The Mission" before we left home and it provided great background for our visit.
On Monday we visited two sites, Trinidad (established in 1706) and Jesus (built in 1685). Both have been declared as World Heritage Sites. To get there we rode a public bus about 20 miles outside of Encarnacion and asked them (in our halting Spanish) to drop us off at the turnoff to the Trinidad Mission. We then walked up a road about 700 meters to arrive at the site. A tour group was just leaving and, except for a group of five other South Americans, we were the only ones there. We had a wonderful time viewing the ruins of the main church, the priest's quarters and the housing for the Indians. The buildings, built with stone blocks, also contain some great detail carvings of angels, crowns and flowers. One room had pieces on shelves that had been found but not reassembled.
We then walked back to the main highway and down about 100 meters to the turnoff to the Jesus ruins. These were about 7 ½ miles down the turnoff road so we hired a taxi to take us there and come back two hours later to pick us up .for the equivalent of about $5. This site was laid out in the same way as Trinidad and sat on top of a hill overlooking the beautiful countryside. We are the only ones there for the two hours we spent at this site. After the driver took us back to the main road we flagged a bus back to Encarnacion (total fare for both of us was of about $2.20).
Our last stop was at the supermarket for some snacks to take on the public bus on Tuesday. We will ride about six hours to the border and then cross into Brazil for three nights at Iguazu Falls.
Take Care –
Darren and Sandy