Email: Greetings from Edinburgh, Scotland
Date: Sunday, 21 June 2009 12:20 PDT
Subject: Greetings from Edinburgh, Scotland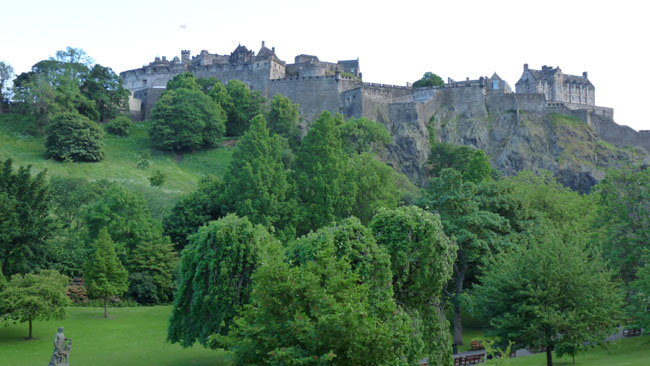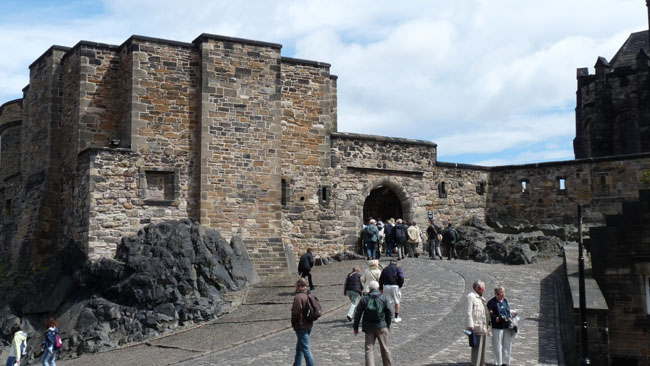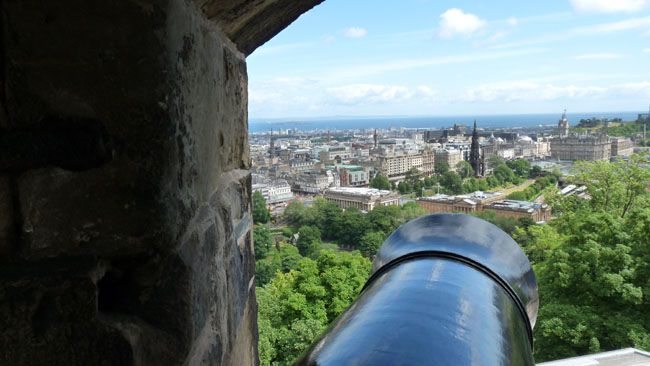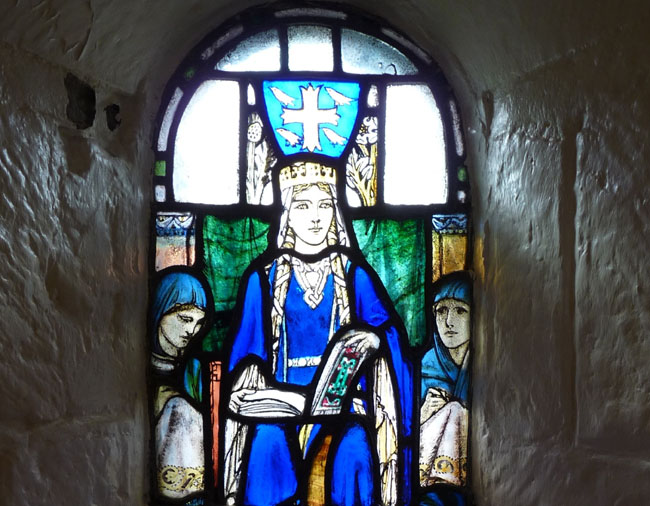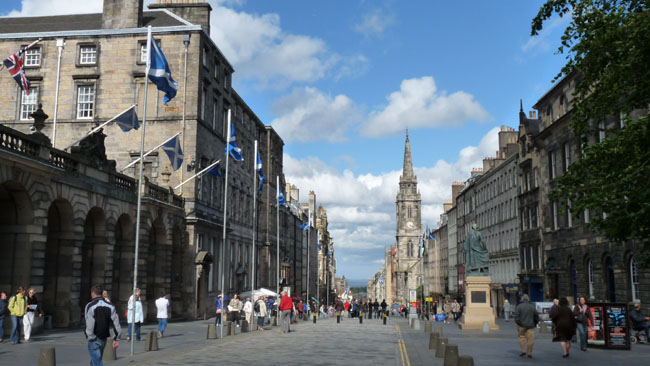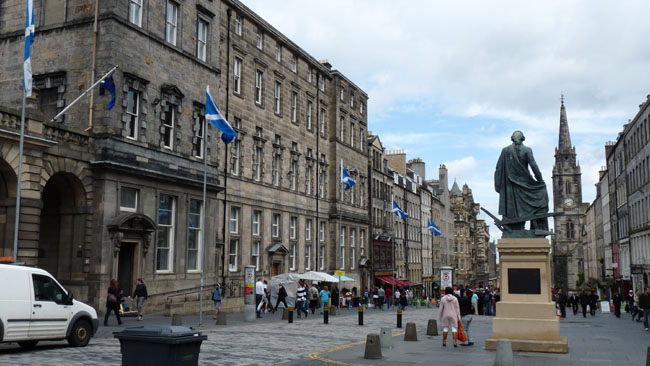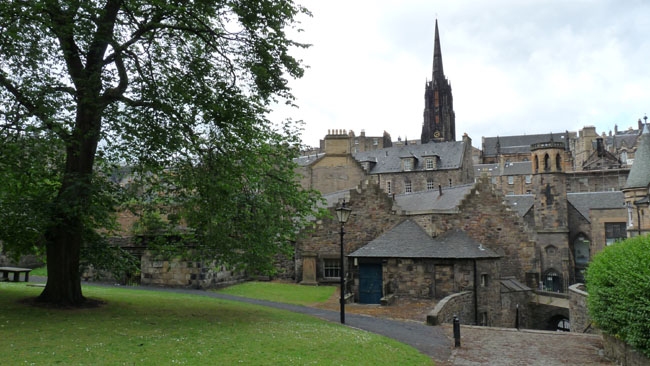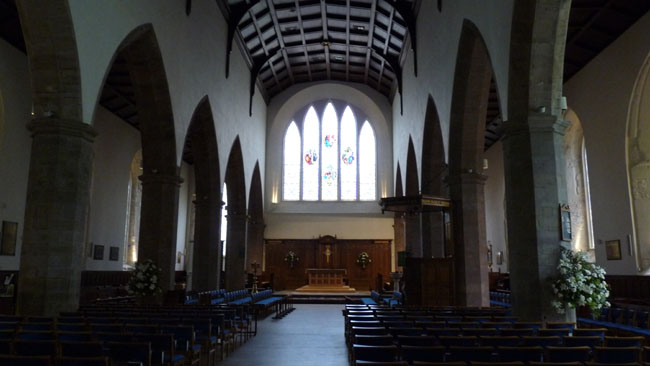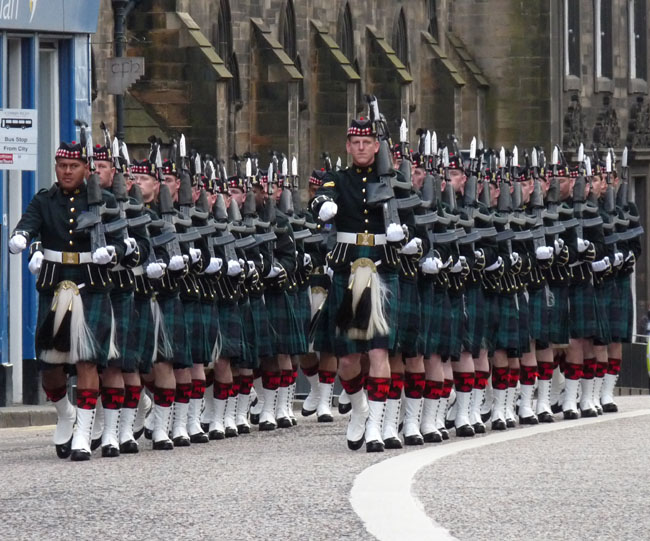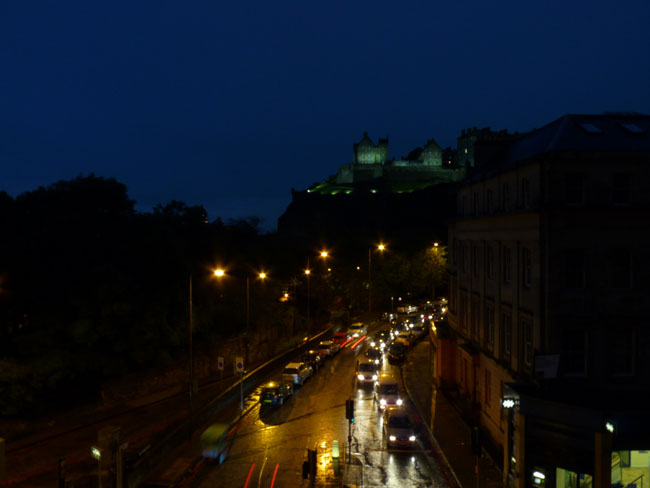 Pictures:
1. View of the Edinburgh Castle from Princes Street
2. Edinburgh Castle grounds
3. A view of the city and Firth of Forth the old fashioned way – through the cannons guarding the castle
4. Stained glass window in St Margaret's Chapel, the oldest surviving building on the castle grounds
5. View down the Royal Mile
6. Royal Mile near St Giles Cathedral, in the heart of Old Town
7. Greyfriars Kirk, where the National Covenant of 1638 was signed
8. Interior of Greyfriars Kirk adjacent to the exhibit that shows our ancestor
9. Scottish military marching to the castle
10. Twilight (just after 11pm) overlooking the castle
20 June 2009
It is Saturday morning and we are preparing to leave Edinburgh, our last stop in Scotland. We arrived here early Thursday afternoon after our last train pass journey from Fort William, via a change in Glasgow. With a population of about 500,000 (approximately 10% of Scotland's 5.1 million total), arriving here was a big change from the highlands and its low population density (70% of the population live outside the highlands). I had been in Edinburgh almost three years ago for a weekend during a UK business trip and the first thing that I noticed on our arrival was that the main street separating the old town and new town, Princes Street, was all torn up because of a new tram system being installed. That made for some slow going as we walked to our hotel from the train station.
When we finally made it to the hotel, we checked in and then went to the National Gallery of Scotland, as it had begun to rain. It was a small but comprehensive art museum and we saw some good pre Renaissance art as well as Rembrandt, Van Gogh, Monet and Gauguin paintings. After relaxing in our room, we went out to walk along the Royal Mile, which is a street that runs between the Edinburgh Castle and the Palace of Holyroodhouse (the royal family's official Scottish residence) and then had dinner in a pub.
On Friday we went straight to the castle, the city's major attraction, and arrived there about an hour after it opened. It was already very crowded and we saw many nationalities including the first significant number of Americans during our time in Scotland. The castle contains a wide range of buildings and exhibits ranging from the 12th to 18th centuries. There are several military / war museums, a prisoner of war display and an exhibit of Scotland's crown jewels. Being on a hill overlooking the city there are also spectacular views of Edinburgh and surrounding area, including the Firth of Forth waterway.
After lunch at the Elephant House Cafe, where J.K. Rowling sat as she wrote the first few Harry Potter books, we took a journey to Greyfriars Kirk, a church which is famous for, among other things, being the site of the signing of the National Covenant in 1638. This document affirmed the independence of the Scottish Church, rejecting the attempt by King Charles I of England to have Scotland adopt the Church of England. One of the co-authors of the document, Archibald Johnston (later Lord Warriston), is an ancestor so we wanted to learn more.
There was an exhibit inside the church that detailed the 1638 signing and had a picture and biography of Johnston, which was interesting to see. I went to buy a postcard of the covenant document and mentioned my relationship to him. The woman who sold me the postcard immediately called to a colleague who then proceeded to take us on a 'private tour' upstairs in the church and showed us a painting of Johnston hanging in the choir room. For all of Johnston's notoriety, he ended up being executed in 1663, along with many others who were involved in this chapter of Scotland's past, but it was great to see this history come to life in a personal way.
You never seem to be too far from Scottish heritage while you are in Edinburgh. That night we came across rows of Scottish military marching to a special event at the castle as we walked back from dinner at the top of the Royal Mile. We stood on the street with a handful of other people watching as they went by in precision before us. And we have literally seen no darkness while we have been here. Edinburgh, like every place else we been in Scotland, never quite gets totally dark in the northern horizon this time of year so we watched the silhouette of the castle against the twilight sky from our hotel window as we went to sleep at about 11pm.
We will fly to Manchester later today and then home on Sunday. While our time in Scotland was short we were able to learn a great deal about the history of the country while journeying by train and viewing some exceptional scenery. Experiencing the connection to our ancestors in Edinburgh also made the trip very personal for both of us. It was a special mother / daughter journey that we will always remember.
Take Care –
Sandy