Email: Happy New Year from Thailand
Date: Sunday, 4 January 2004 03:01 PST
Subject: Happy New Year from Thailand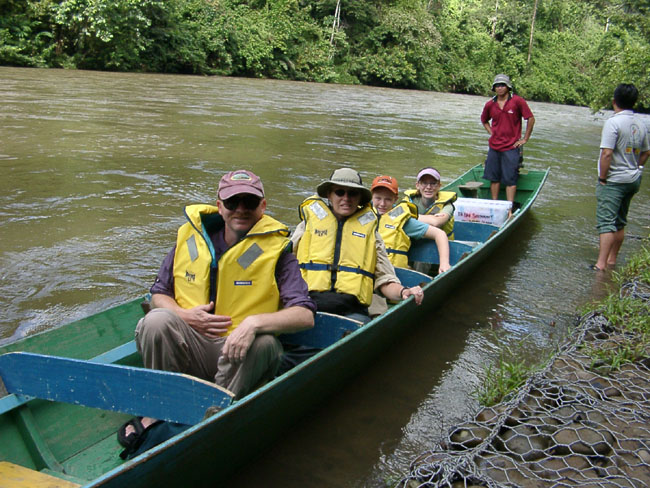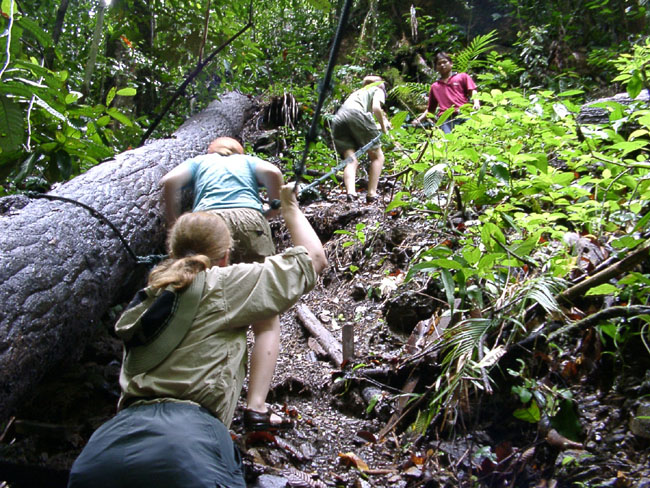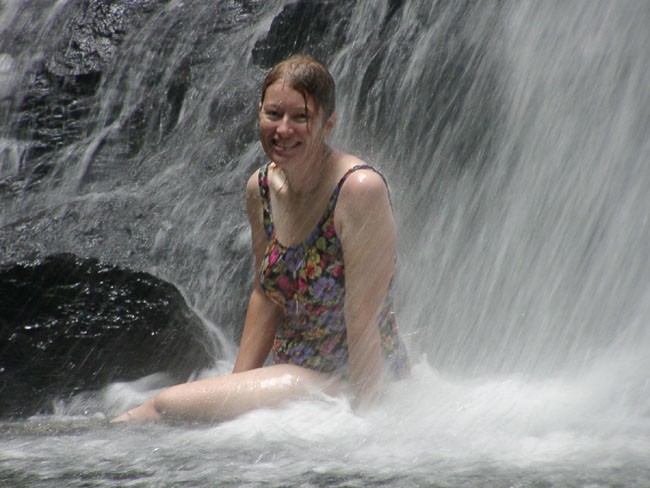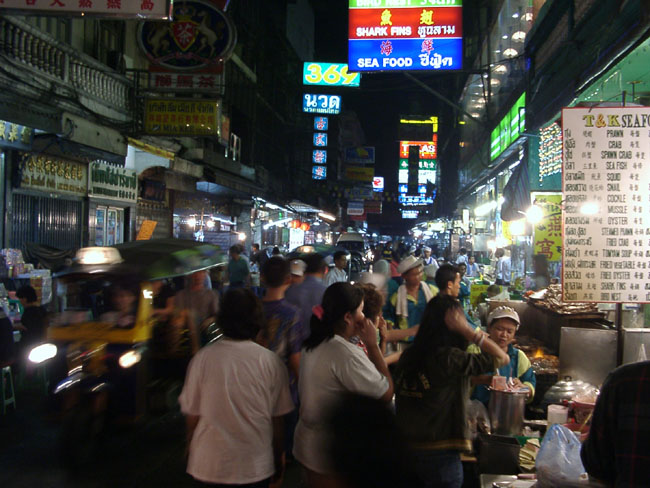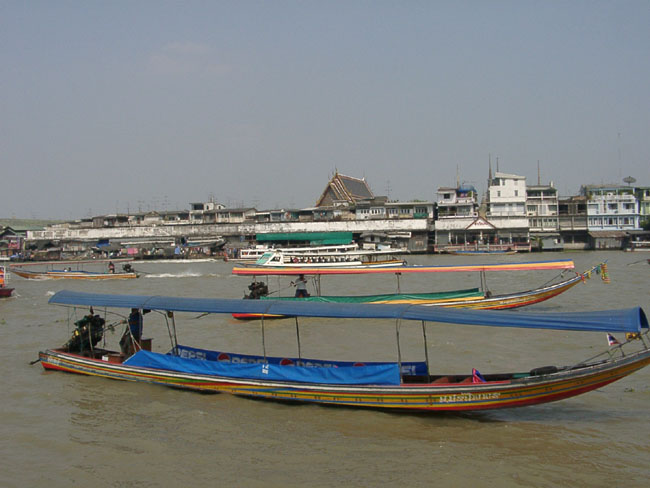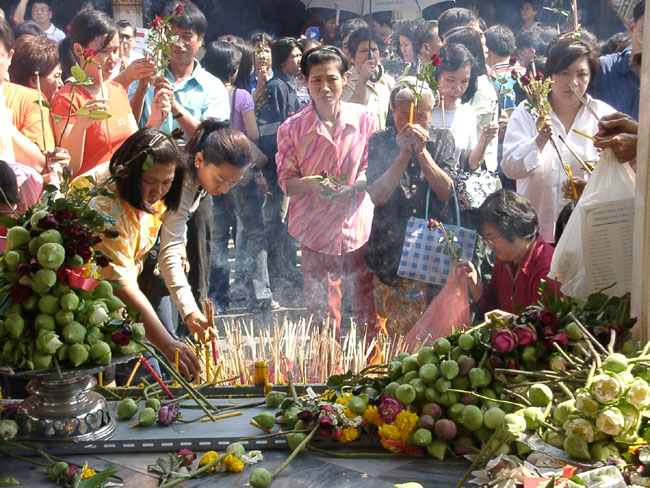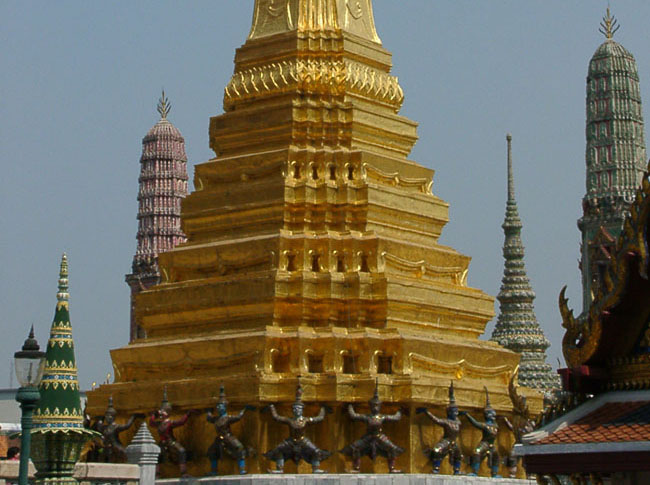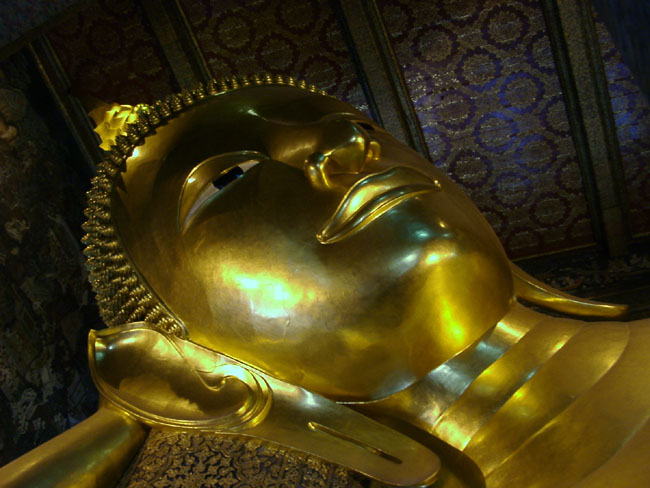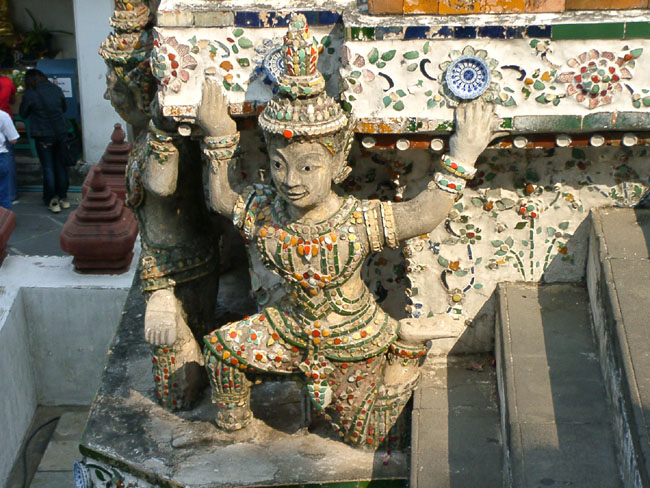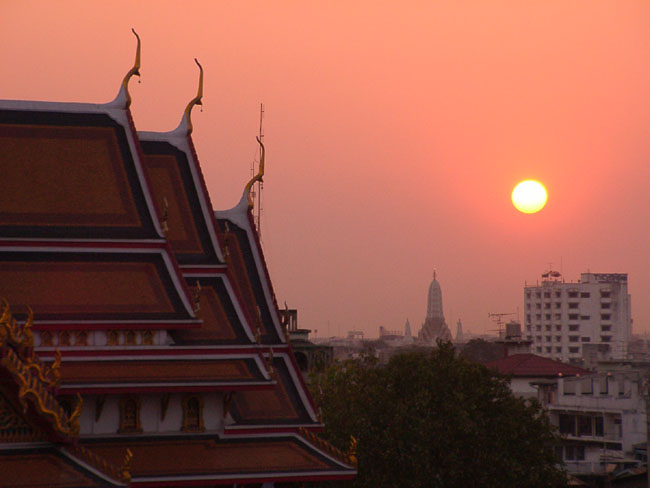 Captions for photos:
1.Getting ready for the longboat ride in Brunei
2. Jungle trekking to the second waterfall – straight up
3. Sandy enjoying a refreshing swim at the second waterfall
4. Bangkok nightlife in the Chinatown area, where we stayed
5.Boats along the river in Bangkok
6. New Year's Day visitors to the Wat Phra Kaew Temple
7. Wat Phra Kaew Temple
8. Reclining Buddha at Wat Pho Temple
9. Figure at Wat Arun Temple
10. Sunset from our Bangkok hotel room
2 January 2004 – Day #104
We are currently on an all-night train from Bangkok to Chiang Mai. This is the sixth night we will spend on a train during our journey. Chiang Mai is 430 miles north of Bangkok (about the same distance as Los Angeles to San Francisco). The trip will take approximately 13 hours. We are scheduled to arrive at 8:55am.
We booked a room in Chiang Mai from Bangkok this afternoon by pay phone. With the exception of Rajasthan in India and here in Thailand, we had most everything booked via the Internet before we left California. Reservations in Thailand proved difficult because they were three months in the future and because very few hotels in Thailand had their email addresses listed in our guidebook (the new edition of Lonely Planet Thailand that we just bought in Bangkok has many more email addresses listed). As a result, we are either making reservations "on the fly" just a few days in advance or simply showing up in hopes of getting a room.
The big draw in the north is the so-called "hill tribes". These nomadic people groups live in the mountainous regions. Each tribe has their own language, customs, dress and spiritual beliefs. Most of these people have migrated in the last 200 years from Tibet, Myanmar (Burma), China and Laos though some have been here longer. The Tribal Research Institute in Chiang Mai estimates that there are at least 10 hill tribes in Thailand. The total hill tribe population has been estimated at 550,000. We have come to Thailand in part to learn more about these people.
After a week in the north, we plan to fly to Cambodia for a week, followed by at short visit to a small island in the south called Ko Pha-Ngan. After our visit to Southeast Asia, we plan to continue our westerly movement to Paris, London and finally home.
Our flight to Brunei marked our fourth crossing of the equator and continued westerly movement back to our home base in California. Every destination up to and including Sydney was east of the previous one. Every destination after Sydney, starting with Adelaide, has been west of the previous one.
As we mentioned in our last email, we had planned to spend our second and last day in Brunei at the Ulu Temburong National Park. Alan, the owner of the tour company we selected, picked us up at our hotel early that morning. After a short ride, we arrived at the public water taxi pier. He told us that a man named Ken would meet us on the other side of our 45-minute ride. We shared the water taxi with eight to ten locals through a network of narrow channels covered on both sides with mangroves and a few water villages. One of these locals was a British woman who had spent the last 16 years in Brunei teaching English at the public schools. We gained a lot of insight from her during our ride about the people and their challenges.
A man name Ken did in fact meet us on the other side our ride in the town of Bangar. After a short 10-mile drive by car, we entered the national park. Here we met our guide, Enyo — a small, pretty, young woman who grew up in the area. We boarded our longboat and took off south along the river through thick primary rain forest arriving near the center of the park after about 30 minutes.
Since it had rained the previous night, there was plenty of water in the river. This meant that we had the opportunity to go deeper within the park to view a series of waterfalls. The falls, however, couldn't be viewed from the boat but required about one-hour of jungle trekking (walking along the banks of a small stream that fed the Temborong River). We reached the first waterfall with a minimum of effort. Again, because of the rain, there was plenty of water. It was a beautiful site with the surrounding lush jungle greenery. After a few pictures, we continued on to the second waterfall.
The second waterfall was about 50 feet higher than the first one. This necessitated some muddy climbing with ropes for safety. Even with the ropes, we all fell with the exception of Sandy (the rocks in some places were extremely slippery). Fortunately, there were only a few scrapes and bruises and no broken bones. The second waterfall was also very beautiful. It had a deep natural pool perfect for a quick, refreshing (cold) dip. We all took advantage of the pool since it was very hot and humid at the time. We left the way we came after a short break for lunch.
After getting back to our hotel at 4:30pm, we took quick showers and changed clothes. We then took a short drive to the airport. After a three-hour flight, we arrived in Bangkok at 9:30pm on 30 December.
For such a large city, we found Bangkok to be an unexpected pleasure. The streets were clean with little trash or graffiti. Though the roads were crowded, we could still get where we wanted in a reasonable amount of time. The rooms and food were inexpensive. Finally, there was no need to learn Thai since almost everyone we encountered spoke reasonably good English.
While in Bangkok, we had the opportunity to do some shopping at the Siam Center. Here, we found seven floors of theaters, restaurants and shops. We bought a few t-shirts (US$2) and had lunch (hot pot). We also shopped near our hotel at the Phahurat Market in Chinatown. Here the girls bought earrings (US$0.50).
On 1 January, we toured three of the largest temple complexes in Bangkok – Wat Phra Kaew (Temple of the Emerald Buddha), Wat Pho (Temple of the Reclining Buddha) and Wat Arun (Temple of Dawn). We've included pictures so you get an idea of what we saw. The grounds of the first temple were astounding. There we so many large structures built so close together, it was impossible to get a satisfying picture. It was also crowded with Buddhist devotees seeking a blessing for the New Year. At the second temple, we saw the Reclining Buddha. At 150 feet, the golden (gold leaf) image was impressive. The architecture of the last temple was Khmer — similar to what we will see in Cambodia. This temple was also beautiful but it was hot and some of us were getting "templed-out".
With such a good start, we are looking forward to our other destinations in Thailand.
God's Blessings,
Darren and Sandy