Email: Greetings from South Australia
Date: Thursday, 18 December 2003 01:25 PST
Subject: Greetings from South Australia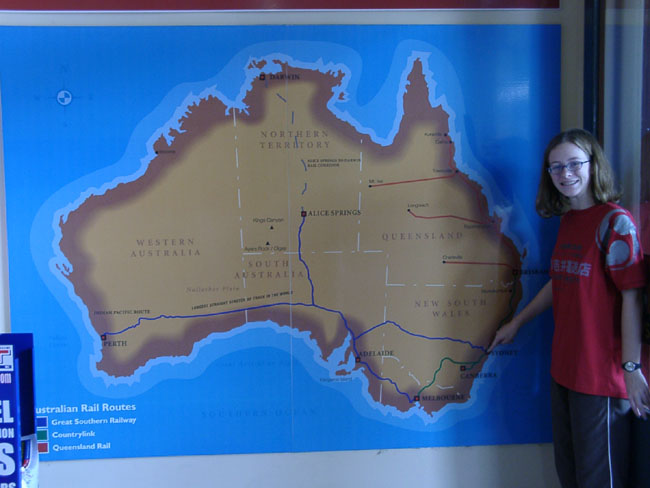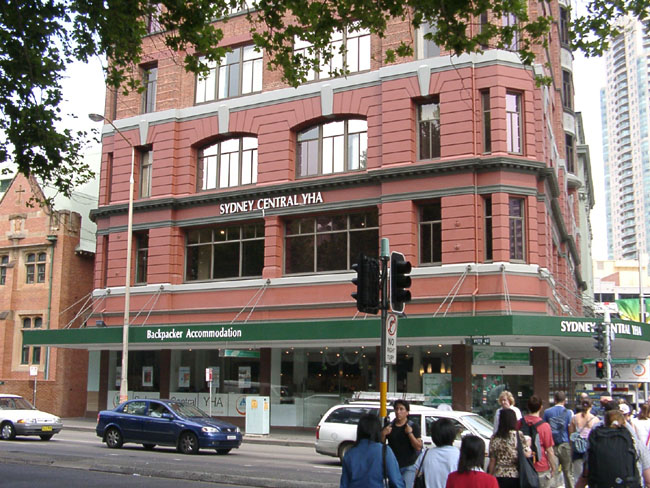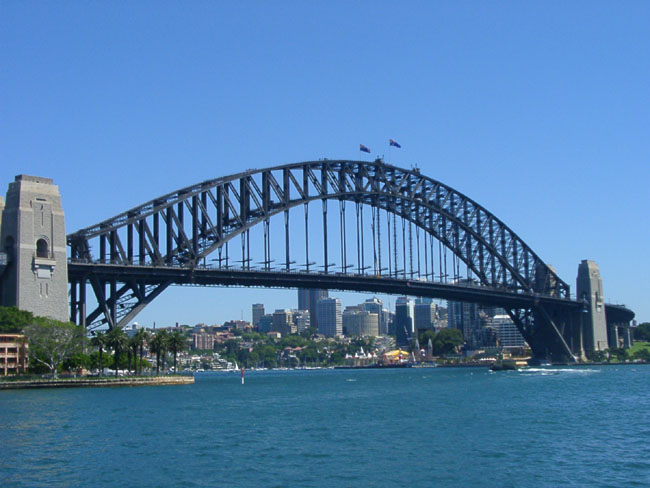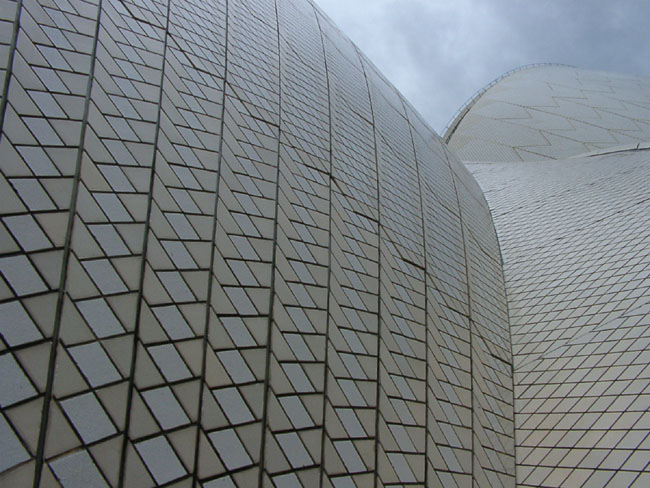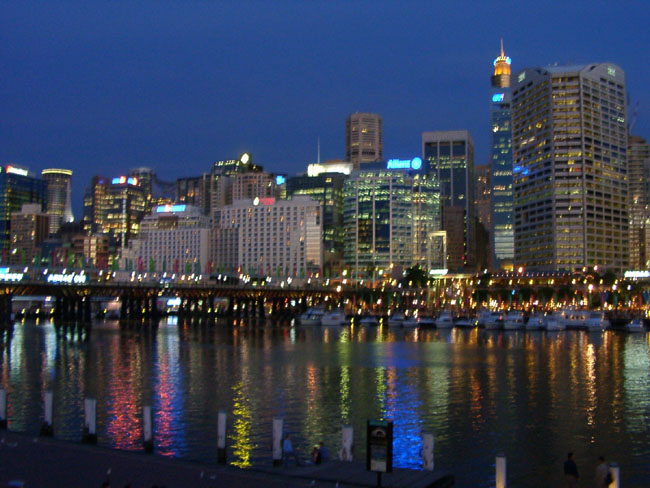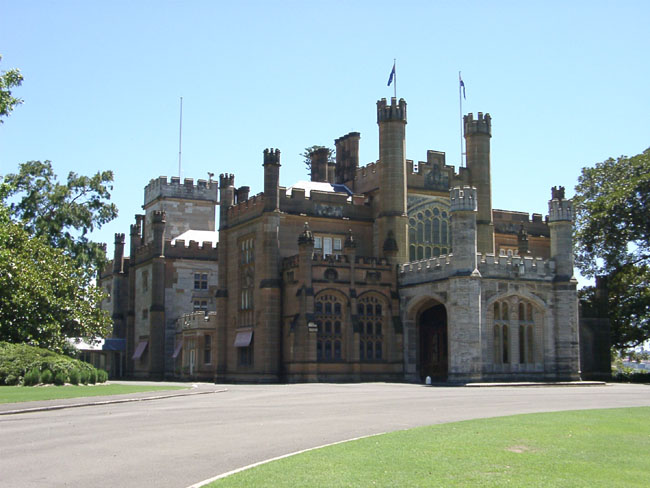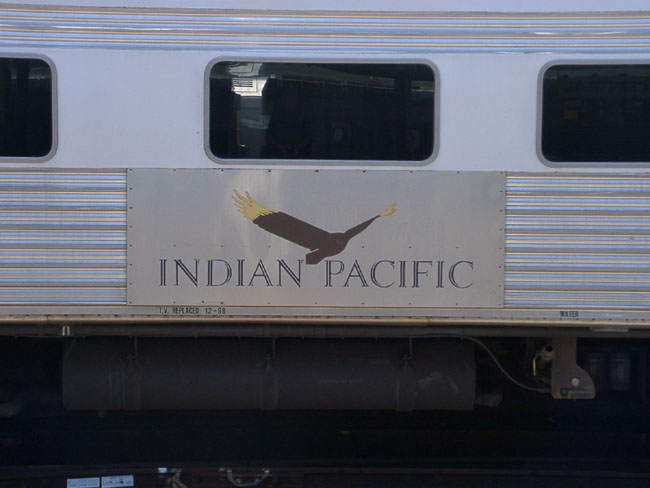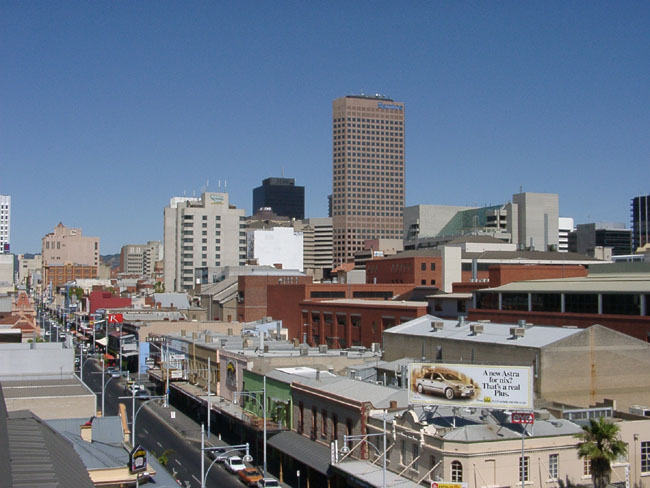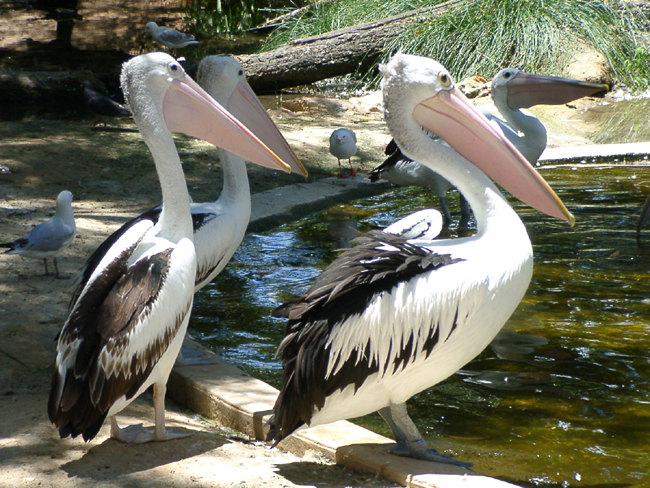 Captions for photos:
1. Lauren pointing to Sydney on a map. Brisbane, where we started in Australia, is at her shoulder along the east coast. The blue line shows our train journey across to Adelaide, at the bottom middle of the country.
2. Our hostel in Sydney
3. The Sydney Harbor Bridge
4. The Opera House from the harbor cruise
5. Close-up of the Opera House roof tiles
6. Our view from dinner at Darling Harbor (Kristen took this picture!)
7. The Government House in Sydney
8. The Indian Pacific train car
9. Adelaide, home to a million people and the capital of South Australia
10. Australian Pelicans at the Adelaide Zoo
17 December 2003 – Day #88
We are now in Port Augusta in the state of South Australia. This city, about 180 miles north of Adelaide, is known as the crossroads of Australia. The major east-west highway from Sydney to Perth travels through here, as well as the north-south route from Adelaide to Darwin. This latter road is the one we are taking, having rented a car in Adelaide earlier today. We plan to drive through the Outback to Darwin (about 1,900 miles), with a 250-mile round-trip detour to Ayers Rock. This will be our itinerary for the next two weeks.
Prior to renting the car, we visited Sydney and Adelaide via two long train trips. Our 600-mile ride from Brisbane to Sydney took 14 bumpy hours and we arrived there at 10:45pm. Fortunately our hostel was only two blocks away, so we had a short walk to our
room. We stayed two and a half days in Sydney, and even though it rained one of the days, we were still able to visit the major attractions.
Sydney is truly one of great cities in the world and we were impressed with the vitality of the city. The city had countless shops, restaurants and other attractions with very few "For Lease" signs. It also had an extensive rail network connecting the city and the suburbs as well as light rail and monorail lines (very similar to the one at Disneyland except much longer).
We took a great tour of the Sydney Opera House and got to see four out of the five halls/theaters in the complex. We learned how a four-year, Australian $10M building project ballooned into a 14 year, over Australian $100M price tag. We also saw how the halls/theaters were built as separate buildings inside the outer structure. The exterior is covered with white and cream tiles. From a distance, these tiles gleam in the morning sun. Even with all its history and construction controversies, the building is an awesome sight. We knew it would be a highlight of our Australian trip, but found it to be a highlight of our entire trip thus far.
We were able to see the Opera House and harbor from two vantage points: by taking an excellent harbor cruise and by walking across the Harbor Bridge. We walked around the botanical gardens right on the harbor and also toured the old Government House located on the grounds. This residence was built in 1845 and still utilized for official events. Many times, it has been used to put up the royal family (from England). In fact, the room used by Prince Charles and Princess Diana remains unchanged since their visit some years ago. Finally, we visited the educational Museum of Sydney.
On our last night in Sydney, we had dinner at a very good Thai restaurant overlooking Darling Harbor. As the sun set, Kristen took a picture of the sun's reflection of the glass buildings in the harbor. It was truly a magical sight!
On Saturday afternoon, we were ready for our next train adventure. We boarded the famous Indian Pacific train for our 1,000-mile, 24-hour trip to Adelaide. This train leaves Sydney twice a week and goes across the country to Perth on the west coast. That entire trip takes 65 hours. There are three classes on the train: two sleeper classes and a seat class. Since the sleeper classes are very expensive, we opted for seats for our one night journey. All our previous overnight train journeys on this trip (in Africa and India) had been in sleepers. Sleeping upright that night was a bit uncomfortable (like trying to sleep on a plane during turbulence). We did have use of the second class dining car, so we were able to eat meals and meet many people as the beautiful scenery rolled by.
After passing through the Blue Mountains, over plains and to old mining towns on the edge of the Outback, we dropped down into farms and were soon approaching Adelaide on Sunday afternoon. The train was actually 20 minutes early and we were soon at our hotel. Adelaide was very hot (over 100 degrees) while we were there, so we limited our time to taking in a very good museum on the history of South Australia and visiting the zoo.
We were fortunate enough to take free, docent-led tours in both places. The museum had a very informative Aboriginal wing in addition to historical and natural history exhibits. The zoo had many animals native to Australia that we had not seen, so we especially enjoyed that. The heat in Adelaide is just the beginning of what we expect to be a very hot two weeks as we continue through the Red Center of the country.
Take Care,
Sandy and Darren