Email: Greetings from Pelling, Sikkim
Date: Tuesday, 25 November 2003 00:46 PST
Subject: Greetings from Pelling, Sikkim (India)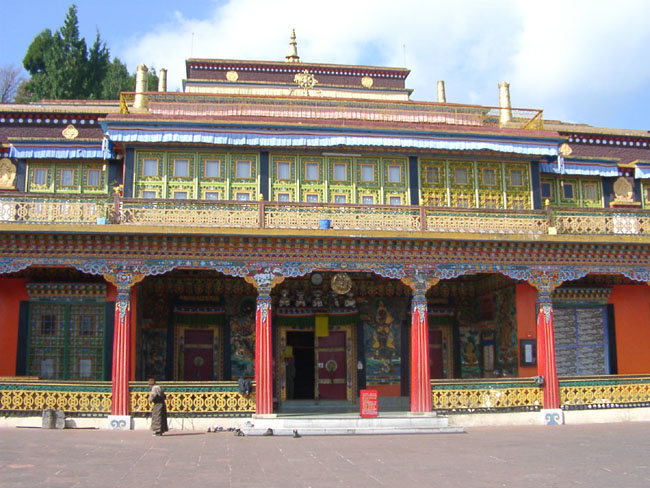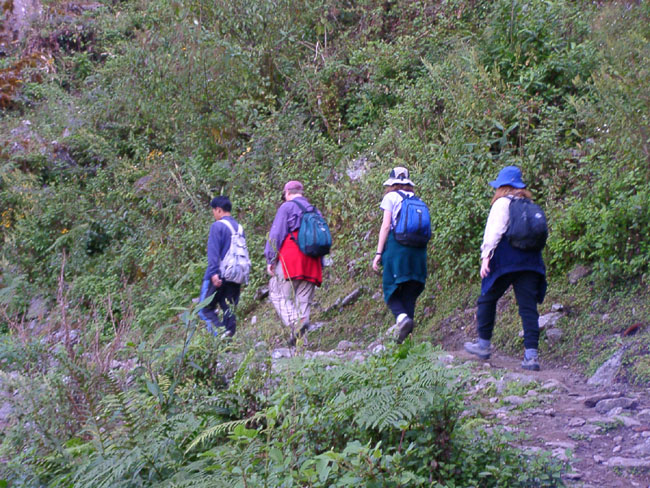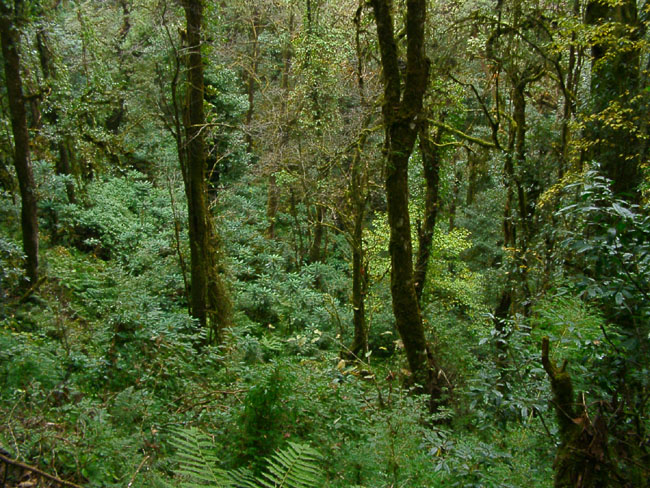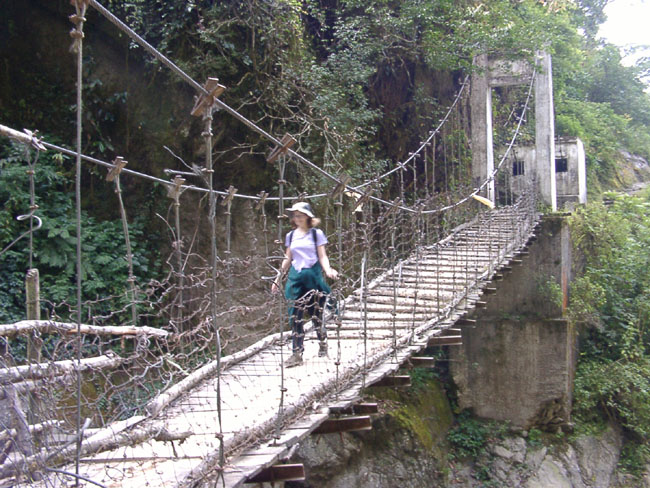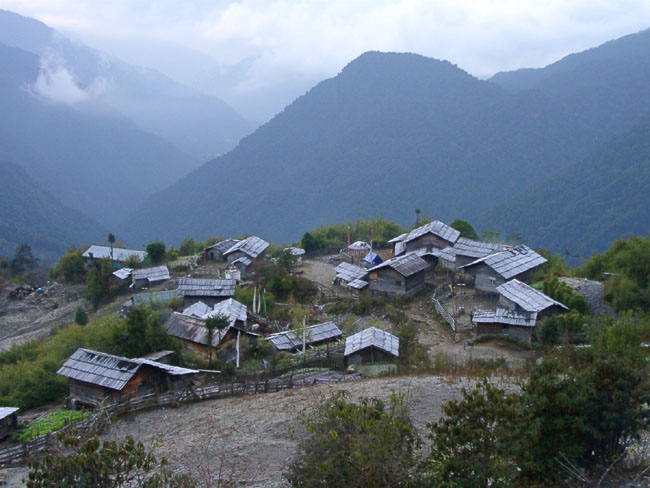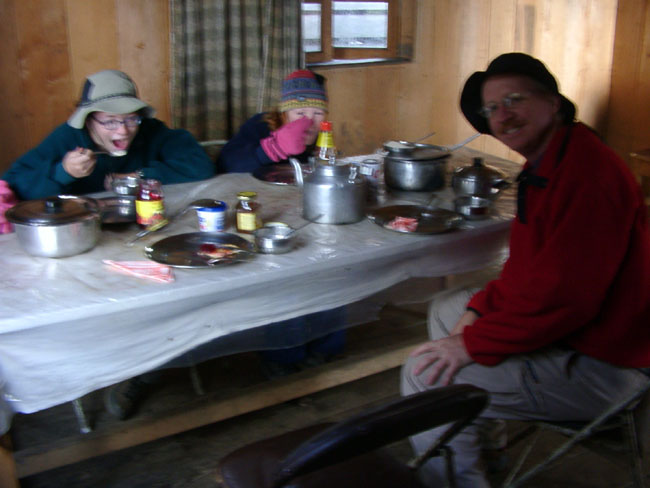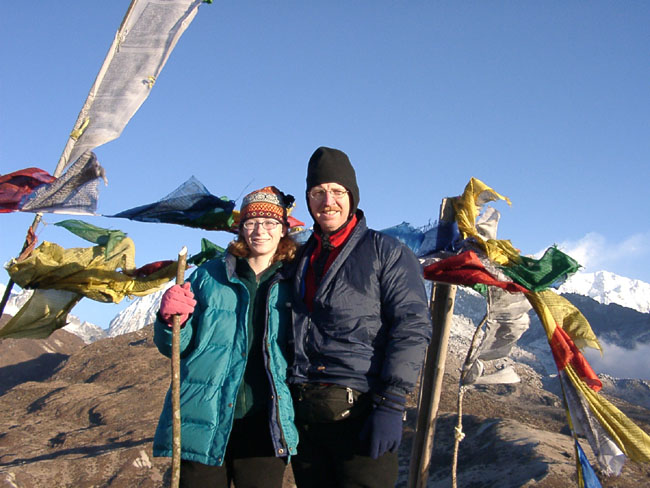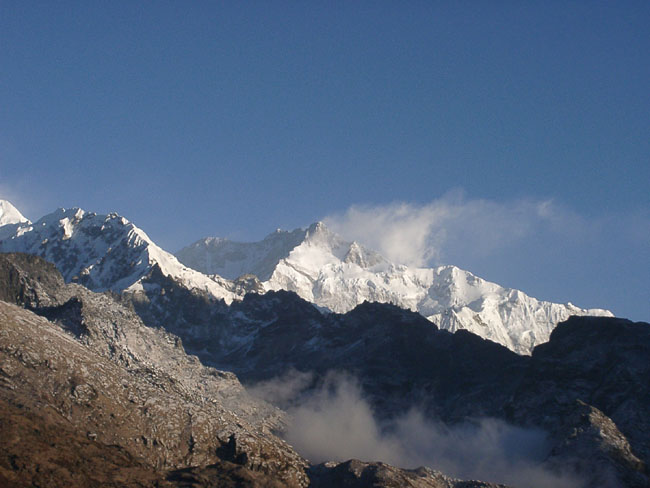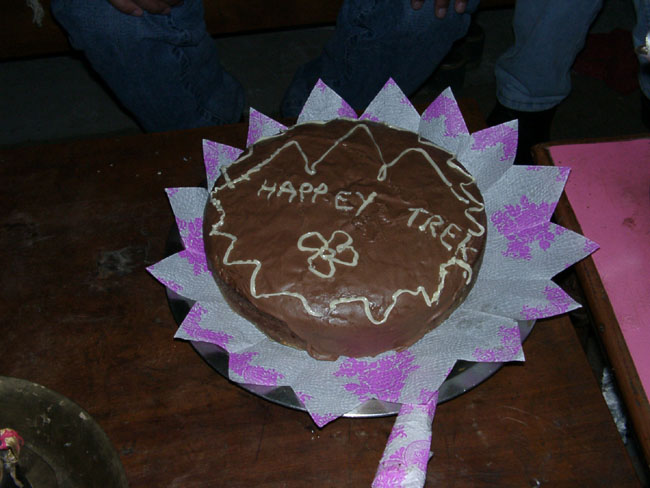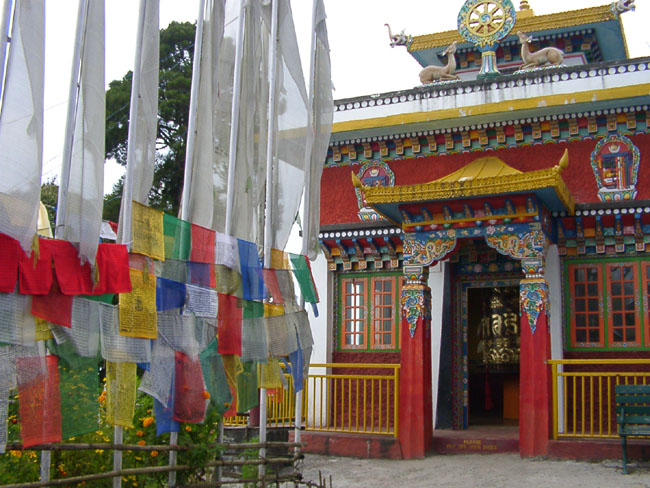 Captions for pictures:
1. Rumtek Monastery, outside of Gangtok
2. The first day of the hike with our guide
3. Forest along the hike
4. Lauren crossing one of the swing bridges
5. The village of Tsoska (home of Tibetan refugees mentioned below)
6. Breakfast at one of the huts
7. Lauren and Darren at Dzongri Top at sunrise, elevation 14,000 feet
8. Mountain views from Dzongri Top, including Kanchenjunga (with cloud on top)
9. The cake made for us at the cook's home
10. The prayer wheel of Pemayangtse Monastery at Pelling
Pemayangtse Monastery prayer wheel sound:

Pemayangtse Monastery mass:

20 November 2003 – Day #61
We just completed our six-day trek in Western Sikkim, India. Some of you may know that our original plan was to go trekking in Nepal, but we substituted Sikkim because of the internal unrest currently taking place within Nepal.
We met our guide, "Paul" at the airport near Darjeeling. He was accompanied by his driver, Sundeep. It took us about four hours to drive the 77 miles to the capital city, Gangtok, given how mountainous this region is. We spent the next day in Gangtok visiting a couple of beautiful monasteries and a park where the region's famous orchids are displayed.
After a drive to Yuksom (elevation 5,720 feet), via some beautiful terraced rice fields, and overnight there, we began our trek. Our party totaled ten, plus four ponies to carry gear. In addition to the four of us, the group consisted of our guide Paul, the cook, his helper, a pony master, and two porters.
A typical day consisted of "bed tea" served to us in our sleeping bags at about 6:30am. It was accompanied by warm milk. About 45 minutes later, after we were dressed and packed up, we would get steaming bowls of hot water to wash up with. There were no showers, so we made due with these for the six days. Breakfast followed, usually some oatmeal, followed by eggs and sometimes even pancakes. Then it was off for the day's hike.
At about 1pm, we were served lunch. Sometimes we were already at our day's destination, sometimes it was on the trail. The cooks and porters always passed us on the trail and were ready with lunch when we got there. It consisted of a warm Gatorade-type drink, followed by soup (usually garlic), a potato or rice dish, some bread and some fruit for dessert. Tea was served last. At 4pm we had more tea and either some crackers or cookies.
Dinner was served at about 6:30pm and was similar to lunch, except that we had dal (a type of lentil soup) over rice several times. As you can see, the diet was very rich in carbohydrates, necessary for hiking and elevation gain.
On the first day, the trail climbed up a valley via a series of ridges. We would climb up one ridge, drop almost all the way down, cross a river and then repeat the sequence again. After doing this three times (and crossing three bridges), we climbed steadily for about 2,000 feet before reaching a hut at 8,935 feet elevation. With a break for a hot lunch on the trail, it took about 8 hours. The hut was very basic, with no heat, no lighting and no toilets. At least we had a bed and mattress to place our provided sleeping bags on for the night.
Given how much elevation that we had gained the first day, the second day consisted of a short, but steep two-hour hike, to a village called Tsoska (elevation 9,910). There are about ten houses here, given by the government to families who fled from Tibet in 1959. We stayed in a very nice hut here that had some solar lighting, which worked off and on and an outhouse of sorts. We spent the majority of the day relaxing and getting use to the thinning air.
On the third day, we made the decision to have Darren and Lauren continue to the next hut while Kristen and I stayed at Tsoska. Kristen had done a really great job to get to almost 10,000 feet on a steep and rocky trail. The next section of the trek took Darren and Lauren up to just over 13,000 feet in a grueling six hours. They spent a very cold night (below freezing) in another basic hut.
They were up at 4:30am the next morning to hike another 900 plus feet to a small peak at 13,975 feet. There they were able to watch the sun rise and get a 360-degree view of many Himalayan Mountains, including Kangchenjunga which at 27,904 feet, is the third tallest mountain in the world. Lauren was an awesome hiker throughout, even beating Darren to the peak. Our guide complemented her several times on her hiking prowess. For those of you who are interested, the trail continues three more days to a pass at right around 16,000 feet.
After their sunrise trek, Lauren and Darren hiked back down and rejoined Kristen and me later that day in Tsoska. We all started down the next day and made it back to Yuksom by noon the day after. That night, we were invited to the cook's home and had dinner and a sip of the local millet beer. They also made us a nice cake.
We were all refreshed by the awesome mountain views, peaceful village scenery and beautiful foliage that we saw. Conversely, we were physically tired from the challenge of mountain trekking at high altitude. We will spend one more day in Sikkim before flying back to Delhi and moving on to the Rajasthan region of western India.
Hope everyone has a great Thanksgiving!
Take Care,
Sandy