Email: Greetings from Chobe National Park, Botswana
Date: Saturday, 25 October 2003 01:50 PDT
Subject: Greetings from Chobe National Park, Botswana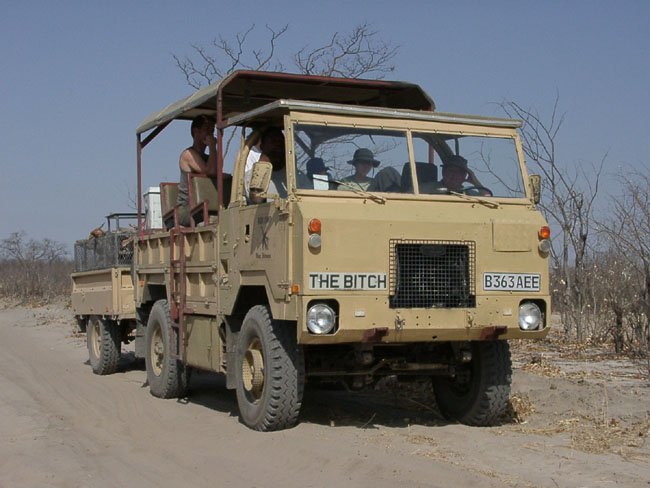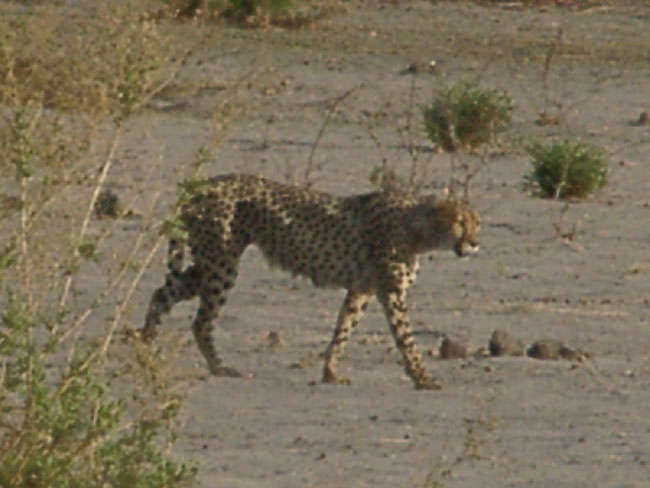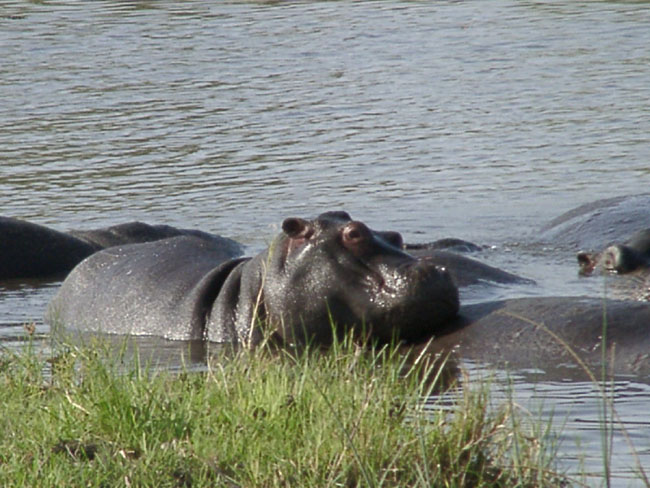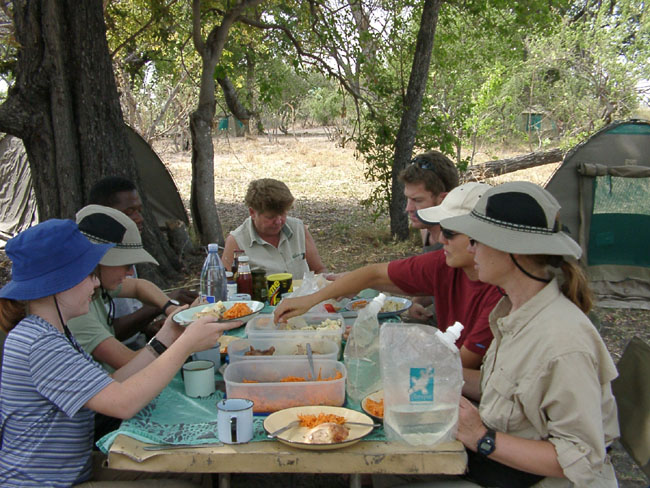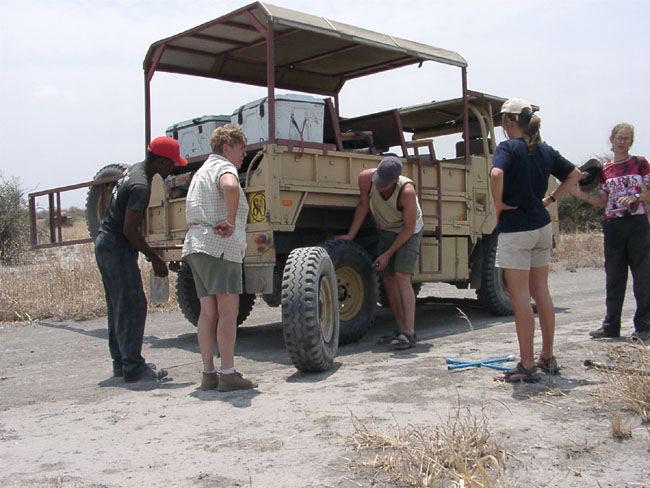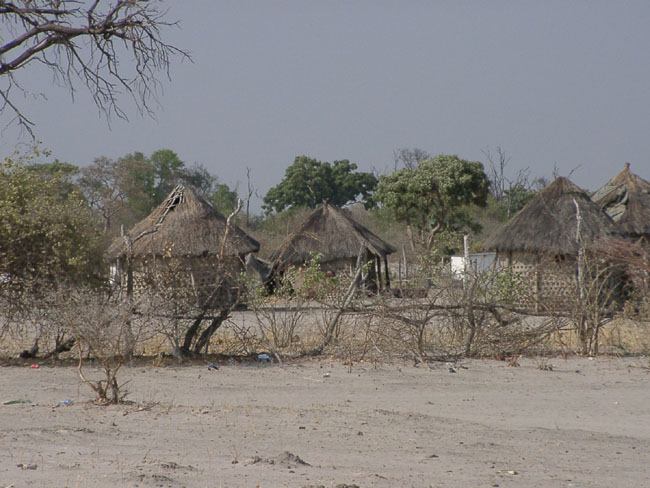 Captions for the pictures:
1. The Bitch – our transportation
2. Cheetah at dusk
3. Hippos cooling down
4. Dinner after a game drive
5. Thendia and Barnard changing a tire
6. Typical village in Botswana
19 October 2003 – Day #29
Last time you heard from us, we were driving from Windhoek, Namibia to Maun, Botswana. We left Windhoek at 7:30am and arrived in Maun at about 3pm. As we approached Maun (about 50km away), we passed a village called Toteng. We didn't see any cars, bikes or stores. In fact, the only reason I noticed it was that the speed limit was reduced from 120km to 80km. Here, all of the brush is cleared from around the trees. The inhabitants are mostly goat ranchers. They live in compounds built with branches placed sided by side to form a fence. Each compound has several buildings. In some cases, the building is constructed with cement blocks with tin for the roof. Other times they are built with sticks and mud with reeds used to form the conical roof (see pictures for example). Simplicity.
When we got closer to Maun, we hit a security checkpoint. Our Namibian driver's English was limited (the Botswanan police officer's was excellent). Because he didn't answer the questions quickly and clearly, we were asked to pull off the road for an inspection. As our driver opened the back, Sandy jumped out of truck. The officer asked to see the contents of one of the bags. Sandy opened the first bag and declared that all of the bags were ours. The officer immediately backed down and we were allowed to pass. We found security checkpoints outside of Windhoek as well. The purpose is to control immigration (Angola and Zimbabwe) and theft as well as to collect fees as applicable.
As I write this, we are in the middle of a 5-day safari through the heart of Botswana. We left Maun on 17 October with the goal of arriving in Kasane on 21 October. We will spend most of our time in the Moremi and Chobe National Parks. Moremi is part of the Okavango Delta formed by a river with the same name. The Zambezi River is the major water feature of Chobe.
The total distance traveled on our driving safari is 350km. Today's distance will be 108km. The roads are all dirt tracks with the exception of one short stretch of paved road between the parks. The condition of the roads so far varies from flat and smooth to extreme uphill or downhill with big ruts. Our speed rarely exceeds 40km/h. The average is probably about 20km/h. So, 108km is a long way.
Our pattern has been the same both days. We wake about 6am (not with an alarm clock but a profusion of sounds like no other I've heard). By 8am, we've broken down our tents and loaded all the equipment. We view game along the way. Once we arrive at the camp, we set up our tents and unpack our gear. We then take in a late-afternoon game drive followed by a gathering around the fire for a beer, conversation and dinner. Today, we were fortunate enough to see a pride of lions and a cheetah. We also saw monkey, baboon, elephant, giraffe, impala and hippo.
Our guide's name is Eve. She is originally from South Africa. She is one of the few women guides in the area and the only one we've seen in Africa. We estimate her age at 60-ish. She is energetic and knowledgeable. She has been married for 32 years. She has two kids and one grandchild. Eve is great with the kids.
Our "man" is named Thendia (Kristen had trouble with the pronunciation and calls him India instead). He lives in a small village in the bush when he's not on a safari. He is unmarried at 26. His language skills are good. But, he has a thick accent and doesn't speak much. Thendia is a jack-of-all-trades. He is skillful at changing tires (see pictures), cooking and spotting animals. He is a warm person who plays with the kids and patiently answers all of their questions.
We are traveling with two others: Barnard (pronounced with a double A – Baarnard) from South Africa and Annick (pronounced like Monique with a short "A" replacing the "Mon") from Belgium. Both are in their 30's. Barnard and Anike are "dating". They work for the same company and must have met at a company meeting of some sort. They spent the time giggling and comparing Flemish and Afrikans (pronounced "Africons") – their native languages. Both Flemish and Afrikans have their roots in Dutch.
Our vehicle is a 101 Land Rover. It is big, ugly and noisy. It gets three km/liter (less than eight miles/gallon… worse than a Hummer H2). It is at least 30 years old. Since the odometer only has five digits, no one has any idea how far it has gone. It has a strong motor, but it is fussy. At times, we have trouble starting it (if we shut it off in route after viewing game). If this occurs, Thendia, Barnard and I jump out and push start it. This vehicle has a name: The Bitch (appropriate). It has a nameplate on the front so everyone knows it's coming. It carries us and pulls a trailer with our gear.
On the first night, we camped in a wetland area. Most of the surrounding area is swamp covered with tall reeds. As the sun fell, the activity of the animals seemed to increase. On top of the crickets, there was another bug that sounded like water dripping. After more joined in, had a cascading sound that reminded me of orchestral wood blocks. There are a vast number and variety of birds. Their activity would increase at nightfall and then grow silent until daybreak. One bird's call sounds like an iron gate closing or a child learning to whistle (single hissing note). Others are impossibly complex and couldn't be described in a short email.
Then there are the hippos. They are more active at night. Hippos make many noises. The one they use the most sounds like a deep, sinister laugh (it reminded me of Jabba the Hut in Star Wars). Even though the hippo was several hundred meters away, it sound like it was just outside the tent. One night, just before we went to bed, we actually heard a male lion roar (several times). Again, it was at least 500 meters away (we had seen it during our game drive). However, it sounded quite close. For some reason, we all retired to our tents shortly after hearing this.
Miss you all.
God's Blessings,
Darren
The 10 ways to know if you are in the middle of nowhere…
10. People in cars coming from the opposing direction wave as they pass
9. Passing on a blind corner is no big deal
8. You fill r' up when you still have half a tank
7. You bring extra car parts with you
6. You can't find any radio stations
5. You turn off your cell phone to save power
4. You bring more than two days food and water
3. The only signs are mile (kilometer) markers
2. You use the middle of the road to avoid hitting the animals
1. Locals have never heard of Arnold