Email: Greetings from Brisbane, Australia
Date: Thursday, 11 December 2003 14:52 PST
Subject: Greetings from Brisbane, Australia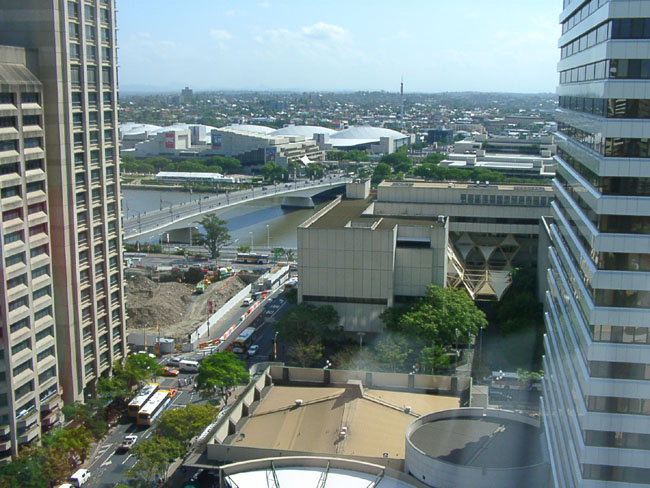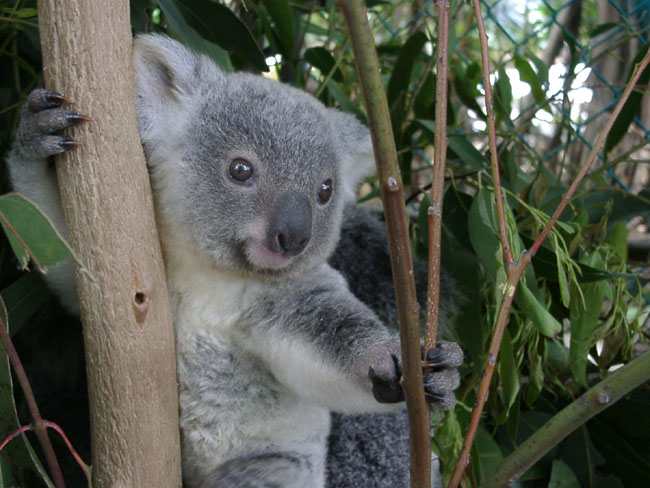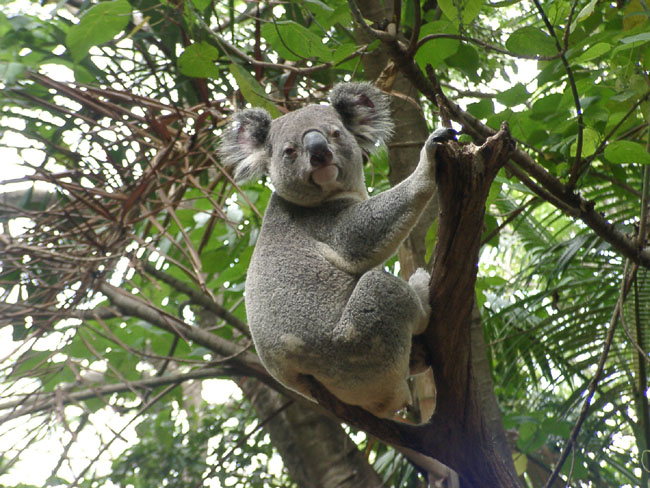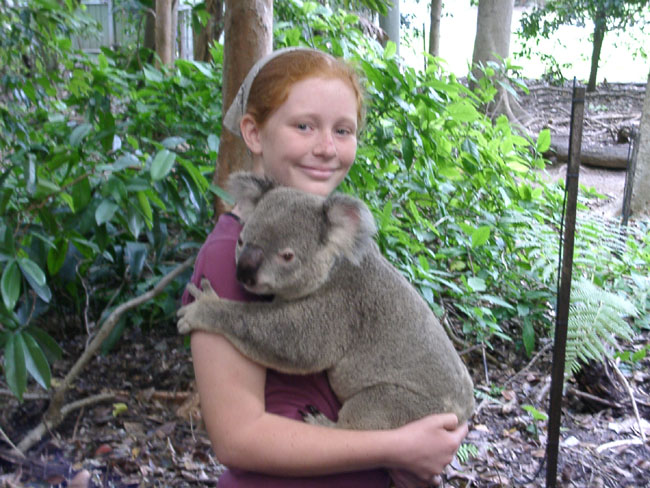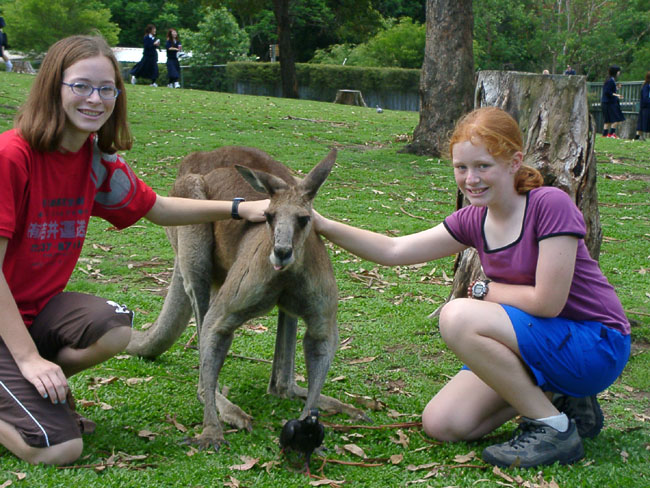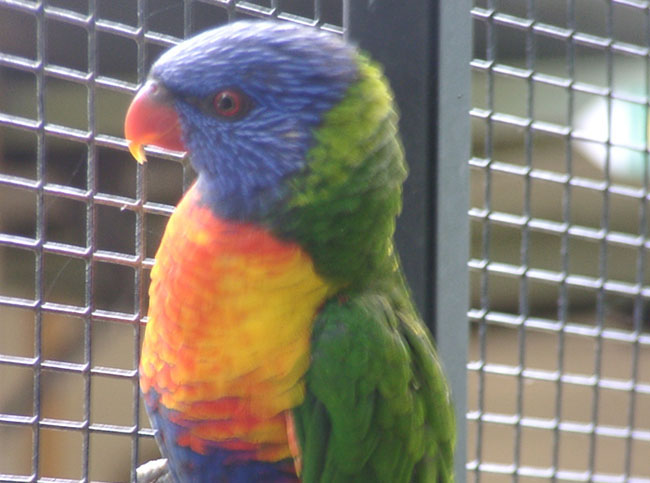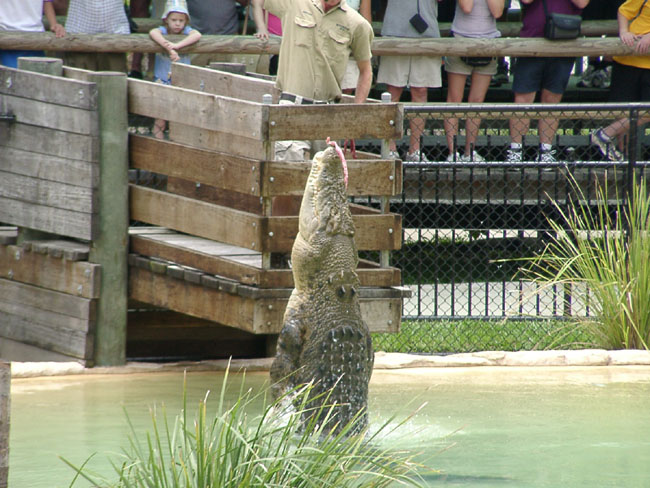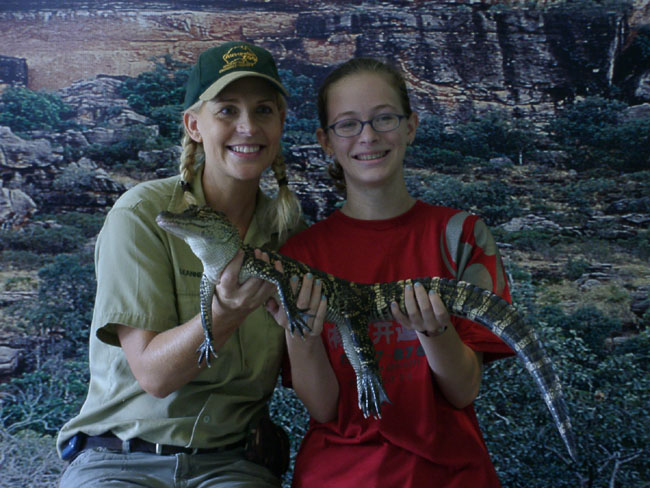 Captions for photos:
1. Downtown Brisbane, known as the River City
2. A baby koala at the Lone Pine Sanctuary
3. One of the cute koalas
4. Kristen holding a koala at the sanctuary
5. Lauren and Kristen with a friend at the Lone Pine Sanctuary
6. Lorikeet at the sanctuary
7. Feeding the crocodiles
8. Lauren holding a baby at Australia Zoo
9 December 2003 – Day #80
We are now in Brisbane, Australia. To get here from Delhi was quite an adventure. In order to get the cheapest tickets for our multi-continent trip, we knew that we'd have to put up with some inconvenient connections. This was to be the worst one with three flights and the total elapsed time taking 29 hours from hotel to hotel.
We left our hotel in Delhi at 1pm on Friday and took a taxi to the airport. Our first flight on Air India left at 6:30pm to Bangkok, Thailand. It was a pleasant three and a half-hour flight and we arrived there about midnight. Our next flight was scheduled to depart at 7:40am, with check-in two and half-hours before. Since it would cost us about $50 in departure taxes if we went through customs and left the airport (plus the cost of a hotel room), we had already decided to spend the layover in the airport. We had actually researched the best places to wait (i.e., sleep) in the airport via the Internet (yes, there are even web sites for that!).
The airport was still very busy when we arrived in Bangkok. We had a bite to eat and walked around a little bit before finding the area that was away from the major traffic and had rows of chairs on which to sleep. We slept in shifts, so Lauren and I played cards while Darren and Kristen slept first.
At about 5am, with each of us getting a couple of hours of sleep, we went to check in for our next flight. We were flying Royal Brunei, so they retrieved our checked bags from Air India and gave us new baggage claim stickers. Our flight left about 45 minutes late and we flew about two and half-hours to Bandar San Begawan, Brunei (on the island of Borneo).
Because our plane was late, we had a very quick layover in Brunei. We were soon off again on our third and longest flight to Brisbane, which took about 6 ½ hours. We landed in Brisbane at 9:45pm on Saturday night, quickly cleared customs and took a taxi to our hotel, arriving shortly before 11pm.
On Sunday, we spent the day resting, doing laundry and shopping. After more than two months on the road, we needed to replenish some items. We immediately fell in love with Brisbane and spent some time in the afternoon walking around the downtown area and along the river.
Monday was spent at the Lone Pine Koala Sanctuary. Located a short distance out of town and accessible by public bus, the sanctuary is the largest in the Southern Hemisphere, caring for over 130 koalas. We were treated to observing many koalas, including two babies. Kristen was able to get her picture taken holding one and all of us got to pet one named Gary. We also were able to feed kangaroos and see dingoes, Tasmanian devils, wombats and lorikeets. It was a very enjoyable day.
Today, we went to the Australia Zoo, home of the Crocodile Hunter, Steve Irwin. This outing was a special request of the girls when we set our Australian itinerary. The zoo is located on the Sunshine Coast, about 1 ½ hours north, and a package of train, courtesy bus transfer and park admission was easily purchased in Brisbane. Besides crocs, the zoo also contains tortoises, asian otters, cassowaries and a nice wetlands section with many native birds. In the Kids Zoo, Lauren bottle-fed a baby pig and Kristen bottle-fed a lamb.
At noon, we attended a crocodile show in which park employees climbed into the croc enclosures and coaxed them out of the water with raw meat. It was a lot like watching the TV show but without Steve. Even though Steve wasn't there in person, his presence was everywhere, from the video playing at the entrance to the larger than life pictures of him throughout the park. We did have one close encounter with a croc – Lauren had her picture taken holding a baby.
Tomorrow we will be up very early to catch a 6:30am train to Sydney. The 600-mile trip is scheduled to take 14 hours.
Take Care,
Sandy