Date: Monday, 30 June 2010 20:21 PDT
Subject: Greetings from Winnipeg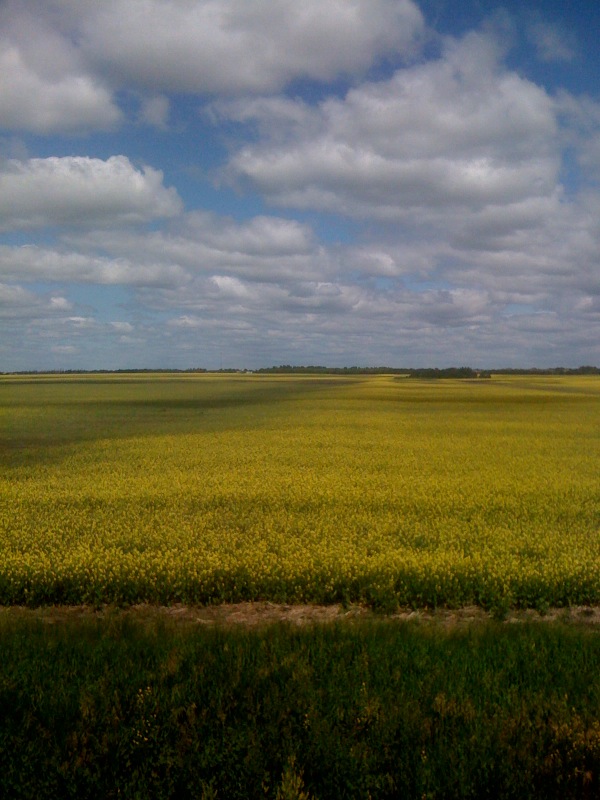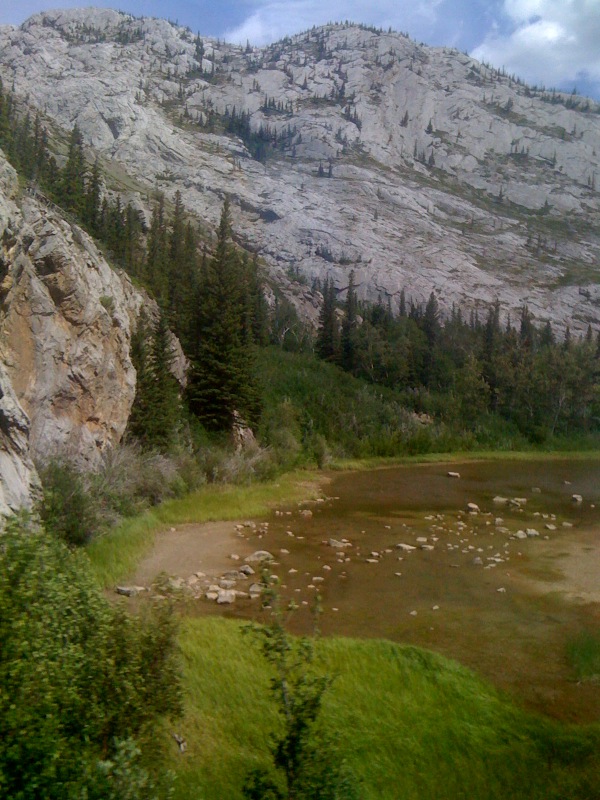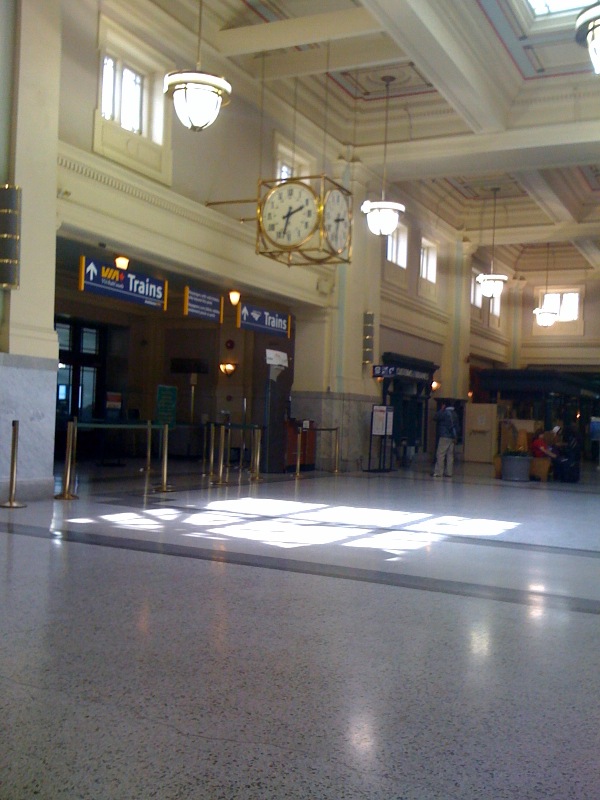 Captions for Pictures:
1. Canola fields outside of Winnipeg
2. Stopover in Jasper, Alberta in the heart of the Canadian Rockies
3. Views of the Rockies from the train
4. Our final destination – the Vancouver train station

After 84 hours and about 2,800 miles of train travel we arrived in Vancouver, British Columbia at 8:30am this morning, about one hour ahead of schedule. When I last wrote we had been in Winnipeg, Manitoba, slightly less than halfway through the trip. The scenery, which had been rolling hills, lakes and streams to that point, had already flattened out as we reached Winnipeg. As soon as the train left the city at mid-day, we immediately began to travel through prairie farmland with waves of yellow canola plants with a few purple flax mixed in. It literally looked like a Van Gogh painting.
Hay and cattle began to dot the landscape and we spent several hours moving through small towns and farms. In these places we saw the bizarre combination of grain elevators and Russian onion-shaped domed churches, as many immigrants have settled there over the years. I made it a game to see how churches many I could take pictures of as we zoomed through the prairie the rest of the afternoon. Soon it was Monday night and we had completed our second full day on the train.
It had been easy to settle into a routine not dissimilar to a cruise. All meals are included on the train and breakfast was served each morning from 6:30am to 9:30am. Choices included omelets, pancakes and eggs / bacon. Since there were two of us we were paired at the four person table with different twosomes. There was one tour of 25 Brits on board so we got to meet several of them, as well as Germans, a Norwegian, an ex-pat Brit couple living in Spain, a few Americans and several Canadians. After breakfast, there was plenty of time to sit in one of the two observation cars, complete with half car 360 degree domed sections, to look outside, take pictures or read.
The seats in the dome section were popular, but people were pretty good about letting others have a chance to sit there. Darren almost immediately saw a moose our first time there and we had the opportunity to see a bald eagle, fox, several deer and even a black bear out the dome window. Another fun thing to do was to watch the mile markers on the track and then use the guidebook and map I had purchased before the trip to learn more about the scenery and history of the railway as we passed by.
Lunch and dinner on the train are served by reservation in sittings. First sitting is at about 11:30am for lunch and 5:00pm for dinner, second sitting at about 12:30pm and 7:00pm and third sitting at about 1:30pm and 8:30pm. I should say 'about' because the times were very approximate and one waited for a dining car employee to walk up and down the eight cars that comprised the sleeper class section to announce the commencement of that sitting in both English and French. Lunch was a choice of salad, hamburger, sandwich or wrap. The food was very good and it was always felt nostalgic to sit in a rail dining car and watch the scenery go by as you eat. The afternoon was more relaxation, reading, listening to music and napping as the train continued to make its way through Canada. Dinner was a very formal affair with different tablecloths and fine silverware. On a typical night there was a choice of prime rib, chicken, fish or a veggie option.
There were also activities, such as Canadian wine tasting. For that event we were about 15 minutes late because of our dinner sitting and found that it was already over, since they only had two wines to taste! We did try a bottle of Wayne Gretzky Canadian Merlot wine at one night at dinner, which was a first for me. Canadian wine was passable but nothing to write home about.
We crossed through Saskatchewan during the night on Monday and then woke up just outside Edmonton, Alberta, on Tuesday morning. After a short stop there the prairie began to give way to rolling hills at we approached the Rockies. At mile marker 165 past Edmonton, we had our first view of the Rockies in the distance. It was very dramatic. The remainder of Tuesday was spent on both sides of the range, with a 90-minute stop in Jasper to break things up in the early afternoon. We were able to visit a few shops and walk around the quaint city before we were back on the train crossing the continental divide and coming down on the west side of the mountain range. We had clear weather and got some great views of the mountains, lakes and rivers.
That night we had made arrangements with the head of the dining car to have a private table for our 25th anniversary dinner. There were also two other couples celebrating their anniversaries at our sitting (35 years and 2 years). We were all treated to a surprise duo guitar / singer performance and a champagne toast to all of us. After arriving in Vancouver we spent the day exploring downtown, with a visit to the excellent aquarium, Stanley Park, the waterfront and Gastown district.
We were so impressed with the train and it ranks high with both of us on our list of rail journeys that we have taken throughout the world. We have WiFi on our Alaskan Airlines flight so this message is coming from 33,000 feet in the air!
Take Care –
Sandy