Email: Greetings from Eurostar under the English Channel
Date: Wednesday, 28 January 2004 08:10 PST
Subject: Greetings from Eurostar under the English Channel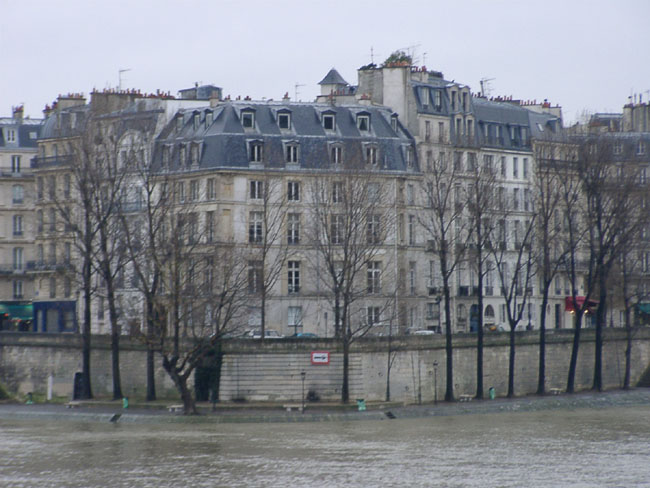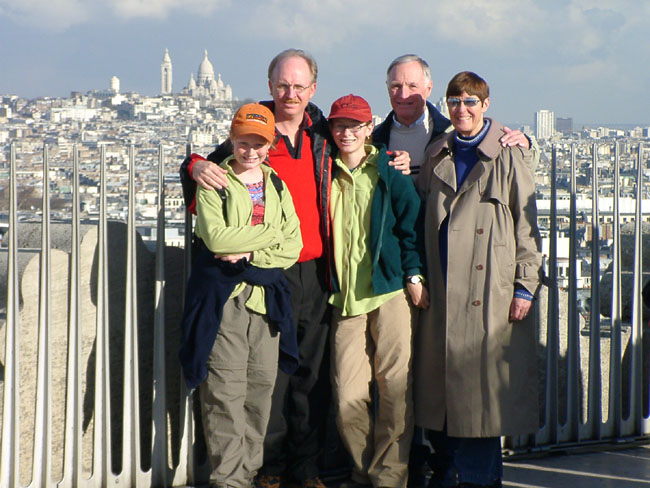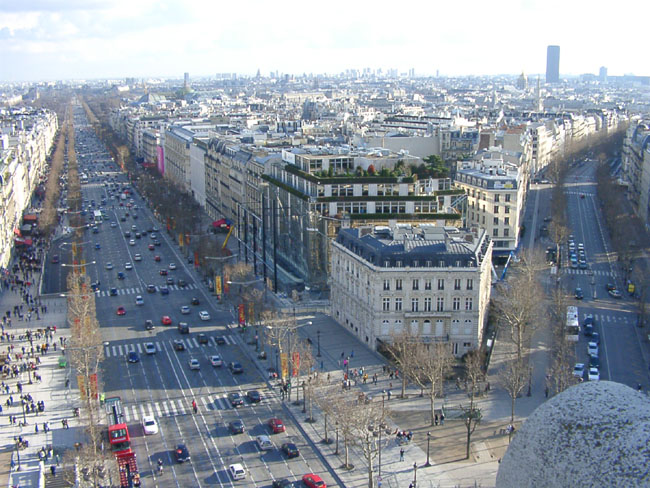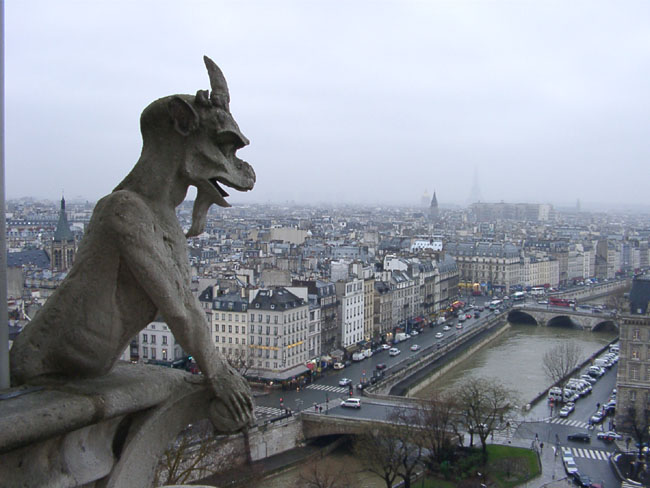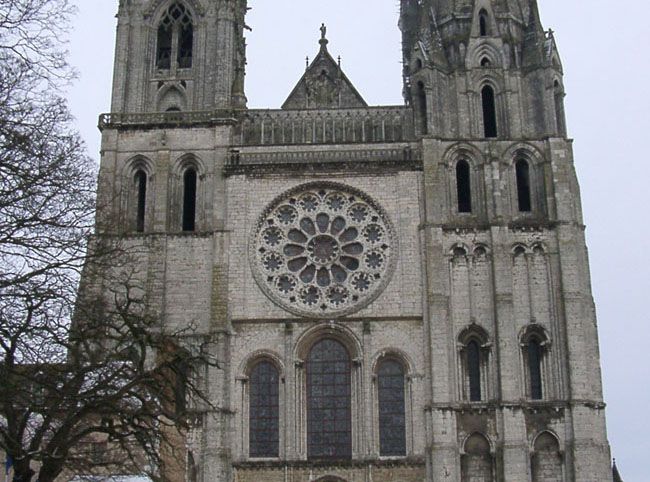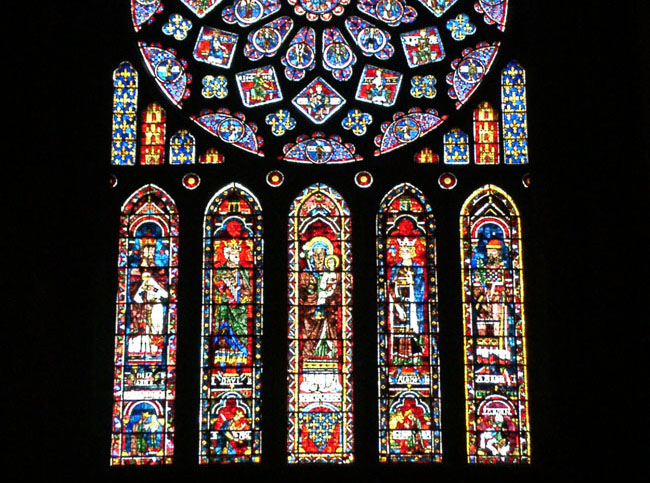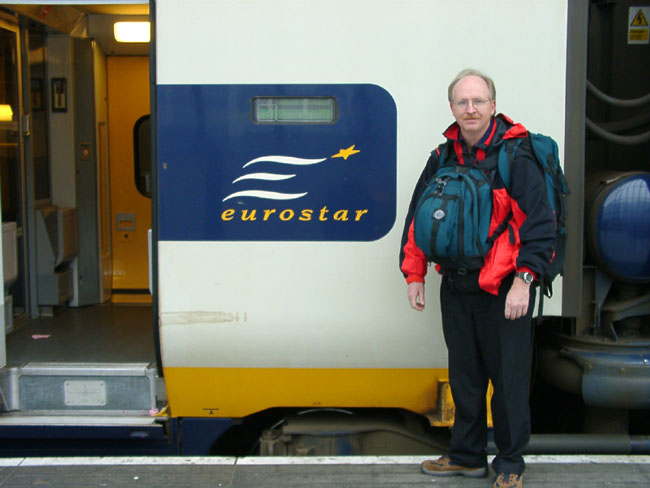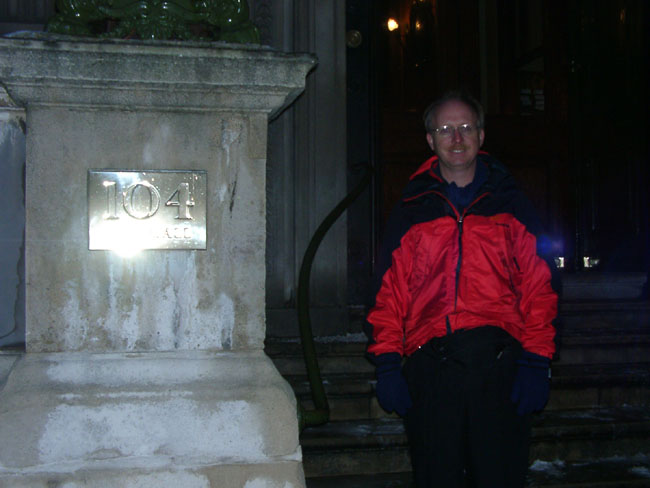 Captions for photos:
1. Paris in winter (notice the bare trees)
2. Darren, the girls, and Sandy's Parents on top of the Arc de Triomphe (looking north)
3. Av des Champs-Elysees taken from the top of the Arc de Triomphe
4. Gargoyle from the top of Notre Dame
5. The West entrance of the Chartres Cathedral showing the Romanesque (right) and Gothic (left) towers. Like Notre Dame, this cathedral is dedicated to Mary.
6. The recently restored North Rose Window of Chartres showing Mary at the center
7. Eurostar Train taken in Gare du Nord (north train station) in Paris before our departure. Top speed – 190 mph.
8. French countryside from the Eurostar
9. Revisiting the Reform Club in London 17 weeks later
28 January 2004 – Day #130
We are currently riding the Eurostar train between London and Paris. We left about two hours ago and are now 18 minutes into our 25 minute underground crossing of the English Channel. Once in England, we will continue for about 40 more minutes before arriving in Waterloo Station in London.
On Friday night we flew from Bangkok to Paris, a flight that took just short of 12 hours. We had a delay of two hours before we took off, so we didn't leave until 2:15 in the morning Bangkok time. When we arrived in Paris at 8am local time, it was still dark. Lauren couldn't believe that the sun was not up yet. We were back in real Northern Hemisphere winter, after almost our entire trip being in warm weather.
After clearing customs, we made our way into central Paris and had a happy reunion with Sandy's parents, who had flown in the day before to meet us and travel with us back to Los Angeles. Having all been to Paris before, we spent the next few days visiting some old favorites, such as Notre Dame and the Arc de Triomphe, and some places we had not been to before, including the Monet Museum and the Cluny Museum of the Middle Ages. We had beautiful weather the first few days with sunny and clear skies and temperature in the 40s.
On Monday, the weather turned to rain and snow flurries and was in the 30s. We visited the Sacre Coeur and Montmarte as the snow fell around us. We also climbed to the top of Notre Dame and admired the view of the rooftops covered with snow.
On Tuesday, we took a day trip to Chartres, about an hour outside of the city. The major sight there is the cathedral, which is one of the best examples of medieval architecture in Europe. It is at least the fifth church on the site and contains a garment that reportedly was worn by Mary when she gave birth to Jesus.
There are also over 100 stained glass windows that tell such stories as Noah and the Flood, the Good Samaritan and Jesus' birth and resurrection. We were fortunate to take a guided tour given by Malcolm Miller, who is a world-famous expert on the cathedral. He 'read' some of the stained glass windows for us, which was fascinating.
Tonight we plan to visit the National Gallery and then have dinner at a favorite Indian restaurant to celebrate our last night abroad.
Tomorrow, we will flight home. On Monday, February 2nd, we will be back to work and the kids will be back in school. Even though we will be back in our old routines, we will all be different due to what we have seen and done on this trip. We definitely feel very blessed for what we have seen and what we have waiting at home for us!
Thanks to all of you for your thoughts and prayers as we have traveled. We hope you have enjoyed our emails. We plan to put all of them and some additional pictures and material on a website in the next few weeks. We will send out a note with the URL when that is ready. Lauren is also working on all the questions that she has received and will send out her answers when that is completed.
God's Blessings,
Darren and Sandy