Costa Rica: Corcovado National Park and San Jose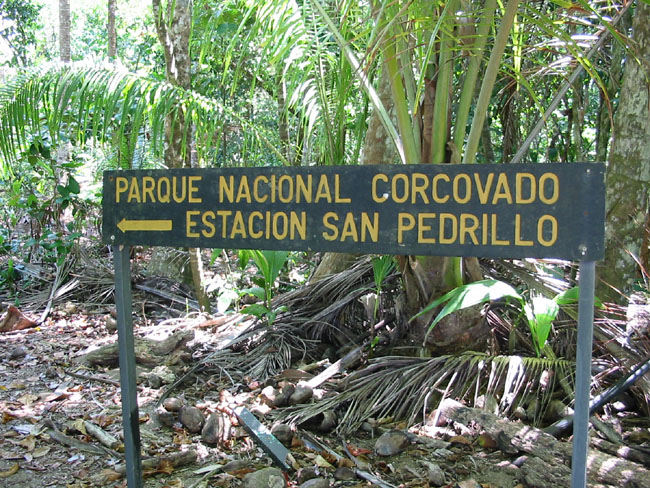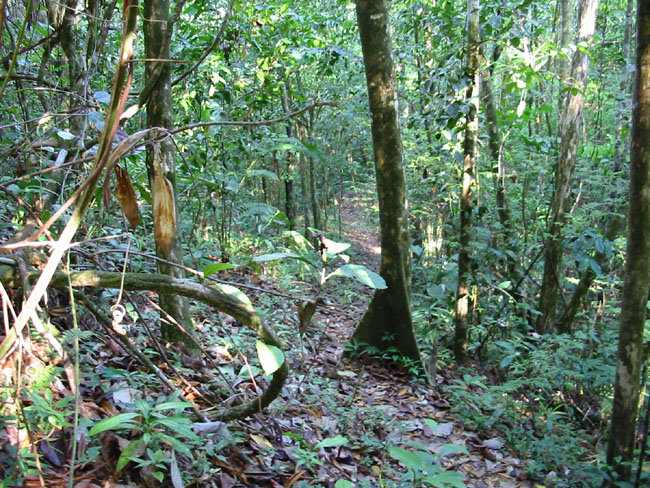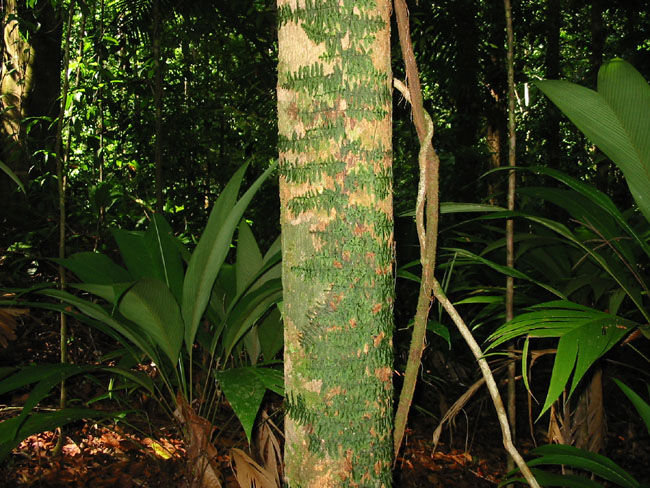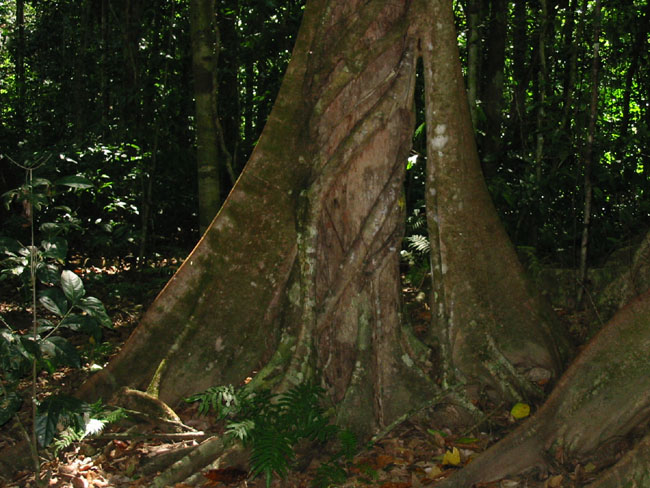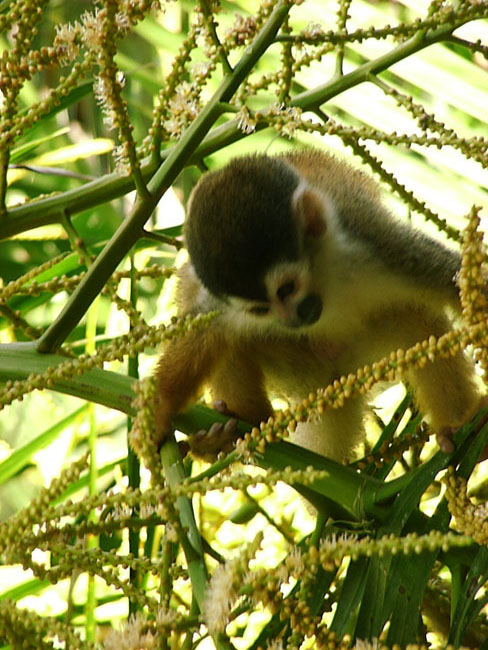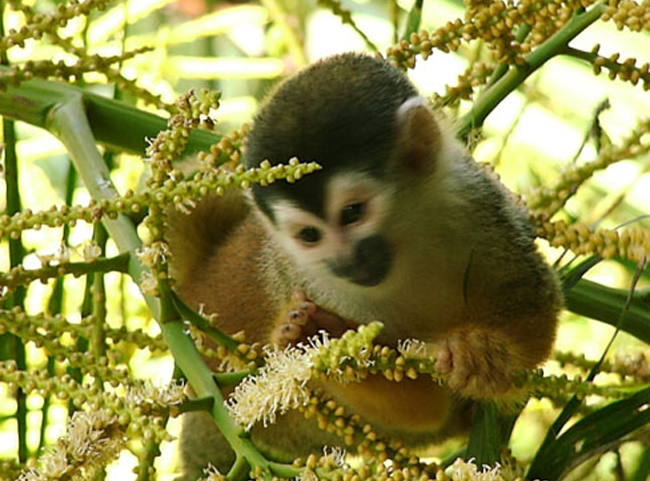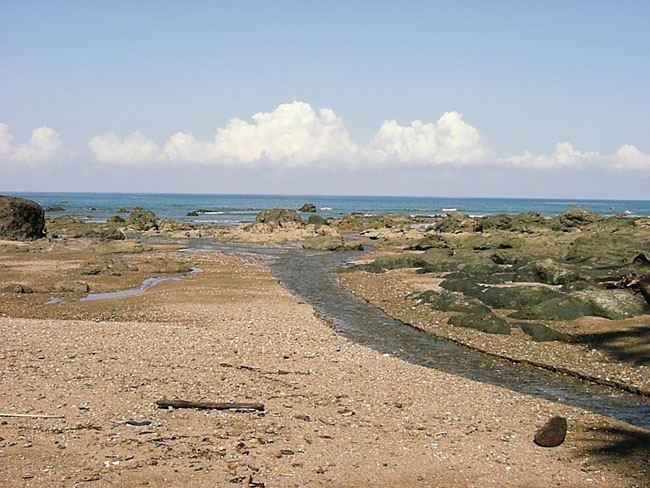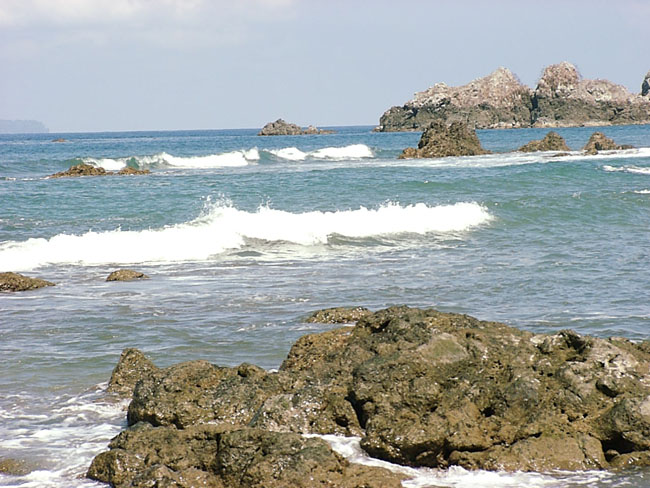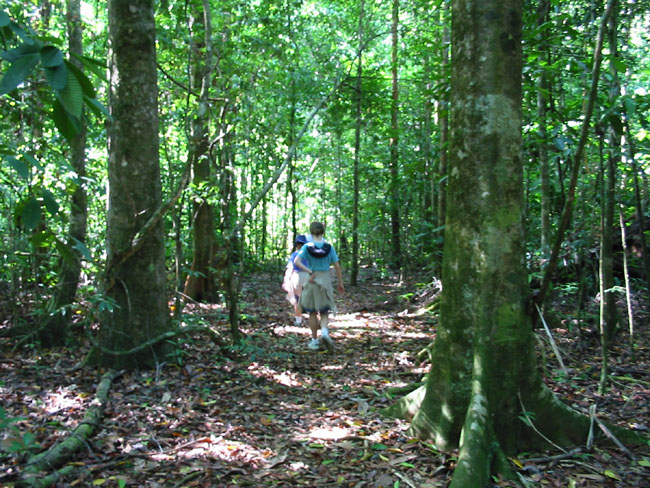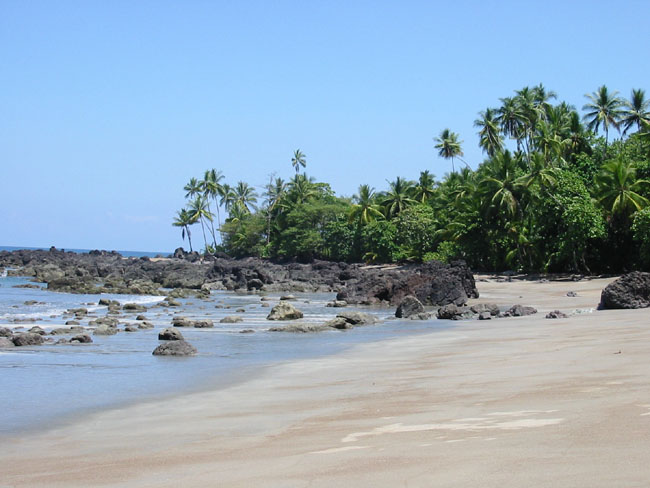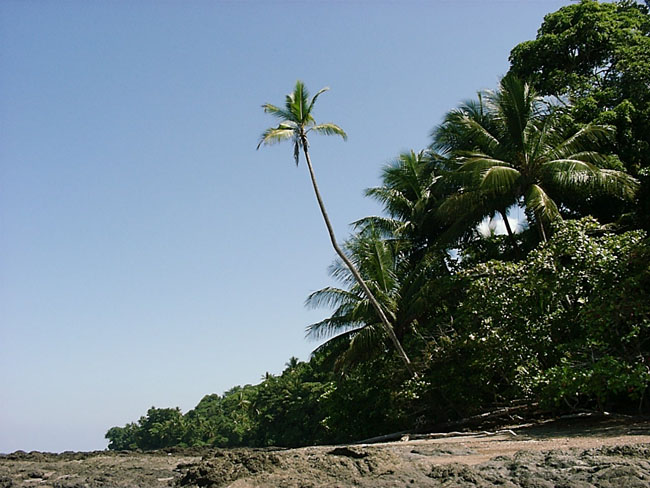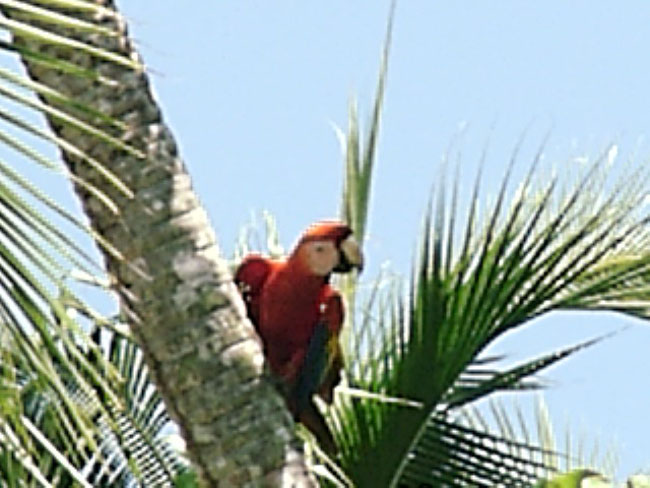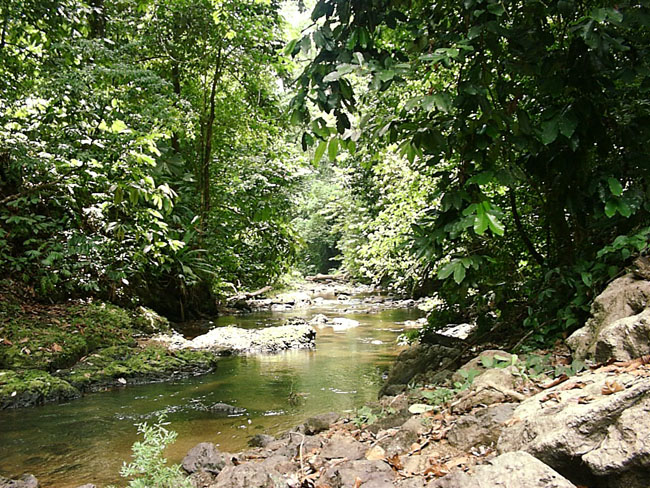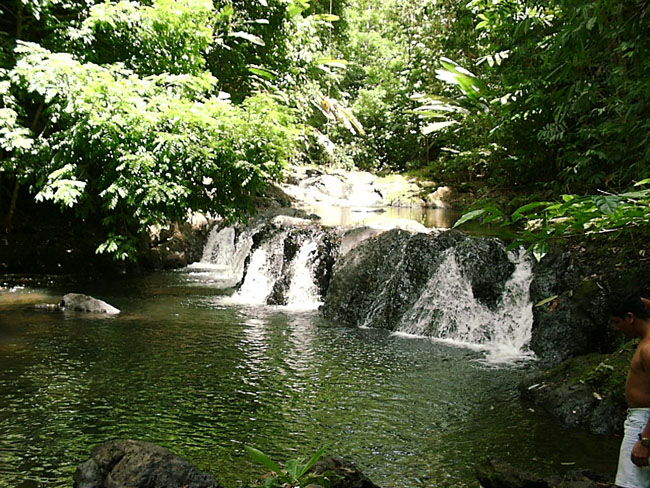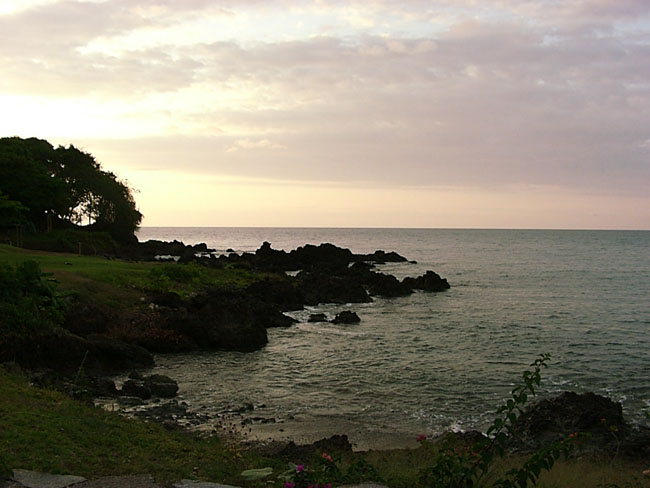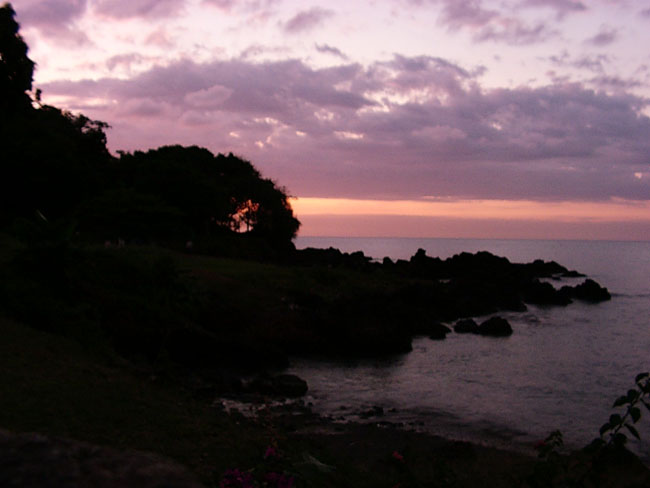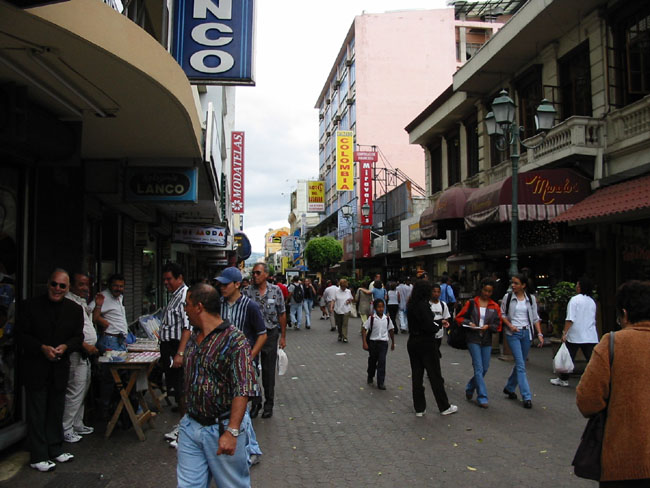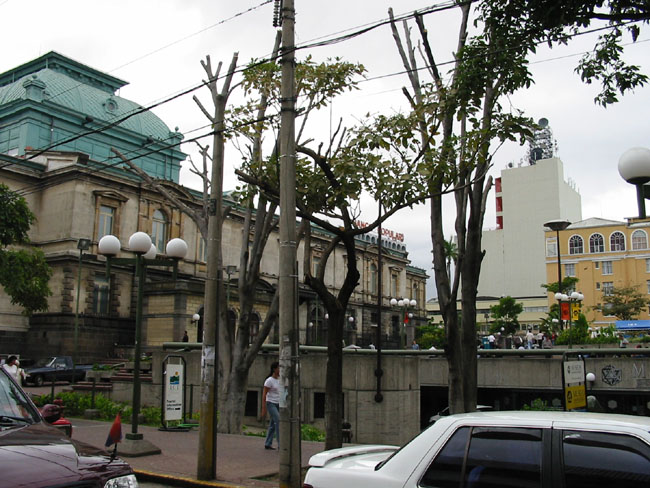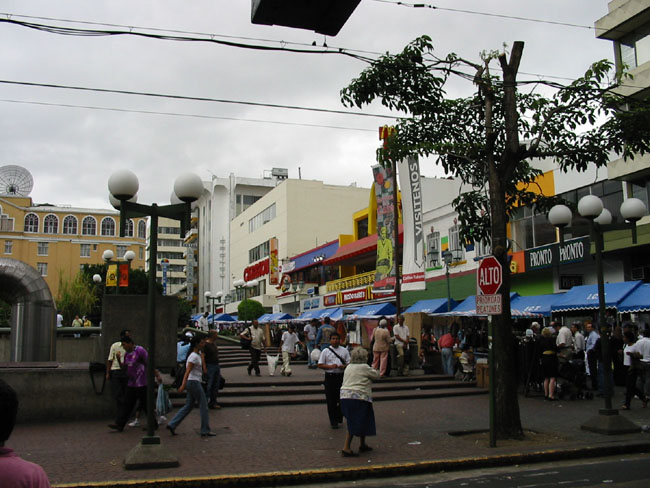 16 – 18 March 2002
We woke early on Saturday (16 March) for our tour of Corcovado National Park. We were fortunate to have a private tour with our guide, Alexis, and left the lodge at 6:45am to maximize our chance of seeing animals. We took a 20 minute boat ride south to the San Pedrillo Ranger Station. The park contains 108,000 acres and is one of the wildest parks in the country, with a wide variety of plants, trees and wildlife to view. We set off on a three hour hike through the rain forest. We started out by seeing several different trees, including one covered with ferns. It became increasingly hot and humid as we walked on the trail. After about 90 minutes the trail came out to the beach. It was really pretty. There was a small inland pool that we all took a quick dip in to cool off.
The trail then continued back into the rain forest, and we could hear toucans, parrots and mantled howler monkeys high in the trees. We were able to catch some glimpses of the monkeys. The last portion of the hike came back out the beach and we came to an almond tree full of scarlet macaws. They were eating the nuts and throwing the shells down so we had to dodge around them! They were beautiful birds and we were able to get a few blurry shots. It was then time for lunch at a picnic area. The guide then suggested a short hike up a river to a waterfall. Along this walk we saw an alligator and more squirrel and howler monkeys, some with babies on their backs, high in the tree tops. In a few more minutes we reached a series of breathtaking waterfalls and took a nice, cool swim. After the swim we headed back toward the boat and to the lodge for dinner and a beautiful sunset.
Sunday was our last full day at Drake Bay. We spent the day relaxing and doing schoolwork with the girls. After dinner we all packed for the early start the next day. We left the lodge at 8am on Monday (18 March) and were soon on an eight seat plane to San Jose. Once in the city we exchanged some money into colones (about 350 to $1) and checked into our hotel. We then set off to walk around the city. Being Monday, most of the museums were closed so we went to the Mercado Central market and had a lunch of arroz con pollo (chicken with rice) and tamales wrapped in banana leaves. It was very good.
We continued to explore the downtown area after lunch, walking the length of the pedestrian street of Avenida Central. After relaxing back at the hotel, we took a taxi across town to a recommended Peruvian Restaurant for dinner. Our flight to Miami on Tuesday morning left at 8am and, after changing planes there, we arrived in Los Angeles late in the afternoon.
Current Time in Costa Rica:

See Our Costa Rica T-Shirt on Cafepress!