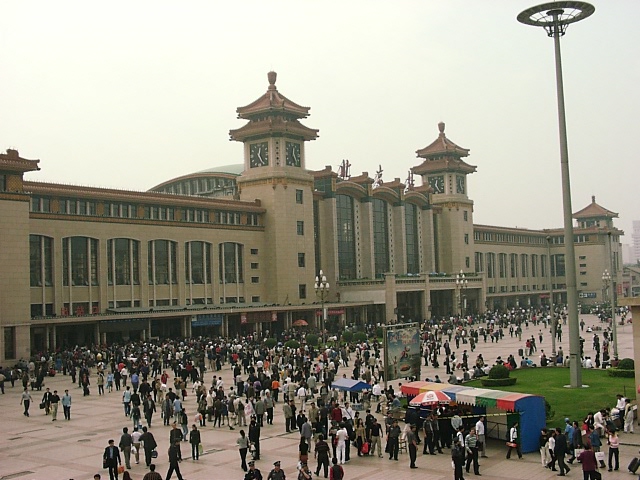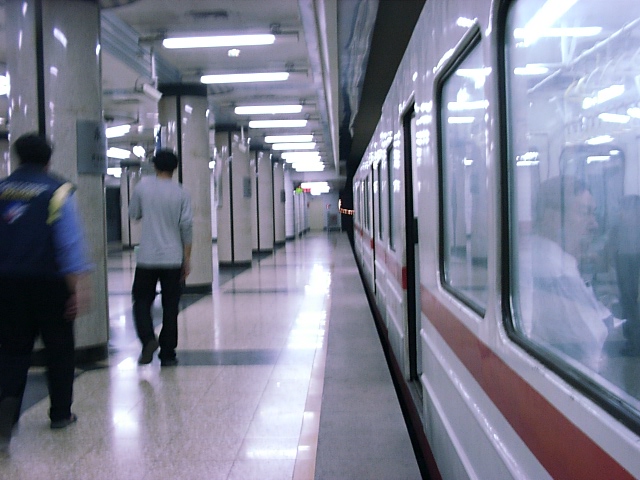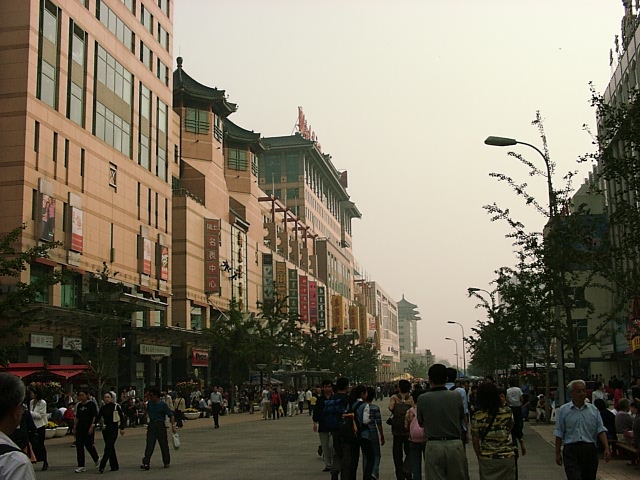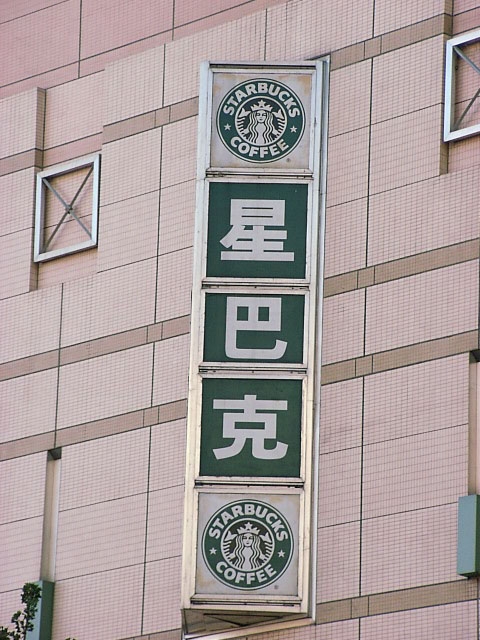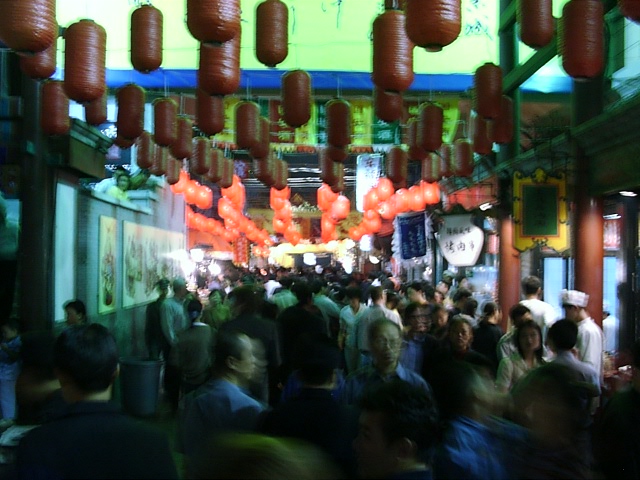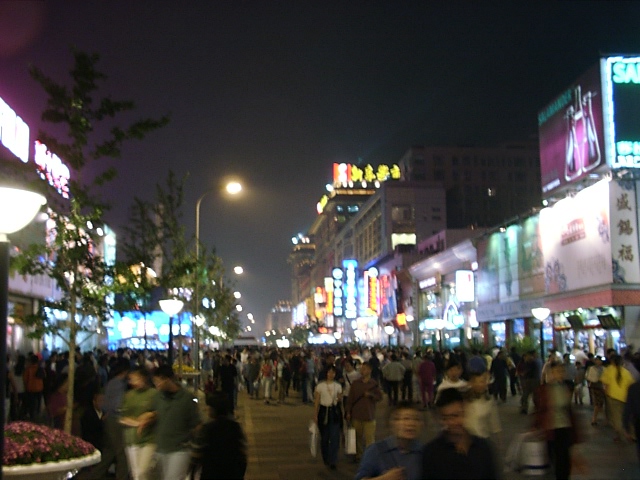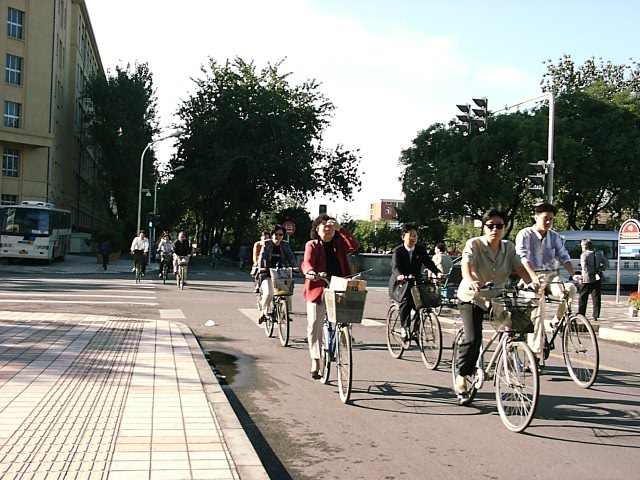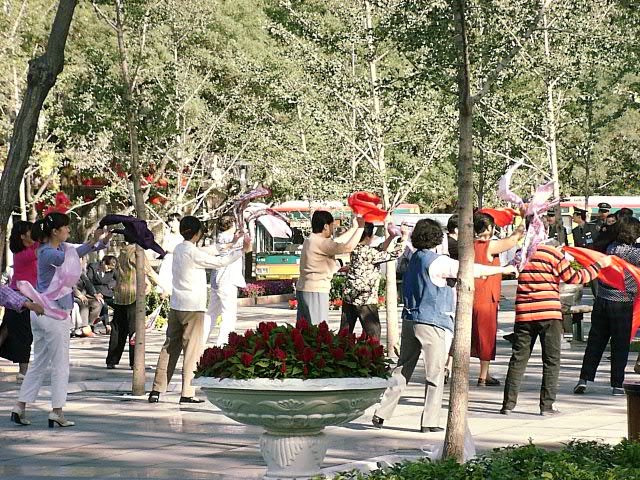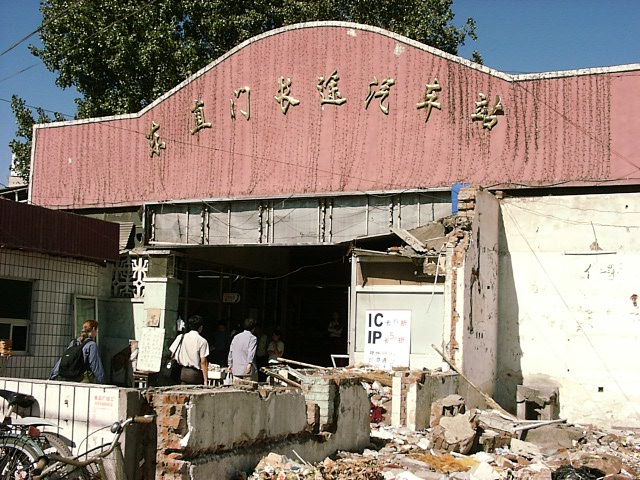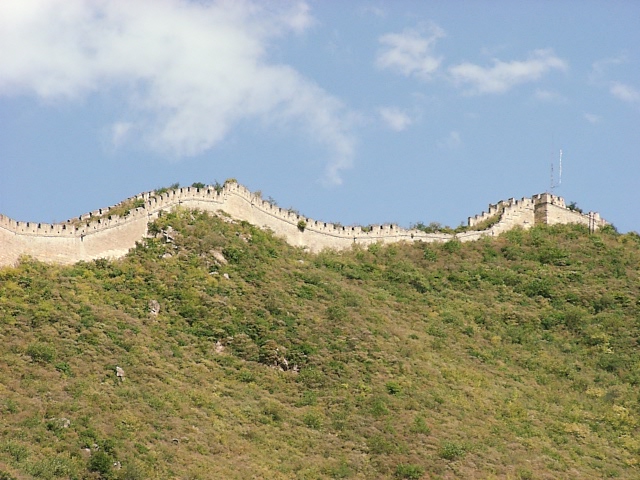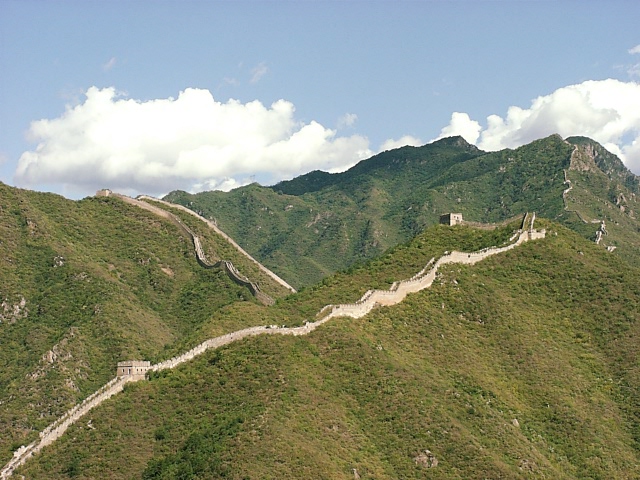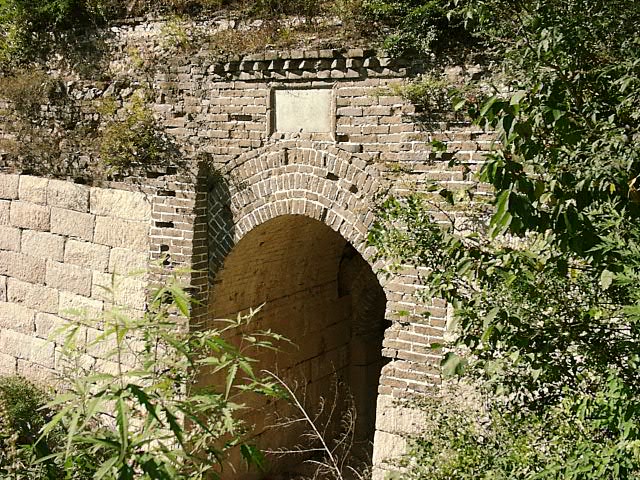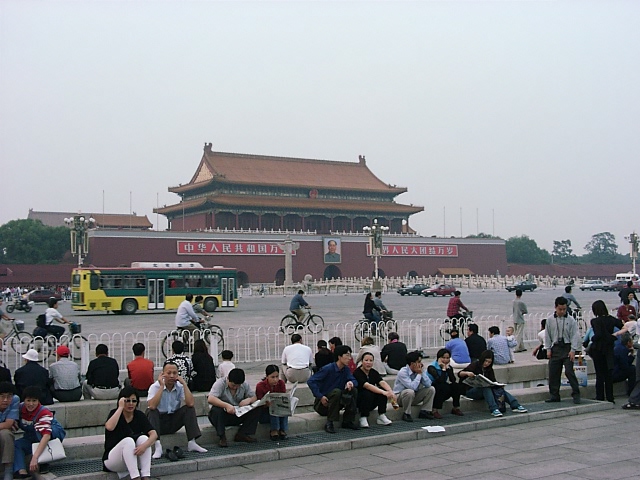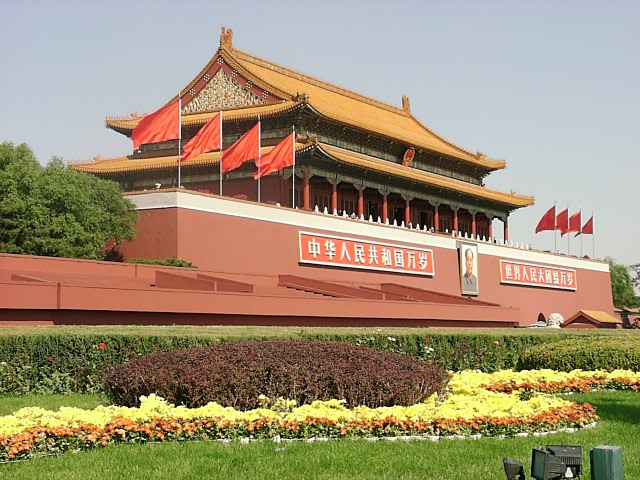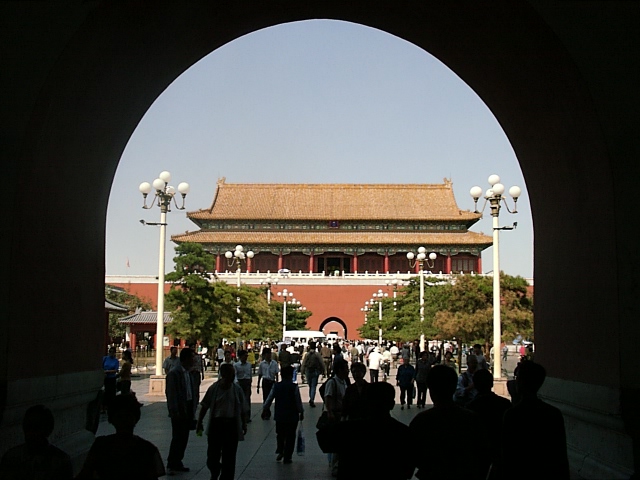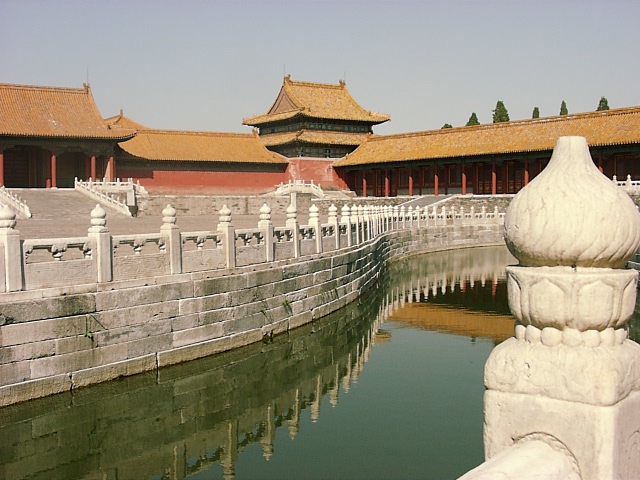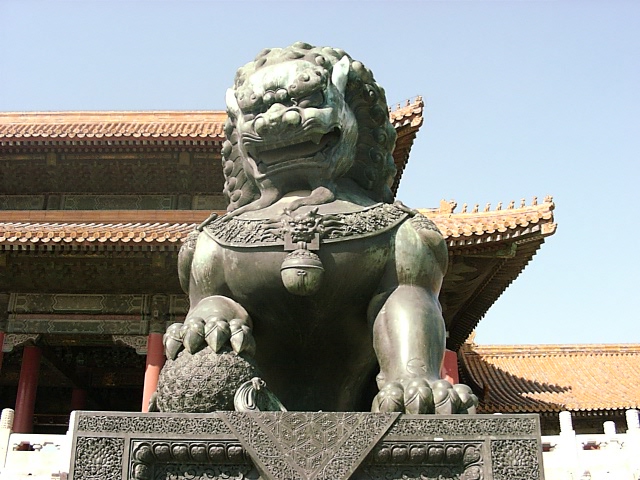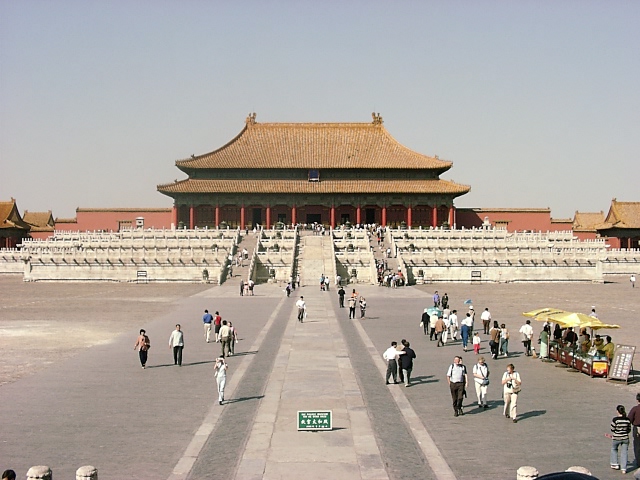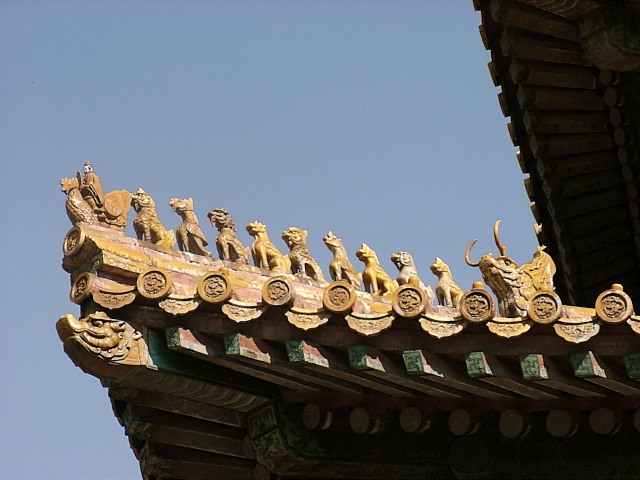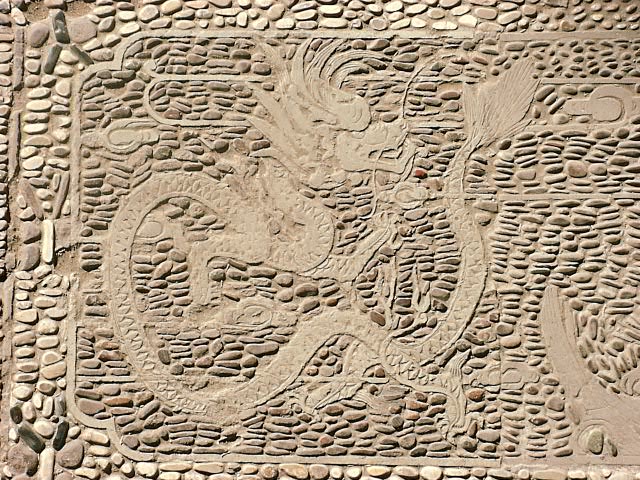 23 – 25 September 2001
Travel to Beijing and Visit to Tiananmen Square
To get to Beijing, we first took a 10 hour 40 minute flight from Los Angeles to Seoul, South Korea. After a 4 1/2 hour layover, we continued on an hour and 10 minute flight to Beijing. After arriving at about 10:45am on 23 September we took an airport bus to the main train station and then transferred to the Metro to get to our hotel. It was centrally located, about a 15 minute walk from the Wangfujing Metro stop. The subway system was fairly easy to navigate and was only 3 Yuan ($.37), regardless of the distance. To get our hotel we walked along a nice pedestrian street with shops and restaurants. Our two star hotel was 217 Yuan (about $27) a night. The room was small but clean.
After relaxing a bit, we went to Tiananmen Square, where we watched people walking and flying kites. As we made our way around Beijing, we noticed people riding bikes everywhere. That night we decided to walk down the pedestrian street by our hotel to look for a restaurant. There were a lot of people walking down an alley off the main street. We followed them to a series of stalls with small tables and chairs out in front. We ordered some soup, noodles and vegetables in a steamed banana leaf and beer. It was really good!
Day Trip from Beijing to the Great Wall and Touring the Forbidden City
The next morning we collected our hotel breakfast of hard-boiled eggs, bread, sausages, bottled water and a packet of coffee. We spent the day going to the Huanghua portion of the Great Wall, which is not quite as touristy and developed as other sections close to Beijing. To get there we had to negotiate through a series of buses, but with people's help, we made it to the bus stop adjacent to the portion of the wall that we wanted to hike. It was very steep and overgrown and we both slipped several times.
After taking a short lunch break during our walk, we continued to the Zhuangdaokou Pass and then left the wall to hike through the village of the same name and back to the bus stop. After getting back to Beijing late in the afternoon, we had dinner at a cafeteria near the hotel. The stalls in front of the cafeteria sold octopus and dried duck's blood. We chose not to partake.
On Tuesday we visited a Friendship Store and then made our way to the Forbidden City. We entered through the south entrance through the Tiananmen Gate. As the grounds are huge, it was quite easy to spend several hours here, viewing the various buildings. There were several beautiful marble pathways that were only walked upon by emperors. At the north end of the complex was an incredible garden full of trees, bushes, pathways and small buildings. For dinner we took the Metro to the Northern part of town and had Mongolian Hot Pot. You order several meat, vegetables and noodle items and then cook them in a pot of hot water. It was very good!
Current Time in China: